When I saw that the cutest book ever written was being turned into a movie, I got so excited. Lara Jean on the big screen? Amazing. All of my 15-year-old dreams were coming true.
However, was this movie as good as I expected? That's the real question here, and a question I aim to answer today. So let's take a look…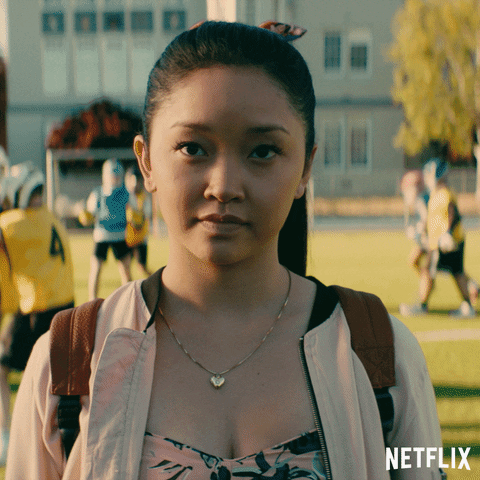 To All the Boys I've Loved Before was published in 2014, but I didn't actually read it until summer 2016 when I posted this glowing review. I remember loving this book and racing through the sequel, P.S. I Still Love You, straight after. It wasn't until I heard news of this movie that I realised I hadn't read the third book, Always and Forever, Lara Jean, which I read earlier this month ready for the movie's release on the 17th of August 2018 on Netflix. Let's take a look at the trailer:
Looks adorable, right? Hence, my excitement. However, I also had a little hesitancy going into this movie. As is typical of a book worm, I was scared the film wouldn't do the book justice…
This is a very strong series with distinctive characters, and I was unsure as to whether this would translate well on-screen. Lara Jean is a character that seems so unique to me, because she is so atypical. I am so used to YA fiction characters being an unrealistic representation of actual young adults. For me, Jenny Han gave Lara Jean space to breathe and grow at the pace of an ordinary teen.
When I first read To All the Boys, I thought Lara Jean was immature. But the truth is, she isn't. I was just so used to the warped idea that teenagers should act like adults that I thought Lara Jean was acting like a child rather than acting her age. I was so scared that this important message wouldn't be given the respect it deserves; that Lara Jean would be aged up or played in a manner that suggested she was perhaps older than she is.
I was also so disappointed to hear that Jenny Han had to fight for Lara Jean to not be whitewashed. Actually, it took so long for this book to be brought to the big screen because Jenny Han flat out refused to sell the rights to any production company that wanted to whitewash Lara Jean, as she discussed in this interview. This film, then was definitely worth the wait.
Furthermore, fortunately, my fears that this movie wouldn't do the book justice were in vain: this movie was an amazing adaptation of the original book. From the casting to the score, there are so many strengths to this movie. I've actually been listening to the official Netflix playlist on repeat ever since I watched it!
The characters turned out just the way I imagined them, and there was such good chemistry between all of them. This movie felt real and authentic which I loved so much. Lana Condor is the perfect Lara Jean, and she did really well embodying such a distinctive character. I knew from just the trailer that she was something to get excited about.
Furthermore, Noah Centineo made the perfect Peter. He is hilarious, sensitive, and has some great moments wiht Kitty, Lara Jean's younger sister (another very well-played character). I have no complaints whatsoever. He actually also managed to make some of Peter's cringier moments more adorable and funny, which was much appreciated.
But it wasn't just the romance that was great. The strong family values present in Jenny Han's book translated so well onto the screen. There was such a strong sense of sisterhood, and I was so thankful that the whole topic and theme of Lara Jean's mother wasn't left behind. Janel Parrish as Margot and Anna Cathcart as Kitty made perfect on-screen sisters, and really did the fictional Song girls justice. Even little details like what Kitty was wearing – a "feminist" necklace in one scene – were so well-done.
Not only that, but this movie was laugh-out-loud hilarious in a way that the book just wasn't. I don't know how they did it, but the writers somehow turned a cutesy YA novel into a hilarious rom-com whilst still remaining true to the source material and the characters.
My only issue would be that it just wasn't long enough! By the time it really got going, we were already halfway through. At times, I must admit, the movie was a little slow-paced, , and so much more could have been packed into the short time-frame.
But if the only issue I have with a movie is that it wasn't long enough, we're pretty much on to a winner.
Fingers crossed for a sequel! Until then, you can find me rewatching To All the Boys I've Loved Before on repeat…
★★★★☆