Goodbye, 2017
Hello, 2018
Here we are again. Each year I think it's so crazy that another year has passed, that we've come so far so quickly. I cannot even comprehend the fact that 2018 begins tomorrow. You may even be reading this in 2018. Madness!
2017 has been a game changer. So much has changed in my life, definitely for the better! Unfortunately, though, I didn't blog as much as I wanted to in 2017. But that is about to change! 2018, new year, new me, new start. New blogging ideas and opportunities! Stay tuned for a fun year on LibroLiv!
In 2017, I managed to read a grand total of 41 books. Hurray! Go reading! Let me know in the comments how many books you read in 2017!
Here are all of the books I read in 2017: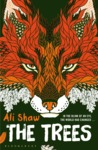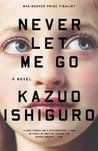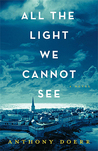 Keep an eye out for my upcoming post: Top 17 Books of 2017!
---
⋘End of Year Book Survey⋙
The End of Year Book Survey is an annual event hosted by Jamie over at Perpetual Page Turner. All of the graphics are courtesy of her lovely blog. Read my book survey from 2016 here.
Number Of Books You Read: 41!
Number of Re-Reads: Just the 1, which is odd coming from a perpetual re-reader!
Genre You Read The Most From: There's a real mix this year! Glancing through I can see lots of poetry and non-fiction, but then there are so many different genres of fiction woven in, too!
---
Best Book You Read In 2017?
When Breath Becomes Air by Paul Kalanithi
Last year I said I wanted to read more non-fiction books, and I'm so glad I picked this up in 2017. I'm a changed person since reading this book. From start to finish, my mind was challenged, my emotions pushed, and my heart destroyed. I highly recommend this memoir to everyone, regardless of your medicinal knowledge. There is so much to learn from people like Paul Kalanithi.
Books You Were Excited About & Thought You Were Going To Love More But Didn't?
More Than This by Patrick Ness
I loved The Rest of Us Just Live Here, but More Than This just wasn't for me, unfortunately. I still want to read more Patrick Ness, though, because he is always recommended to me!
Most surprising (in a good way or bad way) book you read?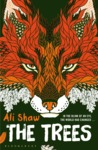 The Trees by Ali Shaw
I picked this book up because I wanted to read The Girl on the Train, and the two were in a 'buy-one-get-one-half-price' deal, and this book had a nice cover, so I thought, 'Why not?'
I didn't expect this book to be anything special because I'd never heard of it before. Boy, was I wrong! This book was amazing. Completely unique, deliciously apocalyptic, and consistently surprising. Highly recommend.
Book You "Pushed" The Most People To Read (And They Did)?
I've lent my copy out to friends, recommended to teachers, strangers, internet peers. I can't recommend this book enough! If you haven't yet, read it!
Best Sequel of 2017?
Lord of Shadows by Cassandra Clare
Highly anticipated, highly enjoyed.
As always.
Favorite new author you discovered in 2017?
I would read Sylvia Plath's shopping lists.
Best book from a genre you don't typically read/was out of your comfort zone?
Twelfth Night by William Shakespeare
Last year I studied The Taming of the Shrew, and I read/watched/studied Twelfth Night in my own time to develop my understanding of Shakespearean comedy. What I thought would feel like work actually felt like play (pardon the pun) – I loved this play! It's funny, action-packed, and was well performed by Shakespeare's Globe in 2002 with an all-male cast, which is the production I streamed online. Highly recommend!
Most action-packed/thrilling/unputdownable book of the year?
Room by Emma Donoghue
So many twists, turns, and unexpected plot developments. I was thinking about this book for weeks afterwards!
Book You Read In 2017 That You Are Most Likely To Re-Read Next Year?
Ariel by Sylvia Plath
I'm trying to stray away from re-reads and actually tackle my TBR more, but it's inevitable that I'll come back to Plath in 2018!
Favourite cover of a book you read in 2017?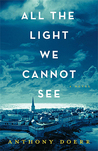 All the Light We Cannot See by Anthony Doerr
The blues, the horizon, the sweeping cityscape. Beautiful!
The most memorable character of 2017?
Esther Greenwood from The Bell Jar by Sylvia Plath.
There are so many lines from this book, so many moments, that I think about all the time. Esther Greenwood resonated with me incredibly. It's a shame I always forget her name!
Most beautifully written book read in 2017?
Birthday Letters by Ted Hughes
This collection of poetry is a world away from the other poems I've read by Hughes. This entire collection is tender, emotional, and hard-hitting. I couldn't read more than 3 poems at once.
Most Thought-Provoking/ Life-Changing Book of 2017?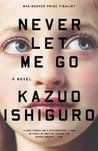 Never Let Me Go by Kazuo Ishiguro
This book really made me consider the state of our society and where it's going. It's scary to read dystopian novels that are completely plausible in coming years.
Book you can't believe you waited UNTIL 2017 to finally read? 
We Should All Be Feminists by Chimamanda Ngozi Adichie
I was a feminist before I read this essay, and I am even more secure in my beliefs after. This book opened my eyes to the cause even more than before, and I definitely recommend to everyone – it's short, too!
Favorite Passage/Quote From A Book You Read In 2017?
"I took a deep breath and listened to the old brag of my heart. I am, I am, I am."
– Sylvia Plath, The Bell Jar
Shortest & Longest Book You Read In 2017?
Both by Cassy Clare! The shortest was The Voicemail of Magnus Bane, the concluding short story to The Bane Chronicles. The longest was Lord of Shadows, the second book in the Dark Artifices trilogy.
One Book You Didn't Get To In 2017 But Will Be Your Number 1 Priority in 2018?
1984 by George Orwell. I've been saying I'm going to read this all year. It's my top priority going into 2018!
Book You Are Most Anticipating For 2018?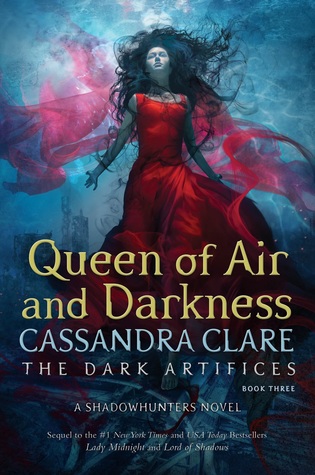 It's always Cassandra Clare…
This book is going to be amazing! I'm itching to get my hands on it! But, alas, it won't be released until December 2018.
---
Who's excited for 2018? I know I am! In 2018, I'm planning to read 52 books, 1 for each week. Fingers crossed!
How many books do you want to read in 2018?
I really hope you all have a beautiful 2018 – I'll see you then!
Love, Olivia x