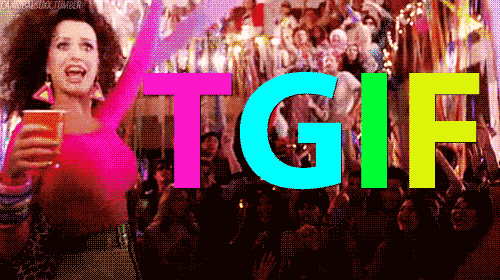 Friday Finale is a weekly feature on my blog. I was originally inspired by both Friday Finds, and WWW Wednesday, and decided to combine them to create my own little thing. In this feature, I aim to combine my reading habits from the previous week, plus the posts I wrote.
---
⋘Currently Reading⋙
The Sun is Also a Star by Nicola Yoon
Natasha: I'm a girl who believes in science and facts. Not fate. Not destiny. Or dreams that will never come true. I'm definitely not the kind of girl who meets a cute boy on a crowded New York City street and falls in love with him. Not when my family is twelve hours away from being deported to Jamaica. Falling in love with him won't be my story.

Daniel: I've always been the good son, the good student, living up to my parents' high expectations. Never the poet. Or the dreamer. But when I see her, I forget about all that. Something about Natasha makes me think that fate has something much more extraordinary in store—for both of us.

The Universe: Every moment in our lives has brought us to this single moment. A million futures lie before us. Which one will come true?
In my previous Friday Finale, I mentioned how I was planning on reading The Knife of Never Letting Go next. I tried, but I just wasn't feeling it. I didn't want to force myself to read something, either. Thus, I'll be trying The Sun is also a Star next, by Nicola Yoon. I loved Everything, Everything by Nicola, so I'm hoping this is just as good.
---
⋘Recently Finished⋙
Furthermore by Tahereh Mafi
There are only three things that matter to twelve-year-old Alice Alexis Queensmeadow: Mother, who wouldn't miss her; magic and color, which seem to elude her; and Father, who always loved her. The day Father disappears from Ferenwood he takes nothing but a ruler with him. But it's been almost three years since then, and Alice is determined to find him. She loves her father even more than she loves adventure, and she's about to embark on one to find the other.

But bringing Father home is no small matter. In order to find him she'll have to travel through the mythical, dangerous land of Furthermore, where down can be up, paper is alive, and left can be both right and very, very wrong. It will take all of Alice's wits (and every limb she's got) to find Father and return home to Ferenwood in one piece. On her quest to find Father, Alice must first find herself—and hold fast to the magic of love in the face of loss.
This was so good! I just finished Furthermore this morning, and everything was tied up just as I wanted it to be – so satifying! This book was jam-packed with twists and turns, and was written in an exciting and unique way. I definitely have a lot of love for this book. Maybe even more than Shatter Me.  Review to come. ★★★★★
---
⋘My Next Read⋙
Poppy Hooper and Ember Hawkweed couldn't lead more different lives. Poppy is a troubled teen: moving from school to school, causing chaos wherever she goes, never making friends or lasting connections. Ember is a young witch, struggling to find a place within her coven and prove her worth. Both are outsiders: feeling like they don't belong and seeking escape.

Poppy and Ember soon become friends, and secretly share knowledge of their two worlds. Little do they know that destiny has brought them together: an ancient prophecy, and a life-changing betrayal. Growing closer, they begin to understand why they've never belonged and the reason they are now forever connected to each other.

Switched at birth by the scheming witch Raven Hawkweed, Poppy and Ember must come to terms with their true identities and fight for their own place in the world. Enter Leo, a homeless boy with a painful past who – befriending them both – tests their love and loyalty. Can Poppy and Ember's friendship survive? And can it withstand the dark forces that are gathering?
I aimed to read this closer to Halloween so as to make the most of the spooky vibes, but I can only imagine this book will be just as good later on in the year. I actually won this book in a competition, so I'm excited to get around to reading it.
---
⋘Blog Posts⋙
06/11/2016: Quote of the Sunday
08/11/2016: Top Ten Tuesday: Books I Own But Am Yet to Read
---
Thank you for reading! As you can tell, I haven't managed to do much blogging this week what with having so much school work to contend with. Ugh.
What are you currently reading? Let me know in the comments!
Until next time, and to keep up with my reading as it happens, find me on Goodreads, Twitter, Instagram, and Tumblr.
Olivia x