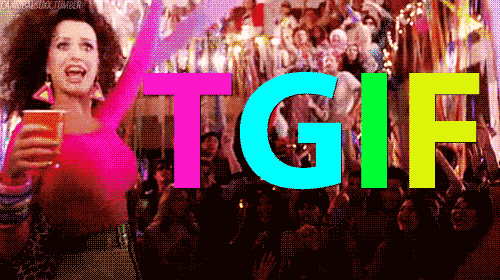 Friday Finale is a weekly feature on my blog. I was originally inspired by both Friday Finds, and WWW Wednesday, and decided to combine them to create my own little thing. In this feature, I aim to combine my reading habits from the previous week, plus the posts I wrote.
---
⋘Currently Reading⋙
Furthermore by Tahereh Mafi
There are only three things that matter to twelve-year-old Alice Alexis Queensmeadow: Mother, who wouldn't miss her; magic and color, which seem to elude her; and Father, who always loved her. The day Father disappears from Ferenwood he takes nothing but a ruler with him. But it's been almost three years since then, and Alice is determined to find him. She loves her father even more than she loves adventure, and she's about to embark on one to find the other.

But bringing Father home is no small matter. In order to find him she'll have to travel through the mythical, dangerous land of Furthermore, where down can be up, paper is alive, and left can be both right and very, very wrong. It will take all of Alice's wits (and every limb she's got) to find Father and return home to Ferenwood in one piece. On her quest to find Father, Alice must first find herself—and hold fast to the magic of love in the face of loss.
I am so happy to reading more of Tahereh Mafi's work – her writing never fails to inspire and please me. I just find the way she writes so satisfying. This story is also very different to Shatter Me, and I was hesitant going in, but am so happy I did – this book is amazing so far, and I can see it getting better and better!
---
⋘Recently Finished⋙
A Great and Terrible Beauty by Libba Bray
It's 1895 and, after the death of her mother, 16-year-old Gemma Doyle is shipped from the she knows in India to Spence, a proper boarding school in England. Lonely, guilt-ridden, and prone to visions of the future that have an uncomfortable habit of coming true. Gemma finds he reception a chilly one. She's not completely alone, though… she's being followed by a mysterious young man, sent to warn her to close her mind against the visions.

It's at Spence that Gemma's power to attract the supernatural unfolds as she becomes entangled with the school's most powerful girls and discovers her mother's connection to a shadowy, timeless group called The Order. Her destiny awaits… if only Gemma can believe in it.
If you've been keeping up with my posts, you'll know I didn't love this book. I actually had to force myself to keep pushing through at times. In short, it just wasn't for me. Full review to come.
---
⋘My Next Read⋙
The Knife of Never Letting Go by Patrick Ness
Prentisstown isn't like other towns. Everyone can hear everyone else's thoughts in an overwhelming, never-ending stream of Noise. Just a month away from the birthday that will make him a man, Todd and his dog, Manchee — whose thoughts Todd can hear too, whether he wants to or not — stumble upon an area of complete silence. They find that in a town where privacy is impossible, something terrible has been hidden — a secret so awful that Todd and Manchee must run for their lives.

But how do you escape when your pursuers can hear your every thought?
The amount of times I've said "I'll read this book next" is unfathomable. Honestly unfathomable. I don't know why I'm putting it off so much! But I am determined – absolutely dead set – to read this book next. Watch this space!
---
⋘Books I Added to my TBR⋙
The Sun is Also a Star by Nicola Yoon
Natasha: I'm a girl who believes in science and facts. Not fate. Not destiny. Or dreams that will never come true. I'm definitely not the kind of girl who meets a cute boy on a crowded New York City street and falls in love with him. Not when my family is twelve hours away from being deported to Jamaica. Falling in love with him won't be my story.

Daniel: I've always been the good son, the good student, living up to my parents' high expectations. Never the poet. Or the dreamer. But when I see her, I forget about all that. Something about Natasha makes me think that fate has something much more extraordinary in store—for both of us.

The Universe: Every moment in our lives has brought us to this single moment. A million futures lie before us. Which one will come true?
Love & Misadventure by Lang Leav
Lang Leav is a poet and internationally exhibiting artist. Awarded a coveted Churchill Fellowship, her work expresses the intricacies of love and loss.

Beautifully illustrated and thoughtfully conceived, Love and Misadventure will take you on a rollercoaster ride through an ill-fated love affair- from the initial butterflies to the soaring heights- through to the devastating plunge. Lang Leav has an unnerving ability to see inside the hearts and minds of her readers. Her talent for translating complex emotions with astonishing simplicity has won her a cult following of devoted fans from all over the world.
Everyday Sexism by Laura Bates
In 2012 after being sexually harassed on London public transport Laura Bates, a young journalist, started a project called Everyday Sexism to collect stories for a piece she was writing on the issue. Astounded by the response she received and the wide range of stories that came pouring in from all over the world, she quickly realised that the situation was far worse than she'd initially thought. Enough was enough. From being leered at and wolf-whistled on the street, to aggravation in the work place and serious sexual assault, it was clear that sexism had been normalised. Bates decided it was time for change.

This bold, jaunty and ultimately intelligent book is the first to give a collective online voice to the protest against sexism. This game changing book is a juggernaut of stories, often shocking, sometimes amusing and always poignant – it is a must read for every inquisitive, no-nonsense modern woman.
---
⋘Blog Posts⋙
30/10/2016: Quote of the Sunday
31/10/2016: October Wrap Up & November TBR
01/11/2016: Top Ten Tuesday: Books with Beautiful Writing
02/11/2016: Goodreads Choice Awards 2016: What I Voted For
---
Thank you for reading!
What are you currently reading? Let me know in the comments!
Until next time, and to keep up with my reading as it happens, find me on Goodreads, Twitter, Instagram, and Tumblr.
Olivia x