Happy Tuesday, everybody! You know what time it is…
"Top Ten Tuesday" is a weekly meme hosted by The Broke and the Bookish, and this week's prompt is:
Top Ten Books To Read If Your Book Club Likes _______________
Thus, today I will be talking to you about something very underrated, in my opinion. We all can recommend books for their plot, for their characters, for their subject matter, but we rarely discuss how well they're written. Today, I will change that! Here are 5 books I think have beautiful writing…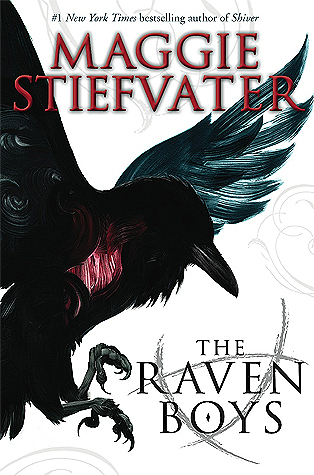 The Raven Boys by Maggie Stiefvater
I was wary going into this book because of the subject matter – never before had I read a novel about seers, and so I didn't know what to expect. However, I was instantly engulfed by Maggie's writing that all my doubts melted away. This book is perfect if you like poetic writing; some pages feel like sonnets. Read my full review here.
From the passenger seat, Ronan began to swear at Adam. It was a long, involved swear, using every forbidden word possible, often in compound-word form. As Adam stared at his lap, penitent, he mused that there was something musical about Ronan when he swore, a careful and loving precision to the way he fit the words together, a black-painted poetry. It was far less hateful sounding than when he didn't swear.
Ronan finished with, "For the love of … Parrish, take some care, this is not your mother's 1971 Honda Civic."
Adam lifted his head and said, "They didn't start making the Civic until '73."
The Winner's Curse by Marie Rutkoski
There were times when I was reading this book that I found I wasn't fully invested in the plot. However, each and everytime I began feeling even a little bit inclined to this opinion, I was reeled back in my Marie's gorgeous writing. Something about her way with words never fails to inspire me, even when it isn't designed to. Read my review here.
Arin wondered if she would lift her eyes, but wasn't worried he would be seen in the garden's shadows.
He knew the law of such things: people in brightly lit places cannot see into the dark.
Atonement by Ian McEwan
I'm currently reading this book for my English Literature class (so no spoilers, please!) and I can't help but notice how gorgeous the writing is. Maybe it's because I'm reading it from an analytical perspective, but I often get lost in McEwan's way with words.
Was everyone else really as alive as she was?…If the answer was yes, then the world, the social world, was unbearably complicated, with two billion voices, and everyone's thoughts striving in equal importance and everyone's claim on life as intense, and everyone thinking they were unique, when no one was.
Shatter Me by Tahereh Mafi
This book pretty much blew me away with its writing – Tahereh just has an uncommon, mystical way with words that I adore. I hang on her every word. This doesn't just stand for Shatter Me, either – I am currently reading Tahereh's latest novel, Furthermore, and the writing style is so engaging and exciting and everything I could ever want or ask for. Read my review of Shatter Me here.
I spent my life folded between the pages of books.
In the absence of human relationships I formed bonds with paper characters. I lived love and loss through stories threaded in history; I experienced adolescence by association. My world is one interwoven web of words, stringing limb to limb, bone to sinew, thoughts and images all together. I am a being comprised of letters, a character created by sentences, a figment of imagination formed through fiction.
Salt to the Sea by Ruta Sepetys
I have read so many books about wars and fighting and pain, but none have affected me as much as Salt to the Sea. Ruta Sepetys' writing is undeniably the stand-apart feature of this novel in comparison to other war-related books. Again, it is poetic, but I also love how Sepetys takes her time with it. Read my full review here.
I became good at pretending. I became so good that after a while the lines blurred between my truth and fiction. And sometimes, when I did a really good job of pretending, I even fooled myself.
---
Thank you for reading! Which book do you think has beautiful writing?
Keep an eye out for more Top Ten Tuesday posts from me!
Until next time, and to keep up with my reading as it happens, find me on Goodreads, Twitter, Instagram, and Tumblr.
Olivia x