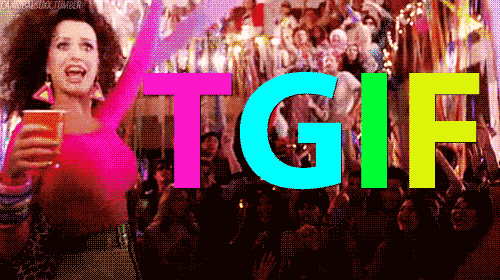 Friday Finale is a weekly feature on my blog. I was originally inspired by both Friday Finds, and WWW Wednesday, and decided to combine them to create my own little thing. In this feature, I aim to combine my reading habits from the previous week, plus the posts I wrote.
---
⋘Currently Reading⋙
A Great and Terrible Beauty by Libba Bray
It's 1895 and, after the death of her mother, 16-year-old Gemma Doyle is shipped from the she knows in India to Spence, a proper boarding school in England. Lonely, guilt-ridden, and prone to visions of the future that have an uncomfortable habit of coming true. Gemma finds he reception a chilly one. She's not completely alone, though… she's being followed by a mysterious young man, sent to warn her to close her mind against the visions.

It's at Spence that Gemma's power to attract the supernatural unfolds as she becomes entangled with the school's most powerful girls and discovers her mother's connection to a shadowy, timeless group called The Order. Her destiny awaits… if only Gemma can believe in it.
If you saw my previous Friday Finale post, you'll know that I was reading this book a week ago, and am still reading it today. I thought I was really enjoying it, but it's starting to drag a little now, and the characters are just getting annoying. This is disappointing, because I really wanted to love this book. I will power through though! I aim to finish this book in the next few days.
---
⋘Recently Finished⋙
Before I Go to Sleep by S.J. Watson
As I sleep, my mind will erase everything I did today. I will wake up tomorrow as I did this morning. Thinking I'm still a child, thinking I have a whole lifetime of choice ahead of me…

Memories define us. So what if you lost yours every time you went to sleep? Your name, your identity, your past, even the people you love–all forgotten overnight. And the one person you trust may only be telling you half the story.

Welcome to Christine's life.
Again, the last book I've finished is the one I spoke about last week. I have, however, recently published my review for Before I Go to Sleep by clicking here.
---
⋘My Next Read⋙
There are only three things that matter to twelve-year-old Alice Alexis Queensmeadow: Mother, who wouldn't miss her; magic and color, which seem to elude her; and Father, who always loved her. The day Father disappears from Ferenwood he takes nothing but a ruler with him. But it's been almost three years since then, and Alice is determined to find him. She loves her father even more than she loves adventure, and she's about to embark on one to find the other.

But bringing Father home is no small matter. In order to find him she'll have to travel through the mythical, dangerous land of Furthermore, where down can be up, paper is alive, and left can be both right and very, very wrong. It will take all of Alice's wits (and every limb she's got) to find Father and return home to Ferenwood in one piece. On her quest to find Father, Alice must first find herself—and hold fast to the magic of love in the face of loss.
I saw this book available on the Amazon Kindle store for only £1.99, so I had to get it! I am really eager to read this book, and hope to do so as soon as I finish A Great and Terrible Beauty.
---
⋘Books I Added to my TBR⋙
The Joy Luck Club by Amy Tan
Four mothers, four daughters, four families whose histories shift with the four winds depending on who's "saying" the stories. In 1949 four Chinese women, recent immigrants to San Francisco, begin meeting to eat dim sum, play mahjong, and talk. United in shared unspeakable loss and hope, they call themselves the Joy Luck Club. Rather than sink into tragedy, they choose to gather to raise their spirits and money. "To despair was to wish back for something already lost. Or to prolong what was already unbearable." Forty years later the stories and history continue.With wit and sensitivity, Amy Tan examines the sometimes painful, often tender, and always deep connection between mothers and daughters. As each woman reveals her secrets, trying to unravel the truth about her life, the strings become more tangled, more entwined. Mothers boast or despair over daughters, and daughters roll their eyes even as they feel the inextricable tightening of their matriarchal ties. Tan is an astute storyteller, enticing readers to immerse themselves into these lives of complexity and mystery.
An Education by Lynn Barber
At 16, Lynn Barber was an ambitious schoolgirl working towards a place at Oxford, when she was picked up at a bus-stop by an attractive older man in a sports car. So began a relationship that almost wrecked her life.

Barber's fascinating memoir takes us beyond this bizarre episode, revealing how it left her with an abiding mistrust of men which paradoxically led her to a promiscuous life-style at university until she met her husband-to-be. An Education tells how she went on to work for seven years at daring (for the times) men's magazine Penthouse before beginning her starry days as the Demon Barber – Britain's most entertaining and most feared interviewer. The book ends with an extraordinarily moving account of the early death of her husband. Her writing is refreshingly frank and funny.
Spectacles by Sue Perkins
When I began writing this book, I went home to see if my mum had kept some of my stuff. What I found was that she hadn't kept some of it. She had kept all of it – every bus ticket, postcard, school report – from the moment I was born to the moment I finally had the confidence to turn round and say 'Why is our house full of this shit?'

Sadly, a recycling 'incident' destroyed the bulk of this archive. This has meant two things: firstly, Dear Reader, you will never get to see countless drawings of wizards, read a poem about corn on the cob, or marvel at the kilos of brown flowers I so lovingly pressed as a child. Secondly, it's left me with no choice but to actually write this thing myself.

This, my first ever book, will answer questions such as 'Is Mary Berry real?', 'Is it true you wear a surgical truss?' and 'Is a non-spherically symmetric gravitational pull from outside the observable universe responsible for some of the observed motion of large objects such as galactic clusters in the universe?'

Most of this book is true. I have, of course, amplified my more positive characteristics in an effort to make you like me.

Thank you for reading.
---
⋘Blog Posts⋙
23/10/2016: Quote of the Sunday
24/10/2016: Summer Days & Summer Nights by Stephanie Perkins – Book Review
25/10/2016: Top Ten Tuesday: 10 Creepy Books You Should Read This Halloween
27/10/2016: Before I Go to Sleep by S.J. Watson – Book Review
---
Thank you for reading! How has your week been for reading? Tell me in the comments!
What books did you recently add to your TBR?
Until next time, and to keep up with my reading as it happens, find me on Goodreads, Twitter, Instagram, and Tumblr.
Olivia x