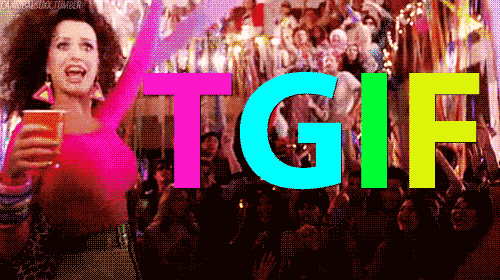 As many of you like know, I have featured "Friday Finds" on my blog quite a number of times in the past. However, today I've decided to re-vamp it a little bit. Thus, here is an original feature: Friday Finale! In this feature, I aim to combine my reading habits from the previous week, plus the posts I wrote.
If you have any other suggestions on what I should talk about, make sure to let me know in the comments!
---
⋘Currently Reading⋙
A Great and Terrible Beauty by Libba Bray
It's 1895 and, after the death of her mother, 16-year-old Gemma Doyle is shipped from the she knows in India to Spence, a proper boarding school in England. Lonely, guilt-ridden, and prone to visions of the future that have an uncomfortable habit of coming true. Gemma finds he reception a chilly one. She's not completely alone, though… she's being followed by a mysterious young man, sent to warn her to close her mind against the visions.

It's at Spence that Gemma's power to attract the supernatural unfolds as she becomes entangled with the school's most powerful girls and discovers her mother's connection to a shadowy, timeless group called The Order. Her destiny awaits… if only Gemma can believe in it.
I've wanted to read this book for a long time, and I'm so glad I have finally gotten around to it. This is also my first Libba Bray book – an another that has been recommended to me so often! So far, she isn't disappointing me!
---
⋘Recently Finished⋙
Before I Go to Sleep by S.J. Watson
As I sleep, my mind will erase everything I did today. I will wake up tomorrow as I did this morning. Thinking I'm still a child, thinking I have a whole lifetime of choice ahead of me…

Memories define us. So what if you lost yours every time you went to sleep? Your name, your identity, your past, even the people you love–all forgotten overnight. And the one person you trust may only be telling you half the story.

Welcome to Christine's life.
This book definitely wasn't what I expected, but that doesn't mean to say it was disappointing. On the contrary, in fact – I loved this book! It was however, difficult to get into due to it being quite repetetive at first.  ★★★★☆
---
⋘My Next Read⋙
The Knife of Never Letting Go by Patrick Ness
Prentisstown isn't like other towns. Everyone can hear everyone else's thoughts in an overwhelming, never-ending stream of Noise. Just a month away from the birthday that will make him a man, Todd and his dog, Manchee — whose thoughts Todd can hear too, whether he wants to or not — stumble upon an area of complete silence. They find that in a town where privacy is impossible, something terrible has been hidden — a secret so awful that Todd and Manchee must run for their lives.

But how do you escape when your pursuers can hear your every thought?
I am finally – finally – going to get around to reading this book. I promise!
---
⋘Books I Added to my TBR⋙
Bad Feminist by Roxanne Gay
Pink is my favorite color. I used to say my favorite color was black to be cool, but it is pink—all shades of pink. If I have an accessory, it is probably pink. I read Vogue, and I'm not doing it ironically, though it might seem that way. I once live-tweeted the September issue.

In these funny and insightful essays, Roxane Gay takes us through the journey of her evolution as a woman of color while also taking readers on a ride through culture of the last few years and commenting on the state of feminism today. The portrait that emerges is not only one of an incredibly insightful woman continually growing to understand herself and our society, but also one of our culture.

Bad Feminist is a sharp, funny, and spot-on look at the ways in which the culture we consume becomes who we are, and an inspiring call-to-arms of all the ways we still need to do better.
The Luminaries by Eleanor Catton
It is 1866, and young Walter Moody has come to make his fortune upon the New Zealand goldfields. On the stormy night of his arrival, he stumbles across a tense gathering of twelve local men who have met in secret to discuss a series of unexplained events: A wealthy man has vanished, a prostitute has tried to end her life, and an enormous fortune has been discovered in the home of a luckless drunk. Moody is soon drawn into the mystery: a network of fates and fortunes that is as complex and exquisitely ornate as the night sky. Richly evoking a mid-nineteenth-century world of shipping, banking, and gold rush boom and bust, The Luminaries is a brilliantly constructed, fiendishly clever ghost story and a gripping page-turner.
Girl Up by Laura Bates
They told you you need to be thin and beautiful.

They told you to wear longer skirts, avoid going out late at night and move in groups – never accept drinks from a stranger, and wear shoes you can run in more easily than heels.

They told you to wear just enough make-up to look presentable but not enough to be a slut; to dress to flatter your apple, pear, hourglass figure, but not to be too tarty.

They warned you that if you try to be strong, or take control, you'll be shrill, bossy, a ballbreaker. Of course it's fine for the boys, but you should know your place.

They told you 'that's not for girls' – 'take it as a compliment' – 'don't rock the boat' – 'that'll go straight to your hips'.

They told you 'beauty is on the inside', but you knew they didn't really mean it.

Well I'm here to tell you something different.

Hilarious, jaunty and bold, GIRL UP exposes the truth about the pressures surrounding body image, the false representations in media, the complexities of a sex and relationships, the trials of social media and all the other lies they told us.
---
⋘Blog Posts⋙
14/10/2016: The 'Get to Know Me' Tag
20/10/2016: Never Never by Colleen Hoover & Tarryn Fisher – Series Review
---
Thank you for reading! How has your week been for reading? Tell me in the comments!
What books did you recently add to your TBR?
Until next time, and to keep up with my reading as it happens, find me on Goodreads, Twitter, Instagram, and Tumblr.
Olivia x