WWW Wednesday is a weekly meme hosted by the blog Should Be Reading.
To play along, just answer the following three (3) questions…
• What are you currently reading?
• What did you recently finish reading?
• What do you think you'll read next?
---
⋘Currently Reading⋙
The Winner's Kiss (The Winner's Trilogy #3) by Marie Rutkoski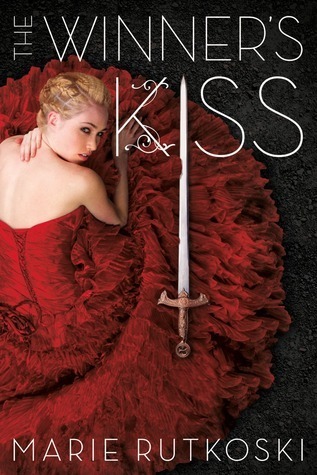 Some kisses come at a price.
War has begun. Arin is in the thick of it with untrustworthy new allies and the empire as his enemy. Though he has convinced himself that he no longer loves Kestrel, Arin hasn't forgotten her, or how she became exactly the kind of person he has always despised. She cared more for the empire than she did for the lives of innocent people—and certainly more than she did for him.
At least, that's what he thinks.
In the frozen north, Kestrel is a prisoner in a brutal work camp. As she searches desperately for a way to escape, she wishes Arin could know what she sacrificed for him. She wishes she could make the empire pay for what they've done to her.
But no one gets what they want just by wishing.
As the war intensifies, both Kestrel and Arin discover that the world is changing. The East is pitted against the West, and they are caught in between. With so much to lose, can anybody really win?
I'm so excited to really get into this book! It's the last in such a great series, and I can't wait to see how it ends!
---
⋘Recently Finished⋙
The Winner's Crime (The Winner's Trilogy #2) by Marie Rutkoski
The engagement of Lady Kestrel to Valoria's crown prince means one celebration after another. But to Kestrel it means living in a cage of her own making. As the wedding approaches, she aches to tell Arin the truth about her engagement… if she could only trust him. Yet can she even trust herself? For—unknown to Arin—Kestrel is becoming a skilled practitioner of deceit: an anonymous spy passing information to Herran, and close to uncovering a shocking secret.
As Arin enlists dangerous allies in the struggle to keep his country's freedom, he can't fight the suspicion that Kestrel knows more than she shows. In the end, it might not be a dagger in the dark that cuts him open, but the truth. And when that happens, Kestrel and Arin learn just how much their crimes will cost them.
I really enjoyed the first book in this series – The Winner's Curse – but it wasn't until I read this, the second instalment, that I realised how great this series really is. Marie Rutkoski's writing is divine, and I love how complex and intriguing the plot is.
---
⋘My Next Read⋙
Before I Go to Sleep by S.J. Watson
As I sleep, my mind will erase everything I did today. I will wake up tomorrow as I did this morning. Thinking I'm still a child, thinking I have a whole lifetime of choice ahead of me…
Memories define us. So what if you lost yours every time you went to sleep? Your name, your identity, your past, even the people you love–all forgotten overnight. And the one person you trust may only be telling you half the story.
Welcome to Christine's life.
I actually began reading this last week, but I just wasn't in the mood for it, and so switched to The Winner's Crime. I am, however, determined to read it, and so I'll pick up where I left off once I have finished The Winner's Kiss.
---
Thank you for reading! What is your WWW Wednesday?
Keep an eye out for more WWW Wednesday day posts from me in the future!
Until next time, and to keep up with my reading as it happens, find me on Goodreads, Twitter, Instagram, and Tumblr.
Olivia x