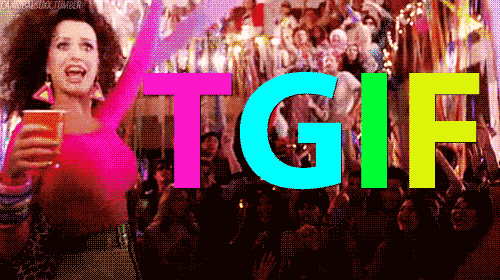 Friday Finds is a weekly meme began by Should Be Reading wherein you can showcase the books you found in the week leading up to said Friday. I didn't actually add any books to my TBR over the last week, so here are 5 random books from my TBR!
---
What I Though Was True by Huntley Fitzpatrick
Gwen Castle has never so badly wanted to say good-bye to her island home till now: the summer her Biggest Mistake Ever, Cassidy Somers, takes a job there as the local yard boy. He's a rich kid from across the bridge in Stony Bay, and she hails from a family of fishermen and housecleaners who keep the island's summer people happy. Gwen worries a life of cleaning houses will be her fate too, but just when it looks like she'll never escape her past—or the island—Gwen's dad gives her some shocking advice. Sparks fly and secret histories unspool as Gwen spends a gorgeous, restless summer struggling to resolve what she thought was true—about the place she lives, the people she loves, and even herself—with what really is.
All the Light We Cannot See by Anthony Doerr
Marie-Laure lives with her father in Paris near the Museum of Natural History, where he works as the master of its thousands of locks. When she is six, Marie-Laure goes blind and her father builds a perfect miniature of their neighborhood so she can memorize it by touch and navigate her way home. When she is twelve, the Nazis occupy Paris and father and daughter flee to the walled citadel of Saint-Malo, where Marie-Laure's reclusive great-uncle lives in a tall house by the sea. With them they carry what might be the museum's most valuable and dangerous jewel.
In a mining town in Germany, the orphan Werner grows up with his younger sister, enchanted by a crude radio they find. Werner becomes an expert at building and fixing these crucial new instruments, a talent that wins him a place at a brutal academy for Hitler Youth, then a special assignment to track the resistance. More and more aware of the human cost of his intelligence, Werner travels through the heart of the war and, finally, into Saint-Malo, where his story and Marie-Laure's converge.
The Great Gatsby by F. Scott Fitzgerald
THE GREAT GATSBY, F. Scott Fitzgerald's third book, stands as the supreme achievement of his career. This exemplary novel of the Jazz Age has been acclaimed by generations of readers. The story of the fabulously wealthy Jay Gatsby and his love for the beautiful Daisy Buchanan, of lavish parties on Long Island at a time when The New York Times noted "gin was the national drink and sex the national obsession," it is an exquisitely crafted tale of America in the 1920s.
The Great Gatsby is one of the great classics of twentieth-century literature.
The Girl with the Dragon Tattoo by Stieg Larsson
Mikael Blomkvist, a once-respected financial journalist, watches his professional life rapidly crumble around him. Prospects appear bleak until an unexpected (and unsettling) offer to resurrect his name is extended by an old-school titan of Swedish industry. The catch—and there's always a catch—is that Blomkvist must first spend a year researching a mysterious disappearance that has remained unsolved for nearly four decades. With few other options, he accepts and enlists the help of investigator Lisbeth Salander, a misunderstood genius with a cache of authority issues. Little is as it seems in Larsson's novel, but there is at least one constant: you really don't want to mess with the girl with the dragon tattoo.
November 9 by Colleen Hoover
Fallon meets Ben, an aspiring novelist, the day before her scheduled cross-country move. Their untimely attraction leads them to spend Fallon's last day in L.A. together, and her eventful life becomes the creative inspiration Ben has always sought for his novel. Over time and amidst the various relationships and tribulations of their own separate lives, they continue to meet on the same date every year. Until one day Fallon becomes unsure if Ben has been telling her the truth or fabricating a perfect reality for the sake of the ultimate plot twist.
---
Thank you for reading! Have you read any of these books? If so, what did you think of them? Tell me in the comments!
What books did you recently add to your TBR?
This is a scheduled post, as I am currently on holiday! Thus, I won't be replying to comments immediately, but I will eventually!
Until next time, and to keep up with my reading as it happens, find me on Goodreads, Twitter, Instagram, and Tumblr.
Olivia x