Goodbye, August. Hello, September.
Click here to read about all the books I read in July!
⋘August Wrap-Up⋙
Because it's summer, I've been reading all the time, and I love it so much! It's so great to just sit back, relax, and read, knowing in your head you have no other responsibilities to attend to.
In the month of August, I managed to read 5 books. Here they are:

Cress (The Lunar Chronicles #3) by Marissa Meyer
In this third book in Marissa Meyer's bestselling Lunar Chronicles series, Cinder and Captain Thorne are fugitives on the run, now with Scarlet and Wolf in tow. Together, they're plotting to overthrow Queen Levana and prevent her army from invading Earth.
Their best hope lies with Cress, a girl trapped on a satellite since childhood who's only ever had her netscreens as company. All that screen time has made Cress an excellent hacker. Unfortunately, she's being forced to work for Queen Levana, and she's just received orders to track down Cinder and her handsome accomplice.
When a daring rescue of Cress goes awry, the group is splintered. Cress finally has her freedom, but it comes at a higher price than she'd ever expected. Meanwhile, Queen Levana will let nothing prevent her marriage to Emperor Kai, especially the cyborg mechanic. Cress, Scarlet, and Cinder may not have signed up to save the world, but they may be the only hope the world has.
Though I didn't enjoy this book as much as Scarlet, I still thought it was really great. I think this was mainly fuelled by how I prefer Scarlet (the character) to Cress, and this book focused a lot more on Cress than Scarlet. ★★★★★
Alibi Interrupted by J.L. Pattison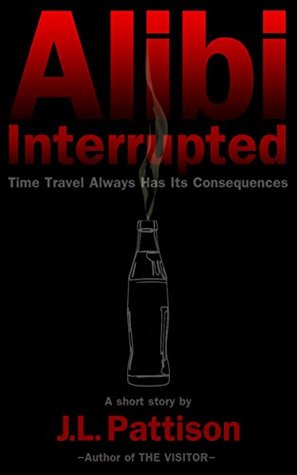 TIME TRAVEL ALWAYS HAS ITS CONSEQUENCES
When Stewart Hudson travels back in time to stop Lee Harvey Oswald from killing President Kennedy, things quickly fall apart. Not only does Stewart unwittingly become Oswald's alibi, he also finds himself stuck in 1963 with no way home.
The ripple affect of Stewart's actions reaches far into the future when the wife of his future grandson confronts the younger Stewart before his trip to 1963. In an attempt to make sure Stewart gets it right this time, she learns the hard way that meddling in the affairs of the past always has its consequences.
Though I'm not ordinarily a fan of time-travel novels, I can never tear myself away from the pages of J.L. Pattison's books. Just like his debut short story, The Visitor, Alibi Interrupted was a real page-turner for me, and I'm so glad I picked it up.  ★★★★★
You can read my review of Alibi Interrupted here.
Winter (The Lunar Chronicles #4) by Marissa Meyer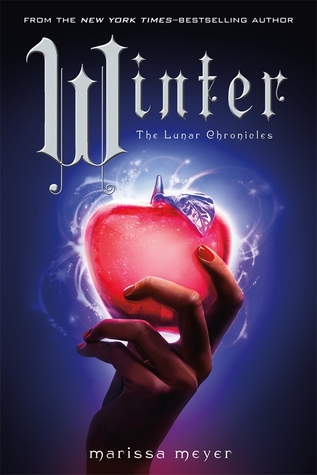 Princess Winter is admired by the Lunar people for her grace and kindness, and despite the scars that mar her face, her beauty is said to be even more breathtaking than that of her stepmother, Queen Levana.
Winter despises her stepmother, and knows Levana won't approve of her feelings for her childhood friend–the handsome palace guard, Jacin. But Winter isn't as weak as Levana believes her to be and she's been undermining her stepmother's wishes for years. Together with the cyborg mechanic, Cinder, and her allies, Winter might even have the power to launch a revolution and win a war that's been raging for far too long.
Can Cinder, Scarlet, Cress, and Winter defeat Levana and find their happily ever afters? Fans will not want to miss this thrilling conclusion to Marissa Meyer's national bestselling Lunar Chronicles series.
So, I finished The Lunar Chronicles! This book was a behemoth, but I managed to power through all 832 (!!!) pages of it. Actually, it felt like a lot less than 832 pages, due to the perfect dynamic between all the characters. This continuation felt natural, and was packed with twists and turns so as to keep you interested for its entirety. The perfect conclusion to a great series.  ★★★★★
Fangirl by Rainbow Rowell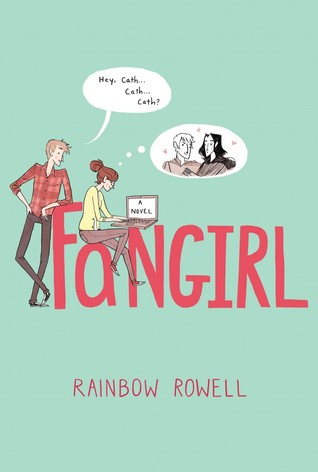 A coming-of-age tale of fan fiction, family and first love.
Cath is a Simon Snow fan.
Okay, the whole world is a Simon Snow fan…
But for Cath, being a fan is her life—and she's really good at it. She and her twin sister, Wren, ensconced themselves in the Simon Snow series when they were just kids; it's what got them through their mother leaving.
Reading. Rereading. Hanging out in Simon Snow forums, writing Simon Snow fan fiction, dressing up like the characters for every movie premiere.
Cath's sister has mostly grown away from fandom, but Cath can't let go. She doesn't want to.
Now that they're going to college, Wren has told Cath she doesn't want to be roommates. Cath is on her own, completely outside of her comfort zone. She's got a surly roommate with a charming, always-around boyfriend, a fiction-writing professor who thinks fan fiction is the end of the civilized world, a handsome classmate who only wants to talk about words… And she can't stop worrying about her dad, who's loving and fragile and has never really been alone.
For Cath, the question is: Can she do this?
Can she make it without Wren holding her hand? Is she ready to start living her own life? Writing her own stories?
And does she even want to move on if it means leaving Simon Snow behind?
I often hail this book as one of my favourite, and all rereading it did was remind me both why I love it so much, and why Rainbow Rowell is one of my favourite authors. This book is just so real, so honest and true to teenage emotions and anxieties. Cath is such a relateable character, especially for the people who don't/didn't conform to typical teenage behaviour, and preferred staying in than going out. Levi is also one of my absolute favourites of all time, as well as Baz and Simon from Carry On who we see mini cameos of.  ★★★★★
City of Bones by Cassandra Clare
When fifteen-year-old Clary Fray heads out to the Pandemonium Club in New York City, she hardly expects to witness a murder― much less a murder committed by three teenagers covered with strange tattoos and brandishing bizarre weapons. Then the body disappears into thin air. It's hard to call the police when the murderers are invisible to everyone else and when there is nothing―not even a smear of blood―to show that a boy has died. Or was he a boy?
This is Clary's first meeting with the Shadowhunters, warriors dedicated to ridding the earth of demons. It's also her first encounter with Jace, a Shadowhunter who looks a little like an angel and acts a lot like a jerk. Within twenty-four hours Clary is pulled into Jace's world with a vengeance, when her mother disappears and Clary herself is attacked by a demon. But why would demons be interested in ordinary mundanes like Clary and her mother? And how did Clary suddenly get the Sight? The Shadowhunters would like to know…
This was another reread, and part of the "Re-read all of the Shadowhunter books to keep the memory alive" challenge that I set myself on a whim 5 minutes before I began reading City of Bones. I know, I'm devastatingly spontaneous. As expected, I really enjoyed it, and actually found I'd forgotten a lot of what happens before reading, so it was nice to refresh my memory. ★★★★★
---
⋘Currently Reading⋙
Pride and Prejudice by Jane Austen
I am currently reading Pride and Prejudice as part of Read by Zoe's Austentatious book club, and  – though I'm loving it – it is taking me a while to get through. This is both because it's a classic with alien language, and because I have been quite stressed lately what with my GCSE results being released last week, so much so that I haven't been able to read! It's been awful!
When Elizabeth Bennet first meets eligible bachelor Fitzwilliam Darcy, she thinks him arrogant and conceited; he is indifferent to her good looks and lively mind. When she later discovers that Darcy has involved himself in the troubled relationship between his friend Bingley and her beloved sister Jane, she is determined to dislike him more than ever. In the sparkling comedy of manners that follows, Jane Austen shows the folly of judging by first impressions and superbly evokes the friendships, gossip and snobberies of provincial middle-class life.
Summer Days and Summer Nights by Stephanie Perkins
In an attempt to savour this book, I have decided to read 1 short story every time I finish an full-length novel. Thus far, I have read 4 of the 12 stories, and am enjoying it, but not as much as My True Love Gave to Me.
Maybe it's the long, lazy days, or maybe it's the heat making everyone a little bit crazy. Whatever the reason, summer is the perfect time for love to bloom. Summer Days & Summer Nights: Twelve Love Stories, written by twelve bestselling young adult writers and edited by the international bestselling author Stephanie Perkins, will have you dreaming of sunset strolls by the lake. So set out your beach chair and grab your sunglasses. You have twelve reasons this summer to soak up the sun and fall in love.
Featuring stories by Leigh Bardugo, Francesca Lia Block, Libba Bray, Cassandra Clare, Brandy Colbert, Tim Federle, Lev Grossman, Nina LaCour, Stephanie Perkins, Veronica Roth, Jon Skovron, and Jennifer E. Smith.
---
⋘September TBR⋙
At the beginning of September, I am on holiday in Spain, so I'm hoping to power through a bunch of contemporary reads – wish me luck!
Just One Day by Gayle Forman
Allyson Healey's life is exactly like her suitcase—packed, planned, ordered. Then on the last day of her three-week post-graduation European tour, she meets Willem. A free-spirited, roving actor, Willem is everything she's not, and when he invites her to abandon her plans and come to Paris with him, Allyson says yes. This uncharacteristic decision leads to a day of risk and romance, liberation and intimacy: 24 hours that will transform Allyson's life.
A book about love, heartbreak, travel, identity, and the "accidents" of fate, Just One Day shows us how sometimes in order to get found, you first have to get lost. . . and how often the people we are seeking are much closer than we know.
What I Thought Was True by Huntley Fitzpatrick
Gwen Castle has never so badly wanted to say good-bye to her island home till now: the summer her Biggest Mistake Ever, Cassidy Somers, takes a job there as the local yard boy. He's a rich kid from across the bridge in Stony Bay, and she hails from a family of fishermen and housecleaners who keep the island's summer people happy. Gwen worries a life of cleaning houses will be her fate too, but just when it looks like she'll never escape her past—or the island—Gwen's dad gives her some shocking advice. Sparks fly and secret histories unspool as Gwen spends a gorgeous, restless summer struggling to resolve what she thought was true—about the place she lives, the people she loves, and even herself—with what really is.
November 9 by Colleen Hoover
Fallon meets Ben, an aspiring novelist, the day before her scheduled cross-country move. Their untimely attraction leads them to spend Fallon's last day in L.A. together, and her eventful life becomes the creative inspiration Ben has always sought for his novel. Over time and amidst the various relationships and tribulations of their own separate lives, they continue to meet on the same date every year. Until one day Fallon becomes unsure if Ben has been telling her the truth or fabricating a perfect reality for the sake of the ultimate plot twist.
---
What was your favourite book you read in August? What are you currently reading? What do you want to read in September? Tell me in the comments!
This is a scheduled post, as I am currently on holiday! Thus, I won't be replying to comments immediately, but I will eventually!
Thank you ever so much for reading, and I really hope you enjoyed!
Until next time, and to keep up with my reading as it happens, find me on Goodreads, Twitter, Instagram, and Tumblr.
Love, Olivia x