This is going to be so frustrating…
Hello, all! It's Tuesday, and we all know what Tuesday means…
"Top Ten Tuesday" is a weekly meme hosted by The Broke and the Bookish, and this week's prompt is:
Top Ten Books  That Have Been On Your Shelf (Or TBR) From Before You Started Blogging That You STILL Haven't Read Yet
Because I've only been blogging for just over a year, I won't be looking at books I planned on reading 5 or 10 years ago, but books I wanted to read a year ago and have been too lazy to pick up. Or preoccupied. Or downright odd, because I always buy books that aren't even on my TBR…
Anyway, let's get onto the books!
---
The Humans by Matt Haig
Body-snatching has never been so heartwarming . . .
The Humans is a funny, compulsively readable novel about alien abduction, mathematics, and that most interesting subject of all: ourselves. Combine Douglas Adams's irreverent take on life, the universe, and everything with a genuinely moving love story, and you have some idea of the humor, originality, and poignancy of Matt Haig's latest novel.
Our hero, Professor Andrew Martin, is dead before the book even begins. As it turns out, though, he wasn't a very nice man–as the alien imposter who now occupies his body discovers. Sent to Earth to destroy evidence that Andrew had solved a major mathematical problem, the alien soon finds himself learning more about the professor, his family, and "the humans" than he ever expected. When he begins to fall for his own wife and son–who have no idea he's not the real Andrew–the alien must choose between completing his mission and returning home or finding a new home right here on Earth.
I feel like the first warning sign is that this synopsis did not ring any bells for me. I think I added this to my TBR after reading The Host by Stephenie Meyer. Yeah, that seems likely.
Carrie by Stephen King
Carrie knew she should not use the terrifying power she possessed… But one night at her senior prom, Carrie was scorned and humiliated just one time too many, and in a fit of uncontrollable fury she turned her clandestine game into a weapon of horror and destruction…
I remember I added Carrie to my TBR after watching the movie Stuck in Love, wherein the protagonists are big fans of Stephen King's work. (Great movie, highly recommend.) I decided that I too wanted to be a big fan of Stephen King, or – at least – give him a go. Thus, I looked through his books, and added Carrie to my TBR because it seemed the most tame (har har). And then I just never read it. Oops.
Everybody Sees the Ants by A.S. King
Lucky Linderman didn't ask for his life. He didn't ask his grandfather not to come home from the Vietnam War. He didn't ask for a father who never got over it. He didn't ask for a mother who keeps pretending their dysfunctional family is fine. And he didn't ask to be the target of Nader McMillan's relentless bullying, which has finally gone too far.
But Lucky has a secret–one that helps him wade through the daily mundane torture of his life. In his dreams, Lucky escapes to the war-ridden jungles of Laos–the prison his grandfather couldn't escape–where Lucky can be a real man, an adventurer, and a hero. It's dangerous and wild, and it's a place where his life just might be worth living. But how long can Lucky keep hiding in his dreams before reality forces its way inside?
I don't at all remember adding this book to my TBR. It's just always been there. Again, the synopsis didn't ring any bells for me, just like The Humans. However, many people on Goodreads have categorized this book as 'magical realism' which is an aspect of The Raven Cycle I really enjoyed. Maybe I will actually get around to reading this book one day!
The Girl on the Train by Paula Hawkins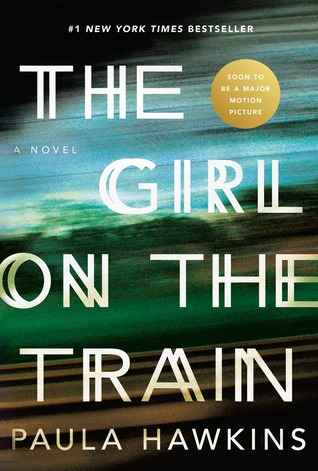 EVERY DAY THE SAME
Rachel takes the same commuter train every morning and night. Every day she rattles down the track, flashes past a stretch of cozy suburban homes, and stops at the signal that allows her to daily watch the same couple breakfasting on their deck. She's even started to feel like she knows them. Jess and Jason, she calls them. Their life—as she sees it—is perfect. Not unlike the life she recently lost.
UNTIL TODAY
And then she sees something shocking. It's only a minute until the train moves on, but it's enough. Now everything's changed. Unable to keep it to herself, Rachel goes to the police. But is she really as unreliable as they say? Soon she is deeply entangled not only in the investigation but in the lives of everyone involved. Has she done more harm than good?
Remember when this book was really big in the book community? That's when I added it to my TBR… And, just as I do with many popular books/series, I avoided it like the plague until the more honest reviews surfaced. It still has a 3.85 rating, so maybe I will read it. I'm not sure yet.
Asking for It by Louise O'Neill
It's the beginning of the summer in a small town in Ireland. Emma O'Donovan is eighteen years old, beautiful, happy, confident. One night, there's a party. Everyone is there. All eyes are on Emma.
The next morning, she wakes on the front porch of her house. She can't remember what happened, she doesn't know how she got there. She doesn't know why she's in pain. But everyone else does.
Photographs taken at the party show, in explicit detail, what happened to Emma that night. But sometimes people don't want to believe what is right in front of them, especially when the truth concerns the town's heroes…
I added this book to my TBR after reading Only Ever Yours, Louise O'Neill's debut. I loved how her writing was sharp and honest, and I imagine the same would be said about Asking for It. I'm still very eager to pick this one up. (She says, having has it on her TBR for over a year…)
Never Never by Colleen Hoover & Tarryn Fisher
Best friends since they could walk. In love since the age of fourteen.
Complete strangers since this morning.
He'll do anything to remember. She'll do anything to forget.
Never Never is the first in a 3 part YA short-story-series written by Colleen Hoover and Tarryn Fisher. I love how vague the synopsis is, which is an abnormality, and I usually hate it when synopses skirt around the plot. However, I'm so intrigued by the brevity of this one. I purchased the eBook of part 1 of Never Never, but I am yet to read it, because I want to read something else by Colleen Hoover first. (I don't know why, I just do.) Thus, I waited until I found a Colleen Hoover book I'm interested in. Out comes November 9, which I buy, and then shove to the side, along with Never Never. Oops. One day, though, especially because I own it.
Gone Girl by Gillian Flynn
On a warm summer morning in North Carthage, Missouri, it is Nick and Amy Dunne's fifth wedding anniversary. Presents are being wrapped and reservations are being made when Nick's clever and beautiful wife disappears from their rented McMansion on the Mississippi River. Husband-of-the-Year Nick isn't doing himself any favors with cringe-worthy daydreams about the slope and shape of his wife's head, but passages from Amy's diary reveal the alpha-girl perfectionist could have put anyone dangerously on edge. Under mounting pressure from the police and the media–as well as Amy's fiercely doting parents–the town golden boy parades an endless series of lies, deceits, and inappropriate behavior. Nick is oddly evasive, and he's definitely bitter–but is he really a killer?
As the cops close in, every couple in town is soon wondering how well they know the one that they love. With his twin sister, Margo, at his side, Nick stands by his innocence. Trouble is, if Nick didn't do it, where is that beautiful wife? And what was in that silvery gift box hidden in the back of her bedroom closet?
It was on offer, so I bought it, but then I never read it. (The story of my life.)
My Sister's Keeper by Jodi Picoult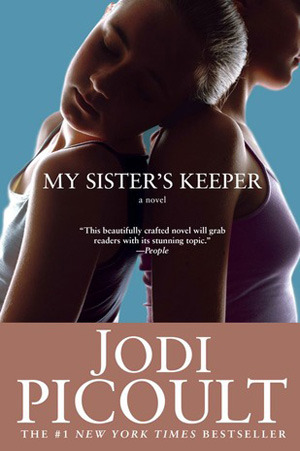 Anna is not sick, but she might as well be. By age thirteen, she has undergone countless surgeries, transfusions, and shots so that her older sister, Kate, can somehow fight the leukemia that has plagued her since childhood. The product of preimplantation genetic diagnosis, Anna was conceived as a bone marrow match for Kate — a life and a role that she has never challenged… until now. Like most teenagers, Anna is beginning to question who she truly is. But unlike most teenagers, she has always been defined in terms of her sister—and so Anna makes a decision that for most would be unthinkable, a decision that will tear her family apart and have perhaps fatal consequences for the sister she loves.
A provocative novel that raises some important ethical issues,My Sister's Keeper is the story of one family's struggle for survival at all human costs and a stunning parable for all time.
Remember when I did a Charity Shop Book Haul? This was one of the books I purchased. (It was on my TBR before then.) I was so pleased and I took loads of photos and then I put it on my shelf and I haven't touched it since. Oops.
All the Light We Cannot See by Anthony Doerr
Marie-Laure lives with her father in Paris near the Museum of Natural History, where he works as the master of its thousands of locks. When she is six, Marie-Laure goes blind and her father builds a perfect miniature of their neighborhood so she can memorize it by touch and navigate her way home. When she is twelve, the Nazis occupy Paris and father and daughter flee to the walled citadel of Saint-Malo, where Marie-Laure's reclusive great-uncle lives in a tall house by the sea. With them they carry what might be the museum's most valuable and dangerous jewel.
In a mining town in Germany, the orphan Werner grows up with his younger sister, enchanted by a crude radio they find. Werner becomes an expert at building and fixing these crucial new instruments, a talent that wins him a place at a brutal academy for Hitler Youth, then a special assignment to track the resistance. More and more aware of the human cost of his intelligence, Werner travels through the heart of the war and, finally, into Saint-Malo, where his story and Marie-Laure's converge.
Soon. I will read this book soon.
Water for Elephants by Sara Gruen
Orphaned, penniless, Jacob Jankowski jumps a freight train in the dark, and in that instant, transforms his future.
By morning, he's landed a job with the Flying Squadron of the Benzini Brothers Most Spectacular Show on Earth. By nightfall, he's in love.
In an America made colourless by prohibition and the Depression, the circus is a refuge of sequins and sensuality. But behind the glamour lies a darker world, where both animals and men are dispensable. Where falling in love is the most dangerous act of all…
This is one of the first books I added to my TBR. I remember adding it because Robert Pattinson stars in the movie adaptation, and I wanted to read the book before I watched the film. (I still haven't watched the movie, so at least I stuck to my word.) I recently purchased a copy, so I'm one step closer to reading it. Again, soon.
Stolen: A Letter to my Captor by Lucy Christopher
It happened like this. I was stolen from an airport. Taken from everything I knew, everything I was used to. Taken to sand and heat, dirt and danger. And he expected me to love him.
This is my story.
A letter from nowhere.
Sixteen year old Gemma is kidnapped from Bangkok airport and taken to the Australian Outback. This wild and desolate landscape becomes almost a character in the book, so vividly is it described. Ty, her captor, is no stereotype. He is young, fit and completely gorgeous. This new life in the wilderness has been years in the planning. He loves only her, wants only her. Under the hot glare of the Australian sun, cut off from the world outside, can the force of his love make Gemma love him back?
The story takes the form of a letter, written by Gemma to Ty, reflecting on those strange and disturbing months in the outback. Months when the lines between love and obsession, and love and dependency, blur until they don't exist – almost.
Just like Water for Elephants, I recently purchased a copy of this book, so I am one step closer to reading it. This is actually one I'm really excited to read, because I've only heard good stuff about it.
The Knife of Never Letting Go by Patrick Ness
Prentisstown isn't like other towns. Everyone can hear everyone else's thoughts in an overwhelming, never-ending stream of Noise. Just a month away from the birthday that will make him a man, Todd and his dog, Manchee — whose thoughts Todd can hear too, whether he wants to or not — stumble upon an area of complete silence. They find that in a town where privacy is impossible, something terrible has been hidden — a secret so awful that Todd and Manchee must run for their lives.
But how do you escape when your pursuers can hear your every thought?
I bought this book because I could get the whole series for really cheap if I purchased it with The Rest of Us Just Live Here by Patrick Ness. (See this haul.) I read and loved The Rest of Us… but I am yet to read the Chaos Walking trilogy. Oops.
---
Thank you for reading!
Have you read any of these books? What did you think?
Let me know down below!
Keep an eye out for more Top Ten Tuesday posts from me!
Until next time, and to keep up with my reading as it happens, find me on Goodreads, Twitter, Instagram, and Tumblr.
Olivia x