Diversity!
It's Tuesday, which means one thing…TOP TEN TUESDAY! I don't know, the idea of making lists just excites me.
"Top Ten Tuesday" is a weekly meme hosted by The Broke and the Bookish, and this week's prompt is:
Top Ten Tuesday REWIND

Go back and do a topic you missed over the years or recently or a topic you really want to revisit
Thus, I've selected the prompt from 19th July 2016:  Ten Books Set Outside the US. This is because this is the topic from the week before I adopted Top Ten Tuesday onto my blog, and I was really annoyed to see I'd missed such a great topic – I don't know about you guys, but I love finding books that have a little bit of diversity mixed in, and even mystery if I've never been to the place the book is set; it's so great to learn about cultures different to my own. However, I was very excited to learn I'd be able to flash back to this prompt, and talk about it on my blog. So, let's go!
---
1. The Book Thief by Markus Zusak
Set in Germany
This book is like a double whammy, because it's set in Germany, and it's set in the past!
2. The Kite Runner by Khaled Hosseini
Set in Kabul, Afghanistan
This is a great book for experiencing new culture. Though parts of it are set in the US, granted, it is always orbiting the culture of Afghanistan, which is what I love about it.
You can read my review of The Kite Runner here.
3. The Infernal Devices by Cassandra Clare
Set in London, UK
Again, a bit of a cheat, but I just love reading literature in my own country sometimes, OK! (That contradicts the whole beginning to this post, but at least I'm honest!) Also, because The Infernal Devices is set in the Victorian Era, it is very different culture to experience. Hell, there were slums in London back then!
4. Cinder by Marissa Meyer
Set in (New) Beijing, China
Though Cinder is set in a dystopian society, it is still set in the East, which is well away from America. I actually really like that Marissa Meyer chose for her protagonist to be from eastern Asia.
You can read my review of Cinder here.
5. Sula's Voyage by Catherine Torres
Set in the Philippines
OK, so back to my love of unique cultures… Sula's Voyage is the perfect example of a novel that exposes its readers to different ways of life. Because this novel is set in the Philippines, we learn so much about the country's history, as well as its characteristics at present. And God, did I learn about food! I loved it! There's also a little bit of Mexican culture mixed into this book, so if you're looking for something different, this might just be the book for you.
Read my review of Sula's Voyage here.
6. Anna and the French Kiss by Stephanie Perkins
Set in Paris, France
I've got a lot of love for this book, as you all probably know already, but what makes it even better is reading as an American gets accustomed to the French lifestyle. I really enjoyed learning about Parisian culture throughout the entirety of this book, especially when it was least expected.
7. The Nightingale by Kristin Hannah
Set in Paris and Carriveau, France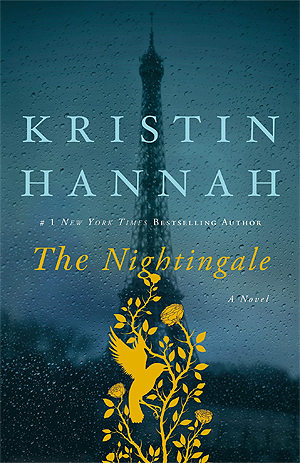 Speaking of France…
I loved to see the contrast between the Parisian lifestyle in this book, and the rural lifestyle in Carriveau. Then again, it was startling to see the contrast between France pre-Nazi occupation, and post-Nazi occupation.
Read my review of The Nightingale here.
8. Salt to the Sea by Ruta Sepetys
Set in Poland
From what I could gather, I think this book is set in Poland. Either way, it's stunning, and the specific setting is nothing is comparison to the culture shown, as well as the characters developed, all from different European countries.
9. Wolf by Wolf by Ryan Graudin
Set in Germany, The Middle East, Asia, and Japan
I have been quite vague with stating the setting of this book, as it is literally a book about travel, and that rarely stays put. I mention Germany and Japan specifically because a lot of the action occurs there, whereas The Middle East and the majority of Asia are passed through whilst the characters race one another to Japan, the finish line. If you like books about road trips, action, and alternate history, Wolf by Wolf is the way to go.
Read my review of Wolf by Wolf here.
10. The Martian by Andy Weir
Set on Mars
Last but not least, we have The Martian! OK, I'm clutching at straws…
Read my review of The Martian here.
---
Thank you for reading! What book would you buy right now if you had a fully loaded gift card?
Keep an eye out for more Top Ten Tuesday posts from me!
Until next time, and to keep up with my reading as it happens, find me on Goodreads, Twitter, Instagram, and Tumblr.
Olivia x