Rating:

 ★★★★★
Synopsis: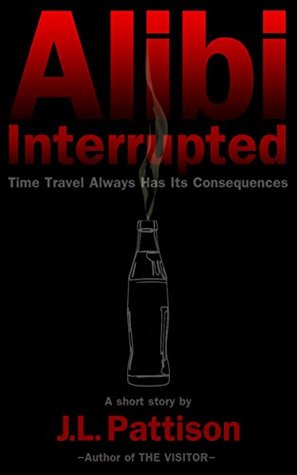 TIME TRAVEL ALWAYS HAS ITS CONSEQUENCES
When Stewart Hudson travels back in time to stop Lee Harvey Oswald from killing President Kennedy, things quickly fall apart. Not only does Stewart unwittingly become Oswald's alibi, he also finds himself stuck in 1963 with no way home.
The ripple affect of Stewart's actions reaches far into the future when the wife of his future grandson confronts the younger Stewart before his trip to 1963. In an attempt to make sure Stewart gets it right this time, she learns the hard way that meddling in the affairs of the past always has its consequences.
Alibi Interrupted is the perfect blend of two tales of speculative fiction intricately woven into one masterpiece of suspense that not only entertains, but also causes you to reflect on how the decisions we make in life can profoundly affect the world around us and the people we love.
Review:
"It all started," Stewart said, drawing a deep breath, "the day I travelled back in time to change history."
Almost a year ago, I was asked by J.L. Pattison to review his first short story, The Visitor. You can read that review here. It really puts things in perspective to be able to say that 1 year ago I reviewed The Visitor – my first review by the author's request – and now I've come full circle, and am reviewing for J.L. Pattison again.
Frankly, I couldn't be more honoured.
Pattison's writing is like respite from the hustle and bustle and confusion of the rest of the world; reading his short stories is like spending an hour in an alternate universe, where all you have to worry about is the character's and their actions and their ultimate fates.
For the entirety of this novel, I was engrossed with what was happening, consistently curious in the repercussions of a time slip, and eagerly awaiting the time loop. It's funny: I rarely read novels of this genre – speculative fiction – but returning to Pattison's writing is like returning to an old friend.
It makes me want to read more novels like this.
Honestly, Pattison's books are the kind that really remind you why you love reading. I mentioned this in my review of The Martian by Andy Weir: sometimes, I'll just stumble upon a book, and throughout reading, I know I'm reading greatness.
That's how it felt with Alibi Interrupted – like I was reading something indisputably great.
Though this is a short story, that doesn't mean to say the quality is inferior to any full length novel. Actually, I'd argue the contrary: it's astounding to see so much excellence packed into such a short story. From the pristine writing to the flawless weaving together of countless lives, Alibi Interrupted succeeds in entertaining to the maximum, leaving myself – and many other readers alike, I imagine – speechless at the conclusion.
Everything was tied together so seamlessly, that I was completely satisfied with the story, a difficult feat for a book of only 11,000 words.
If you would like to read this book, you can find it on Amazon for only £0.99! Click here to check it out. Find it on Goodreads here. If you're interested in seeing more of J.L. Pattison, make sure to visit his blog by clicking here.
(Disclaimer: I was asked to read and review this novel by the author. I would like to send a big thank you to J.L. Pattison for this book, as well as a big congratulations for such a great novel.)