Rating:

 ★★★★★
Synopsis: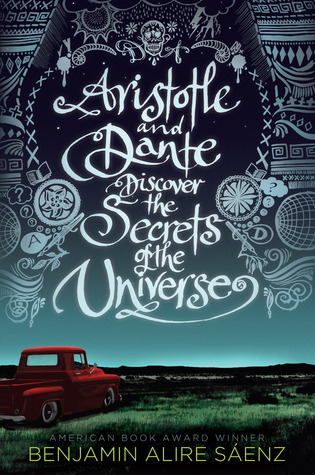 Dante can swim. Ari can't. Dante is articulate and self-assured. Ari has a hard time with words and suffers from self-doubt. Dante gets lost in poetry and art. Ari gets lost in thoughts of his older brother who is in prison. Dante is fair skinned. Ari's features are much darker. It seems that a boy like Dante, with his open and unique perspective on life, would be the last person to break down the walls that Ari has built around himself.
But against all odds, when Ari and Dante meet, they develop a special bond that will teach them the most important truths of their lives, and help define the people they want to be. But there are big hurdles in their way, and only by believing in each other―and the power of their friendship―can Ari and Dante emerge stronger on the other side.
Review:
Another secret of the universe: Sometimes pain was like a storm that came out of nowhere. The clearest summer could end in a downpour. Could end in lightning and thunder.
It was a spur of the moment feeling, a sudden urge, that made me read this book. It wasn't on my TBR, and I wasn't really at all interested in reading it. But then a thought jumped into my head whilst I was deciding what to read next: I should read that Aristotle and Dante book.
And here I am. And all I can say is this: best impulsive move EVER.
I am so proud of my subconscious.
Firstly, I must say that this novel is much more insightful than I could ever have assumed. The way it is told is in such a wise and knowing manner, I felt like I was being spoken to by a higher power. However, that is not to say this book was written in a complex way. On the contrary – this book was written in a rather simple way, so much so that I think it is accessible to a large array of people, from a vast range of backgrounds. I mean, so long as the reader is up to date with common profanity.
Similarly, this book was very angsty, to the extent that I feel obliged to compare Ari – our protagonist – to a more modern Holden Caulfield of The Catcher in the Rye. From that comparison you can probably infer that I don't mean this negatively – I love The Catcher in the Rye! – but I feel as though I should point this out, as there are a lot of people who don't particularly enjoy angst-ridden literature.
I, however, love it, and so I very obviously loved this. Ari's complex with the world isn't at all unique, but it is refreshing to read about it from his perspective – he is the same age as I am, but is facing so many different questions than I am, which made it all the more interesting for me. Likewise, he is from a culture so unique to myself that it is refreshing to see his take on the world, and the hardships he faces. The relationship between Ari and his father is particularly interesting, and its great to see their growth from a place of miscommunication to one of emotional intimacy.
Likewise, I didn't actually know this novel was historical fiction until I started picking up on tells in the book – like birth years, and a lack of mobile phones etc. Again, this made it so that there was that little bit more intriguing than I'd expected. Also, because this book orbits Mexican culture, I was able to experience a lifestyle I wasn't ready for – it was like being thrown in, head first, into someone else's life, without even knowing their name. And it was great! I love diving into books without knowing much, but this was really on the next level, and I loved being able to pick up on things by myself, rather than just knowing outright what was happening.
This is actually the first time I've read about Mexican culture, so it was really interesting to experience it without knowing I was about to.
In terms of pace, this book was written in a manner that keeps you wanting more. We are drip-fed our main character's actions and emotions and desires, and I love that – like I said earlier – nothing is told directly, but we learn more and more about this cast of characters as we continue reading.
Much of this book is actually told in letters, which I thought added to the impact this novel packs. Personally, I think it's so much easier to lay down your heart in writing, and to read a letter is such a personal and emotional thing; we get to read so many letters in this book, it's almost like being in the character's heads, and I love how close to Aristotle and Dante I actually felt. So much honesty can be released in letters, and I love the rawness of the characters we were able to see through this aspect of the book.
One thing I really look for in novels is family values, and I think this book is so poignant because of all the family figures present. To watch as your protagonist grows closer to his parental figures is such a beautiful thing, especially if he's never felt quite so close to them or understood by them beforehand. For example,  it's striking that Ari commences this novel perceiving Dante as 'crazy' for openly loving his parents, but Ari concludes the book with similar feelings towards his own parents. The growth and development of Ari is a particular component of this idea, and I thought it worked really well.
Overall, I thought this book was stunning. It was so much better than I'd expected, and definitely a novel that will remain close to my heart in the coming years.
You can find the book here: Amazon | Goodreads
The trigger for reading this novel was seeing in on the Goodreads Recommendation page, and so I am entering this novel for the number 21 spot on the Around the Year in 52 Books Challenge – A book book from the Goodreads Recommendation page. Yay!
---
Highlights:
Words were different when they lived inside of you.
I got to thinking that poems were like people. Some people you got right off the bat. Some people you just didn't get–and never would get.
The summer sun was not meant for boys like me. Boys like me belonged to the rain.
I wanted to tell them that I'd never had a friend, not ever, not a real one. Until Dante. I wanted to tell them that I never knew that people like Dante existed in the world, people who looked at the stars, and knew the mysteries of water, and knew enough to know that birds belonged to the heavens and weren't meant to be shot down from their graceful flights by mean and stupid boys. I wanted to tell them that he had changed my life and that I would never be the same, not ever. And that somehow it felt like it was Dante who had saved my life and not the other way around. I wanted to tell them that he was the first human being aside from my mother who had ever made me want to talk about the things that scared me. I wanted to tell them so many things and yet I didn't have the words. So I just stupidly repeated myself. "Dante's my friend."
We all fight our own private wars.
But love was always something heavy for me. Something I had to carry. 
I had a feeling there was something wrong with me. I guess I was a mystery even to myself.
Why do we smile? Why do we laugh? Why do we feel alone? Why are we sad and confused? Why do we read poetry? Why do we cry when we see a painting? Why is there a riot in the heart when we love? Why do we feel shame? What is that thing in the pit of your stomach called desire?
Senior year. And then life. Maybe that's the way it worked. High school was just a prologue to the real novel. Everybody got to write you — but when you graduated, you got to write yourself. At graduation you got to collect your teacher's pens and your parents' pens and you got your own pen. And you could do all the writing.
---
If you enjoyed _____, you'll love Aristotle and Dante Discover the Secrets of the Universe!