Rating:

★★★★✰
Synopsis: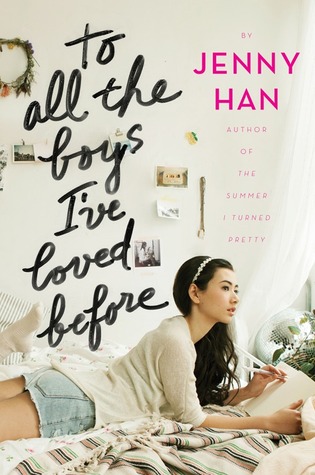 To All the Boys I've Loved Before is the story of Lara Jean, who has never openly admitted her crushes, but instead wrote each boy a letter about how she felt, sealed it, and hid it in a box under her bed. But one day Lara Jean discovers that somehow her secret box of letters has been mailed, causing all her crushes from her past to confront her about the letters: her first kiss, the boy from summer camp, even her sister's ex-boyfriend, Josh. As she learns to deal with her past loves face to face, Lara Jean discovers that something good may come out of these letters after all.
Review:
You'd rather make up a fantasy version of somebody in your head than be with a real person.
I never expected a novel like this could be so realistic or relateable.
Frankly, I'm just so used to idealistic books, and books that are so perfect, we know they're fictitious. However, stepping into Lara Jean's world was like stepping into the world of a neighbour, or a classmate – her world felt comfortable, and like I knew exactly where she was coming from. This was great primarily, because it was a seamless transition from my world to Lara's, and so I was very quickly invested in her story, and absorbed in the book. Secondly, it was great because I felt like – finally – my feelings were being recognised and understood.
Lara Jean is the kind of girl who isn't very forward, and so relationships tend not to bloom with her because she restrains her feelings from spilling out. In short, she'd never tell someone she liked them. Instead, she'd write them a letter, and try to forget all about the feelings she ever had for them.
Whilst this is not exactly healthy, things like this are so relateable to so many teenage girls who are shy, or maybe anxious, or maybe just not very forward.
To read from a perspective that struggles with the same issues as you is great, because it feels like you're finally being understood.
Lara Jean is, in my opinion, very realistic –  she is like many of us in that she over thinks things, and she is like a lot of us in that she fictionalises relationships in her head. Not everyone is boisterous or dauntless enough to let their feelings show so clearly, and so it's great that a quieter girl like Lara is flying the flag for girls of her kind.
Additionally, Lara Jean is very optimistic, and it was so refreshing to read from a perspective that always and consistently hopes for the best. I'm so tired of protagonists who always think the worst thing in the world is either happening to them, or destined to occur!
Similarly, I felt as though this book was rich in beneficial messages for teenage girls like myself, from healthy relationships, to being biracial (Lara Jean is half Korean), to even being lonely.
Likewise, because Lara and her sisters are biracial, the diversity this novel is willing to show is evident and really uplifting, and I give props to Jenny Han for doing this.
Also, there's a strong sense of family values in this novel, which I really love. So often I read novels wherein the protagonist is never really seen to converse with their parents or siblings, which I really just do not understand! To see how close Lara Jean was with her sisters and father was a really nice addition to the book, and to see the support they gave her and trust they had in her was really heartwarming.
In terms of the pace, this novel was extremely easy to read, and practically flew by – it only took me a day to read it! It's the kind of book that you just can't put down, both because the chapters are so short, and because you're so eager to find out what will happen next.
The reason I didn't award this book 5/5 stars was simply because it wasn't what I exactly wanted or thought it would be. Personally, I wish there was more emphasis on the letters – the letters are what really drew me into this book, and so I was disappointed to see how little they are actually spoken about.
I mean, one letter was returned to sender: where's the fun in that?!
However, I didn't really pick up on the issue a lot of people tend to have with this book: that Lara Jean is childish and immature. Sure, I can see where they're coming from – she does call her parents 'Mommy' and 'Daddy' at age 17… –  but, firstly, I don't at all believe this takes away from the story, and, secondly, I think it is exacerbated by her peers: she is surrounded by people who aren't like her, and haven't grown up like her – she has lived a strikingly sheltered life in comparison to her friends, because she has a perfectly loving family, which is something not everyone in the book can say. Actually, I think she's less childish, and is more yet to come across her moment for maturity – she's never had that moment where she must step up and take responsibility until the events in this book, and so she's transitioning from a young, carefree girl into a woman.
Overall, I thought this book was immensely enjoyable, and really well paced. I loved so many aspects of it, including the characters, but unfortunately wish it was a little more focused on the letters – I loved that idea, but I don't think it was executed as well as it could be.
Highlights:
When someone's been gone a long time, at first you save up all the things you want to tell them. You try to keep track of everything in your head. But it's like trying to hold on to a fistful of sand: all the little bits slip out of your hands, and then you're just clutching air and grit.
Love is scary: it changes; it can go away. That's the part of the risk. I don't want to be scared anymore.
Do you know what it's like to like someone so much you can't stand it and know that they'll never feel the same way?
It's not like in the movies. It's better, because it's real.
It's fun to think of the what-if. Scary, but fun. It's like, I thought this door was closed before, but here it is open just the tiniest crack. What if?
---
If you enjoyed _____, you'll love To All the Boys I've Loved Before!