Rating:

★★★★★
Synopsis: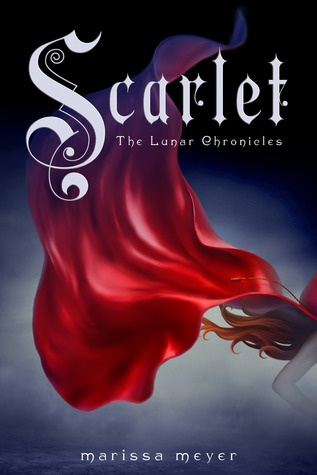 Cinder, the cyborg mechanic, returns in the second thrilling installment of the bestselling Lunar Chronicles. She's trying to break out of prison—even though if she succeeds, she'll be the Commonwealth's most wanted fugitive.
Halfway around the world, Scarlet Benoit's grandmother is missing. It turns out there are many things Scarlet doesn't know about her grandmother or the grave danger she has lived in her whole life. When Scarlet encounters Wolf, a street fighter who may have information as to her grandmother's whereabouts, she is loath to trust this stranger, but is inexplicably drawn to him, and he to her. As Scarlet and Wolf unravel one mystery, they encounter another when they meet Cinder. Now, all of them must stay one step ahead of the vicious Lunar Queen Levana, who will do anything for the handsome Prince Kai to become her husband, her king, her prisoner.
You can read my review of Cinder – the first book in this series – here.
Review:
"We met less than a week ago and in that time I've done nothing but lie and cheat and betray you. I know. But if you give me a chance…all I want is to protect you. To be near you. For as long as I'm able."
I read the first instalment of The Lunar Chronicles – Cinder – just under a year ago. And I really enjoyed it. I thought the whole plot was thick and intriguing and exciting, and I thought the cast of characters were amongst the best I'd read about in a long time. I thought the world building was impeccable, and I thought our protagonist, Cinder, was the epitome of female empowerment.
I do not take any of this back.
And I have all the same thoughts and feelings towards Scarlet.
Like Cinder, Scarlet is told in multiple points of view, and I really enjoyed this aspect of the book: it allowed me to jump between New Beijing and France and the Earth's orbit within seconds, and made it so that I knew what was happening in all of these places just when I wanted to.
And boy, did I want to.
This book has multiple plot lines, and – though that ordinarily puts me off a book – I think it really worked in Scarlet's favour. In my opinion, when a book focuses on multiple stories at once, it usually ends up losing the impact on one or two of them. I begin to forget what is happening from certain people's point of views, and begin to care less and less about them.
This was not the case with Scarlet what so ever.
Actually, in Scarlet, we read about 3 different plots, and it was so invigorating to jump between them. Yes, Marissa Meyer left them when they were just getting exciting, but I think that just added to the magic of it, and the satisfaction when my questions were finally answered a little later in the book. It also aided the further development of the world – in being constantly reminded that these multiple places exist, I'm increasing able to imagine it in my head; these things that are happening are more likely, more palpable.
Not only was it great to jump between plots, but the plots in and of themselves were utterly captivating and thrilling to read about.
I've heard many a fan of The Lunar Chronicles label Scarlet as their least favourite in the series, which I, personally, do not understand or see at all. This book was amazing, and I enjoyed it even more so than Cinder! Because I am so used to second-book-syndrome – wherein the second book in a series is undoubtedly the worst – I wasn't expecting to be as blown away as I was with Cinder.
Well, you can consider my socks to be firmly and explosively knocked off.
Likewise, and just like Cinder, our female protagonist was admirable. Usually, I'm more of a fan of the side characters, and of course there are a few side characters around for comic relief and romantic interest, but really it is our female protagonists that steal the show in this series. Both Cinder and Scarlet are great role models for young girls today, as they are immensely strong and powerful and worthy of all the admiration they get. I love to read from the perspective of strong female characters, because it is just so empowering.
It's great to see even more books fuelled by heroines.
Overall, I really enjoyed this book, loving the plot and the pace and every single character merely mentioned. I don't know how Marissa Meyer is going to top this book, but I've only ever heard that she does, so I am very excited to continue on with this series.
My only regret would be that I didn't read it sooner!
You can find the book here: Amazon | Goodreads
Scarlet is a rough retelling of Red Riding Hood, which was originally written by French author Charles Perrault who came from a culture differing greatly to my own, and so I am entering this novel for the number 30 spot on the Around the Year in 52 Books Challenge: A fairy-tale from a culture other than your own. Yay!
---
Highlights:
"I think I realised that I would rather die because I betrayed them, than live because I betrayed you."
"A relieved grin filled up Thorne's face. "We're having another moment, aren't we?"

"If by a moment, you mean me not wanting to strangle you for the first time since we met, then I guess we are."
"I don't see that her being cyborg is relevant."
"Scarlet and Wolf are saying gushy things in the galley," Iko said. "Normally I like gushy things, but its different when its real people. I prefer the net dramas."
"If you were a gentleman, you would offer to buy me one as well."
"If you were a lady, you would have waited for me to make the offer."
"He gaped at the controls. "Why is my ship talking back to me?"
---
If you enjoyed _____, you'll love Scarlet!