Rating:

5/5 stars
Synopsis: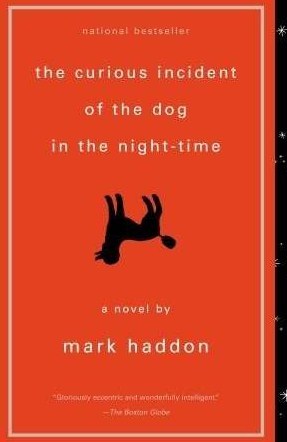 Christopher John Francis Boone knows all the countries of the world and their capitals and every prime number up to 7,057. He relates well to animals but has no understanding of human emotions. He cannot stand to be touched. And he detests the color yellow.
Although gifted with a superbly logical brain, for fifteen-year-old Christopher everyday interactions and admonishments have little meaning. He lives on patterns, rules, and a diagram kept in his pocket. Then one day, a neighbor's dog, Wellington, is killed and his carefully constructive universe is threatened. Christopher sets out to solve the murder in the style of his favourite (logical) detective, Sherlock Holmes. What follows makes for a novel that is funny, poignant and fascinating in its portrayal of a person whose curse and blessing are a mind that perceives the world entirely literally.
Review:
"I think prime numbers are like life. They are very logical but you could never work out the rules, even if you spent all your time thinking about them."
Many British students read this novel during secondary school. My class, however, was never graced with such an opportunity. (I think we read Animal Farm, instead.) Thus, I was eager to read it in my own time following an influx of people recommending I read it.
I recently returned from a trip to NYC, and I felt it really really suitable to enter my first American bookstore whilst I was there. Upon my entrance, my eyes locked on this book, and I just knew I had to buy it. It was like a sign, a message from the Gods!
So, I bought it.
And then I read it.
And I loved it.
Frankly, I think this is the kind of book you come across once in a blue moon – it written so delicately yet so unforgiving, so intellectually yet so emotionally. The depth this novel ventures into is incomprehensible, and I can't help but recall it fondly.
This novel is told from the perspective of Christopher Boone, an autistic boy from the south of England, and this novel is a crime story: following the death of his neighbour's dog, Christopher can think of nothing else but uncovering the truth of the murder, even is that means uncovering some other truths along the way.
In terms of plot, I can only applaud this one. It involves lots of unprecedented twists and turns, captivating my attention throughout. I didn't ever feel as though I could predict what was coming, and I also felt the novel was very true to real life. Everything was described thoroughly, painting a picture in my head of Christopher's adventures, yet they were very specific, sticking to  – and, again, staying true to – Christopher's autism.
I think Mark Haddon's depiction of autism was surprisingly accurate, and startlingly unforgiving, as I mentioned before. To see things through Christopher's eyes is to look at things more logically than you ever have before, and to discover the way people with autism see the world.
This book really opened my eyes to autism in a differing way to anything I've ever experienced, and I now feel a lot more empathetic to those affected by autism, and as though I understand the condition a lot more.
Another aspect of this book that I enjoyed was how it consistently broke the fourth wall, as it were. Throughout the novel, we are aware that it is Christopher who is writing this book, and he frequently refers to what he has been told by his teacher about writing a book, as well as what his dad thinks of his book. It's almost like Christopher is keeping an extremely detailed diary, and – if I wasn't told otherwise – I would think that to be the truth. I personally really enjoy the breaking of the fourth wall. I don't know particularly why, I'm just very fond of the method, and so that made this novel all the more enjoyable for me.
Overall, I can only describe this novel as a once-in-a-lifetime read, and one that we should all open our eyes and minds to. I thoroughly enjoyed it, and do not have a bad word to say about it. Thus, I (obviously) awarded it 5/5 stars.
You can find the book here: Amazon | Goodreads
The dog-killing that fuels the beginning of this novel happened at night, and so I am entering this novel for the number 43 spot on the Around the Year in 52 Books Challenge: A book about a thing that goes bump in the night.
---
Highlights:
"Sometimes we get sad about things and we don't like to tell other people that we are sad about them. We like to keep it a secret. Or sometimes, we are sad but we really don't know why we are sad, so we say we aren't sad but we really are."
"On the fifth day, which was a Sunday, it rained very hard. I like it when it rains hard. It sounds like white noise everywhere, which is like silence but not empty."
"I think people believe in heaven because they don't like the idea of dying, because they want to carry on living and they don't like the idea that other people will move into their house and put their things into the rubbish."
"Everyone has learning difficulties, because learning to speak French or understanding relativity is difficult."
Mother used to say that it meant Christopher was a nice name because it was a story about being kind and helpful, but I do not want my name to mean a story about being kind and helpful. I want my name to mean me.
---
If you enjoyed _____, you'll love The Curious Incident of the Dog in the Night-time!