Rating:

2.5/5 stars
Synopsis: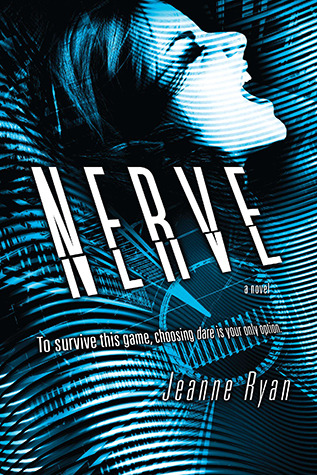 A high-stakes online game of dares turns deadly
When Vee is picked to be a player in NERVE, an anonymous game of dares broadcast live online, she discovers that the gameknows her. They tempt her with prizes taken from her ThisIsMe page and team her up with the perfect boy, sizzling-hot Ian. At first it's exhilarating–Vee and Ian's fans cheer them on to riskier dares with higher stakes. But the game takes a twisted turn when they're directed to a secret location with five other players for the Grand Prize round. Suddenly they're playing all or nothing, with their lives on the line. Just how far will Vee go before she loses NERVE?
Debut author Jeanne Ryan delivers an un-putdownable suspense thriller.
Review:
"We've learned an interesting rule about fame. Those who seem desperate for it are the people that others least want to see."
I am an avid watcher of YouTuber Casey Neistat. I don't know. I just think he is astoundingly creative, and his perspective is a genuine one. Thus, a few months ago, when he mentioned he was going to be in a movie, I was intrigued. So I Googled it.
That movie turned out to be Nerve.
The movie Nerve turned out to be the movie adaptation of Jeanne Ryan's book of the same name.
So, obviously, I read it.
I went into this book expecting great things, having loved both the movie trailer and book synopsis. Don't get me wrong, this book is good, and the plot is unlike any I've ever seen – it's startlingly original and intriguing. However, I had many a problem with the execution of such a great idea.
Firstly, the main character, Vee, was insufferably annoying. She was the kind of narrator that is perpetually repetitive and whiny. (I don't personally feel the need to complain about everything that happens to me, especially when it was my actions that brought me there, and especially when I had been warned.) Also, she was surprisingly emotional. In that I mean she cried. And in that I mean she cried on every other page. Now, I get that playing Nerve would be a nerve-wracking (pun intended) experience. However, I didn't think it was humanly possible to cry as much as Jeanne Ryan made Vee cry. Because her tears were so frequent, they began to have very little impact. Instead of thinking "She's crying?! This situation must be so daunting/difficult/upsetting," I found myself thinking, "This scene is not even cry-worthy/pull yourself together/I'm bored of reading about a girl crying." 
Not great.
Likewise, there was a serious case of insta-love in this novel. I understood, at first, how Vee found Ian – our secondary protagonist – attractive, and described him in that manner, but as soon as they really started "talking" (I quote, because their discussions were so shallow), they were throwing the lovey-dovey lines all over the place. Please note, this novel is set over around 3 days. The majority of the action transpires on the final day.
How are these people infatuated with each other so soon? It just didn't feel right, or realistic, and I didn't ship it at all.
Another annoyance for me was the lack of details. To explain this, I'm going to have to add a little context. The aim of Nerve is to complete dares, and post them online. What quickly becomes clear is that fame is not the only incentive of playing: Nerve offers its players the prizes he or she most desires. Whilst I was obviously rather ticked off at the shallow gifts that fuelled Vee to partake in Nerve – shoes and a dress is exchange for her sanity and integrity doesn't seem to me like the best deal – I was a lot more annoyed at the prizes of Ian: his prizes all orbited escapism. Interesting, you may be thinking. I was too. I was really interested in what he wanted to escape from. What a shame I never found out.
Jeanne Ryan never even explained it, and yes, I am very bitter; what could have been the most interesting part of the story was literally omitted.
No really, she left it out.
Overall, I was very disappointed with a lot of aspects of this novel. Nevertheless, I still give props to Jeanne Ryan for thinking up such an original plot; it's just a shame it wasn't executed as well as I hoped.
Regardless, I plan on watching the movie; just so you all know, none of the dares that occur in the trailer occur in the book. The trailer also touches on an interesting twist with the people behind Nerve, something the book mentioned in passing, but never really explored, so I'm hoping the movie does. I just pray my hopes aren't dashed with the movie as they were with the book. You can watch the trailer by clicking
here
.
I noticed a lot of parallels between the game Nerve and YouTube: people make money for posting little videos, they are idolised, and a lot of them stop enjoying it, or feel they've sacrificed their privacy to the website. Thus, I am entering this novel for the number 45 spot on the Around the Year in 52 Books Challenge – A book related to a hobby or passion you have – because a hobby of mine is watching YouTube videos. Tenuous link, I know…
---
Highlights:
"Why should I pay to watch when I can be paid to play?"
---
If you enjoyed _____, you'll love Nerve!