Rating:

3.5/5 stars
Synopsis: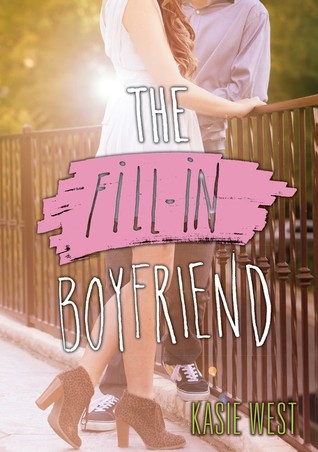 When Gia Montgomery's boyfriend, Bradley, dumps her in the parking lot of her high school prom, she has to think fast. After all, she'd been telling her friends about him for months now. This was supposed to be the night she proved he existed. So when she sees a cute guy waiting to pick up his sister, she enlists his help. The task is simple: be her fill-in boyfriend—two hours, zero commitment, a few white lies. After that, she can win back the real Bradley.
The problem is that days after prom, it's not the real Bradley she's thinking about, but the stand-in. The one whose name she doesn't even know. But tracking him down doesn't mean they're done faking a relationship. Gia owes him a favor and his sister intends to see that he collects: his ex-girlfriend's graduation party—three hours, zero commitment, a few white lies.
Just when Gia begins to wonder if she could turn her fake boyfriend into a real one, Bradley comes waltzing back into her life, exposing her lie, and threatening to destroy her friendships and her new-found relationship.
Review:
"We rarely find a depth by looking inside of ourselves for it. Depth is found in what we can learn from the people and things around us. Everyone, everything, has a story, Gia. When you learn those stories, you learn experiences that fill you up, that expand your understanding. You add layers to your soul."
It's summer time, and so its the annual time of the year my bookish fingertips reach for YA contemporary novels to consume in one sitting. This time, it was The Fill-In Boyfriend which I decided to read ahead of the release of Kasie West's upcoming novel P.S. I Like You, which I'm very excited to read and am hearing a lot of hype about on social media. A while ago, I read On The Fence by Kasie West, and so – having really enjoyed it – I feel it was only natural for me to circle back around to her writing at some point.
Thus, here I am.
And here is my review. (Duh.)
Set towards the end of the school year, The Fill-In Boyfriend orbits the life of Gia, which is, frankly, impeccable. She has the perfect group of friends, the perfect parents, the perfect boyfriend. But what happens when all of that suddenly begins to slip from her grasp? A frenemy begins to creep into her friendship group, trying impossibly hard to nudge Gia out; her brother brings it to her attention that Gia's parents aren't as perfect as she's always believed; her boyfriend dumps her in the parking lot before prom.
That would suck, right?
Enter The Fill-In Boyfriend.
Gia is hard-headed and evidently resourceful from the beginning of the book, and so it is not surprising when she enlists the help of a stranger to ensure she has a date to prom. However, it is surprising how events spiral from there, and how The Fill-In Boyfriend dropped the "fill-in" title…
(Is that a spoiler? I think you all guessed it already, anyway.)
Though short and sweet, this novel kept me on my toes; it had much more depth than the stereotypical teen summer read. However, I did have a few problems, including how realistic the novel actually was (not really), and how selfish Gia tended to be (very).
For information regarding the pace and length of this book, note that it took me only a day to read in its entirety: the pace is very quick, but suitably so; the chapters are relatively brief, ensuring the book continues in a fast pace, but making for a rather choppy read, unfortunately; there is a lot of dialogue, so you're never really reading from a first-person inner-narrative perspective, fortunately.
Overall, I enjoyed this novel, but it wasn't exactly anything special. I would recommend it to those of you who are in need of a quick read to peruse on the beach, or a lighthearted read for summer.
You can find the book here: Amazon | Goodreads
This book has a relatively suggestive title (as in it suggests relationships and infidelity and the cover isn't exactly discreet), and so

 I am entering this novel for the number 44 spot on the Around the Year in 52 Books challenge: A book you're embarrassed to read in public. Now, I'm not sure this is an exact fit, because I'm never embarrassed about what I'm reading, and I did actually read this in public. I just think it is the kind of book teen girls like myself would stereotypically read, and the public would read into that the wrong way. I love chic-lit, and I love light reads, but that's not all I read. Does that make sense? This was just a tough category to fill, really.
---
Highlights:
"Well, if you're a mess then I'm a natural disaster."

"The cutest natural disaster I've ever seen."
"Chin up. There are other fish in the sea. It's a big ocean. Sometimes we need to catch and release a few before we find the keeper."
"How is selfworth measured today? By the amount of likes a post gets, by how many friends we collect, by how many retweets we accumulate? Do we even know what we really think until we post our thoughts online and let others tell us if they are worthy?" "I like it when you're not perfect."
---
If you enjoyed _____, you'll love The Fill-In Boyfriend!