Rating:

4.5/5 stars
Synopsis: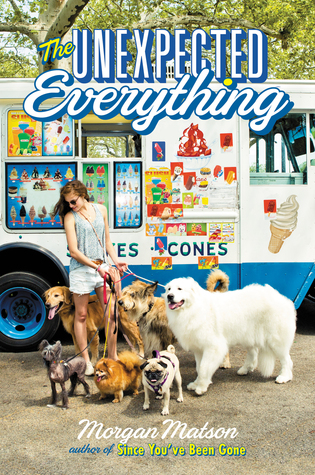 Andie had it all planned out.
When you are a politician's daughter who's pretty much raised yourself, you learn everything can be planned or spun, or both. Especially your future.
Important internship? Check.
Amazing friends? Check.
Guys? Check (as long as we're talking no more than three weeks).
But that was before the scandal. Before having to be in the same house with her dad. Before walking an insane number of dogs. That was before Clark and those few months that might change her whole life.
Because here's the thing—if everything's planned out, you can never find the unexpected.
And where's the fun in that?
Review:
Nathan used to complain that I was more excited to see his dog than to see him, and when I'd realised that was true, I'd broken up with him.
If you're looking for a summer read, look no further!
Much like any book Morgan Matson has written, The Unexpected Everything is an instant favourite, and one you automatically want to recommend to all of your friends. From start to end, this book is packed with excitement, ensuring your focus isn't lost for even a second during the perusal process. I wanted to savour this book, but – funnily enough – found myself racing through it so as to discover the ultimate fates of the characters I'd grown to love over the course of the book.
Now, unlike the typical Morgan Matson book, this novel focuses a lot more on the importance of friendship than a growing love. I mean, of course we have our love interest, but for once, that plot is pushed to the side for a while in order to make way for a more hard-hitting, important subject: female friendship. The bonds between teenage girls are strong, as you likely all know already, and this book manages to reaffirm this topic. Through the struggles of the characters, you are able to put things in perspective, both in their lives, and your own.
For instance, from this book I have learned that keeping secrets from your friends – no matter how big or small – is a no-go zone.
Thanks, Morgan!
But on another level, I was able to experience the downfall of a friendship group, and how these girls managed to build themselves up again, irregardless of their love interests. This is such an important topic for girls to read, especially those in this books target audience: friendship is such an important thing, such a strong bond, yet – unfortunately – so easy to break, so work with them! Make them stronger! Do what you can to ensure they last!
I always love it when a book has a message!
Staying on the topic of friendship,  I'm going to talk about the friendship group present in this book. It consists of 4 girls, all of whom are equally unique, interesting, and fun to read about. There are many inside jokes between them, and it's great to pick up on these as you go. It's also interesting to see how their relationships with boys both differ and develop. I would, however, have preferred to see maybe an LGBTQ+ member of the group, purely for representation's sake, and even to mix things up a little bit. Saying that, there was great representation in the group in terms of race and personality. Overall, I was reminded by real friendships I've experienced, and find it truly heartening to read such an accurate portrayal of true teenage friendship.
Likewise, the element of dog-walking was a really unique idea to include in that I have never before read a book told from the perspective of someone who is constantly out and about with dogs on her arm. Not only was it fun to read about their cuteness, but it was great to see that Andie – our protagonist – was a real working girl, despite being easily able to allow her politician-father privilege to fund her fun.
On the other hand, the pace of this novel was great, and I never wanted to put it down. Actually, I managed to read this book for hours on end without even getting up for food because I was so invested in what was happening. However, I noticed that the chapters were maybe a little long, yet I've come to learn this is typical of a Morgan Matson novel, and so it wasn't really a surprise. Nevertheless, I personally function better and absorb more when books have short-medium size chapters. But that's just me.
Overall, this book was really enjoyable, and I'm very excited to read more of Matson's work in the future. As I mentioned before, this book is a perfect summer read, so – if you're looking for something of the sort – look no further: Your summer will be made by this book.
You can find the book here: Amazon | Goodreads
The Unexpected Everything is a YA novel
, and so

 I am entering this novel for the number 31 spot on the Around the Year in 52 Books challenge: A work of young adult fiction. Yay!
Highlights:
Theoretical crushes could remain perfect and flawless, because you never actually had to find out what that person was really like or deal with the weird way they chewed or anything.
---
If you enjoyed _____, you'll love The Unexpected Everything!