Rating:

4.5/5 stars
Synopsis: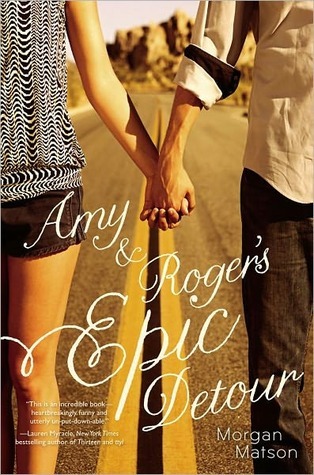 Amy Curry is not looking forward to her summer.
Her mother decided to move across the country and now it's Amy's responsibility to get their car from California to Connecticut. The only problem is, since her father died in a car accident, she isn't ready to get behind the wheel.
Enter Roger. An old family friend, he also has to make the cross-country trip – and has plenty of baggage of his own.
The road home may be unfamiliar – especially with their friendship venturing into uncharted territory – but together, Amy and Roger will figure out how to map their way.
Review:
As I stared at the stars, I realised that there were always this many of them. It was only when the other lights were removed that I could see what had been there all along.
Having me hooked from beginning to end, I can't help but think Amy and Roger's Epic Detour is the epitome of summer reading: it was profoundly moving, branching into sufficient and devastating depth about the history of the characters; it was simultaneously lighthearted and humorous; and it was totally fulfilling, providing everything I was looking for in reading material.
Since reading Since You've Been Gone last summer, I've been craving more of Morgan Matson's writing. However, I held off until what I perceived as The Ideal Matson Reading Period: summertime. And do I regret it? Nope. Not at all. Not even a tiny bit.
For once, patience paid off.
Reading a book about a summer road trip is so much more impactful when the sun is spilling through your windows, or you're lounging around outside in the summer heat whilst reading. Little things like that make it so much more personal, in my opinion.
Speaking of personal aspects, Amy and Roger's Epic Detour is written in a particularly unique and fun way: this book written in standard prose, but is interrupted here and there by playlists and scrapbook/journal entries, again making the book that little bit more personal and exciting. A fun thing I did was listen to the music on the playlists whilst reading the book, and watch the scene come to life.
In terms of characters, Amy and Roger were equally admirable and interesting to read about – both were very dynamic and realistic due to their respective backstories and struggles at the time of the novel. With this came amazing growth: though set only over a few days, the development of each character is particularly poignant, this being one of the main reasons I enjoyed this book so much.
The contrast between Amy on the first page and Amy on the last page is stunning, and – frankly – so very encouraging for young people struggling with grief.
The plot is spirited and always moving at a fluid pace, keeping me thoroughly entertained for hours on end.
Though not thrilling per se, this book is definitely a page turner!
I couldn't help but crave to know the outcome for Amy and Roger, nor could I wait to see how their time together progressed.
Overall, this book was simultaneously exciting and deeply moving, plunging me into summer feelings. Thus, I awarded it 4.5/5 stars, my only criticism being that I wanted a little more closure. Just a little. And also that the ending felt a little rushed. Just a little.
You can find the book here: Amazon | Goodreads
As aforementioned, Amy and Roger's Epic Detour is the perfect summer read, appearing on many summer reading lists. Thus, I am entering this novel for the number 18 spot on the Around the Year in 52 Books challenge: A book on a summer/beach reading list. Yay!
Highlights:
I'd found out that if you pushed people away hard enough, they tended to go.
"Tomorrow will be better."
"But what if it's not?" I asked.
"Then you say it again tomorrow. Because it might be. You never know, right? At some point, tomorrow will be better."
The best discoveries always happened to the people who weren't looking for them.
---
If you enjoyed _____, you'll love Amy and Roger's Epic Detour!