It feels like only yesterday I was typing up my May Wrap Up; 2016 really is flying by!
⋘June Wrap-Up⋙
Despite still having exams, I managed to read many more books in June than in May – a grand total of 6! I'm getting back into my groove! This has taken me up to a total of 35 books thus far this year – woop woop!
Here are the books I managed to read in June: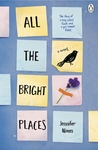 The Raven King (The Raven Cycle #4) by Maggie Steifvater
Nothing living is safe. Nothing dead is to be trusted.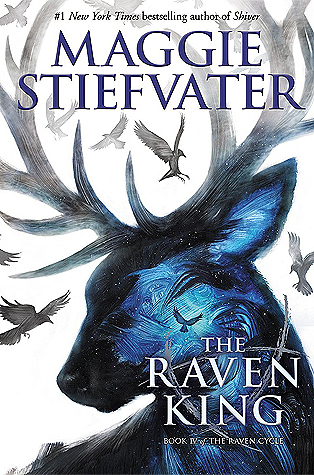 For years, Gansey has been on a quest to find a lost king. One by one, he's drawn others into this quest: Ronan, who steals from dreams; Adam, whose life is no longer his own; Noah, whose life is no longer a lie; and Blue, who loves Gansey… and is certain she is destined to kill him.
Now the endgame has begun. Dreams and nightmares are converging. Love and loss are inseparable. And the quest refuses to be pinned to a path.
It's decided: The Raven Cycle is my favourite book series of all time. This was a beautiful conclusion to an epic series.Thank you Maggie Stiefvater for creating this beautiful masterpiece, this tangled web of love and curiosities. 5/5 stars.
Read my full review of The Raven King here.
Check out my playlist dedicated to The Raven Cycle here.
All the Bright Places by Jennifer Niven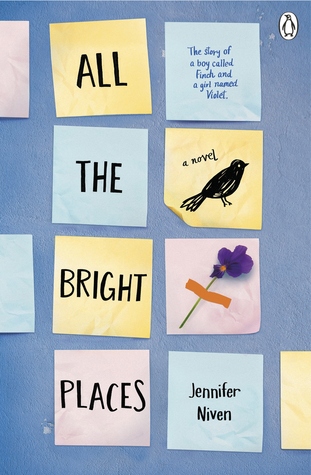 Theodore Finch is fascinated by death, and he constantly thinks of ways he might kill himself. But each time, something good, no matter how small, stops him.
Violet Markey lives for the future, counting the days until graduation, when she can escape her Indiana town and her aching grief in the wake of her sister's recent death.
When Finch and Violet meet on the ledge of the bell tower at school, it's unclear who saves whom. And when they pair up on a project to discover the 'natural wonders' of their state, both Finch and Violet make more important discoveries: It's only with Violet that Finch can be himself – a weird, funny, live-out-loud guy who's not such a freak after all. And it's only with Finch that Violet can forget to count away the days and start living them. But as Violet's world grows, Finch's begins to shrink.
Whilst this book wasn't perfect, it really reminded me of why I fell in love with YA literature in the first place. 3.5/5 stars.
You can read my full review of All the Bright Places here.
The Fall of the Hotel Dumort (The Bane Chronicles #7) by Cassandra Clare
Magnus Bane watches the once-glamorous Hotel Dumort become something else altogether in 1970s New York City.
Fifty years after the Jazz Age rise of the Hotel Dumort, immortal warlock Magnus Bane knows the Manhattan landmark is on the decline. The once-beautiful Hotel Dumort has fallen into a decayed thing, a ruin, as dead as a place can be. But the vampires don't mind…
This book was exactly what I needed at the time – short, sweet, and action packed. I was also craving a familiar narrator, and Magnus Bane never disappoints!
I do, however, recognise how this book doesn't exactly measure up to the others in the series, thus pushing me to award it 3/5 stars.
The Nightingale by Kristin Hannah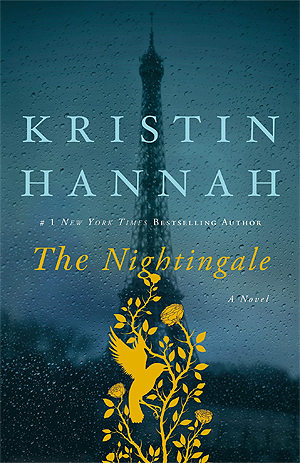 FRANCE, 1939
In the quiet village of Carriveau, Vianne Mauriac says goodbye to her husband, Antoine, as he heads for the Front. She doesn't believe that the Nazis will invade France…but invade they do, in droves of marching soldiers, in caravans of trucks and tanks, in planes that fill the skies and drop bombs upon the innocent. When France is overrun, Vianne is forced to take an enemy into her house, and suddenly her every move is watched; her life and her child's life is at constant risk. Without food or money or hope, as danger escalates around her, she must make one terrible choice after another.
Vianne's sister, Isabelle, is a rebellious eighteen-year-old girl, searching for purpose with all the reckless passion of youth. While thousands of Parisians march into the unknown terrors of war, she meets the compelling and mysterious Gäetan, a partisan who believes the French can fight the Nazis from within France, and she falls in love as only the young can…completely. When he betrays her, Isabelle races headlong into danger and joins the Resistance, never looking back or giving a thought to the real–and deadly–consequences.
This novel was, from beginning to end, phenomenal. The whole time, I was aware of how great the book was, and how I was unlikely to read another book quite like it. If you're even slightly inclined to reading historical fiction, this novel is definitely suited to you. 5/5 stars.
You can read my full review of The Nightingale here.
Sula's Voyage by Catherine Torres
Fifteen-year-old Sula has always known she is different. Even though her parents have shown her nothing but love and acceptance, she sees her dark skin as a reminder of how she doesn't fit in with the rest of her family.
What's worse is she also feels that her parents are hiding something from her. After getting expelled from school, Sula reluctantly goes to stay with her mother's friends. There she unexpectedly finds herself on a journey of self-discovery — a journey that keeps drawing her to the sea. Sula must not only figure our her parents' secret, but also just how different, and possibly magical, she really is.
This book was an instant favourite for me. It has a really nice, chilled vibe, as well as being absolutely filled with culture. Reading this book is a phenomenal experience, and one I won't forget in a hurry, simply because of how detailed and honest this book is to Filipino culture. 4.5/5 stars.
You can read my full review of Sula's Voyage here.
Amy and Roger's Epic Detour by Morgan Matson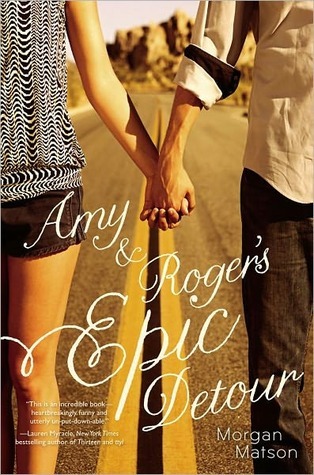 Amy Curry is not looking forward to her summer. Her mother decided to move across the country and now it's Amy's responsibility to get their car from California to Connecticut. The only problem is, since her father died in a car accident, she isn't ready to get behind the wheel. Enter Roger. An old family friend, he also has to make the cross-country trip – and has plenty of baggage of his own. The road home may be unfamiliar – especially with their friendship venturing into uncharted territory – but together, Amy and Roger will figure out how to map their way.
And thus begins summer reading! I was so ready to immerse myself in some happy, carefree YA literature, and hence so excited to pick up this novel. Whilst it did involve some darker undertones, I loved it thoroughly, awarding it a handsome 4.5/5 stars.
Review to come soon.
---
⋘Currently Reading⋙
Lies We Tell Ourselves by Robin Talley
Since The Nightingale, I have felt increasingly inclined to read more historical fiction. Whilst it isn't distantly historical, Lies We Tell Ourselves illustrates a historically difficult – and, frankly, disgusting – time in society: The Civil Rights Movement. I am so interested in this topic, and thus so excited to see the outcome of this novel.
Lie #1: I'm not afraid
Lie #2: I'm sure I'm doing the right thing
Lie #3: I don't care what they think of me
It's 1959. The battle for civil rights is raging. And it's Sarah's first day of school as one of the first black students at previously all-white Jefferson High.
No one wants Sarah there. Not the Governor. Not the teachers. And certainly not the students – especially Linda, daughter of the town's most ardent segregationist.
Sarah and Linda are supposed to despise each other. But the more time they spend together, the less their differences matter. And both girls start to feel something they've never felt before. Something they're determined to ignore.
Because it's one thing to stand up to an unjust world – but another to be terrified of what's in your own heart.
---
⋘July TBR⋙
In July I hope to read…a lot. I really want to start making more of a dent into my TBR this month, and – since it's summer – I should have a lot of time to do so!
The Unexpected Everything by Morgan Matson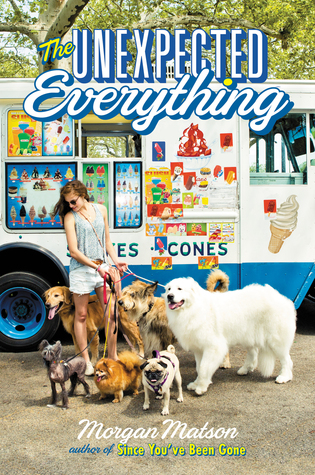 Andie had it all planned out.
When you are a politician's daughter who's pretty much raised yourself, you learn everything can be planned or spun, or both. Especially your future.
Important internship? Check.
Amazing friends? Check.
Guys? Check (as long as we're talking no more than three weeks).
But that was before the scandal. Before having to be in the same house with her dad. Before walking an insane number of dogs. That was before Clark and those few months that might change her whole life.
Because here's the thing—if everything's planned out, you can never find the unexpected.
And where's the fun in that?
I've loved every Morgan Matson book I've ever read, and I'm sure The Unexpected Everything won't be any different. I'm also sure it will help me get into a more summery mood!
Wolf by Wolf by Ryan Graudin
Over ten years since the Nazis won the war, 18 yr old Yael has one mission: to kill Hitler – a captivating second novel from Walled City author, Ryan Graudin.
Once upon a different time, there was a girl who lived in a kingdom of death. Wolves howled up her arm. A whole pack of them-made of tattoo ink and pain, memory and loss. It was the only thing about her that ever stayed the same. Her story begins on a train.
Germania, 1956. Over ten years since the Nazis won the war. 18-year-old Yael is part of the resistance, and she has just one mission: to kill Hitler.
But first she's got to get close enough to him to do it.
Experimented on during her time at Auschwitz, Yael has the unique ability to change her appearance at will. The only part of her which always remains are the five tattooed wolves on her arm; one for each of the people she's lost. Using her abilities, she must transform into Adele Wolfe, Germany's most famous female rider and winner of the legendary Axis Tour; an epic long distance motorcycle race from Berlin to Tokyo, where only the strongest (and wiliest) riders survive. If she can win this, she will be able to get close enough to kill the Fuhrer and change history forever.
But with other riders sabotaging her chances at every turn, Yael's mission won't be easy. . .
It's not just historical fiction I'm interested, but alternate historical fiction! I'm am extremely excited to read Wolf by Wolf – I've heard an abundance of great things!
Scarlet (The Lunar Chronicals #2) by Marissa Meyer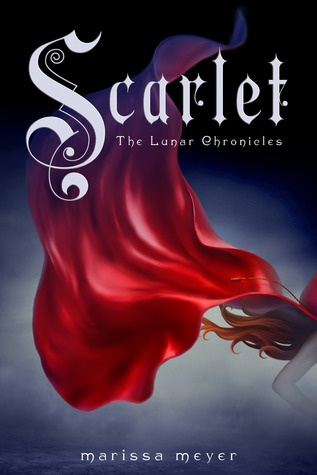 Cinder, the cyborg mechanic, returns in the second thrilling installment of the bestselling Lunar Chronicles. She's trying to break out of prison—even though if she succeeds, she'll be the Commonwealth's most wanted fugitive.
Halfway around the world, Scarlet Benoit's grandmother is missing. It turns out there are many things Scarlet doesn't know about her grandmother or the grave danger she has lived in her whole life. When Scarlet encounters Wolf, a street fighter who may have information as to her grandmother's whereabouts, she is loath to trust this stranger, but is inexplicably drawn to him, and he to her. As Scarlet and Wolf unravel one mystery, they encounter another when they meet Cinder. Now, all of them must stay one step ahead of the vicious Lunar Queen Levana, who will do anything for the handsome Prince Kai to become her husband, her king, her prisoner.
That's right, people: July might just be the month I finally get around to continuing with The Lunar Chronicles! Wish me luck!
---
What was your favourite book you read in June? What are you currently reading? What do you want to read in July? Tell me in the comments!
Thank you ever so much for reading, and I really hope you enjoyed!
Until next time, and to keep up with my reading as it happens, find me on Goodreads, Twitter, Instagram, and Tumblr.
Love, Olivia x