Rating:

5/5 stars
Synopsis:
FRANCE, 1939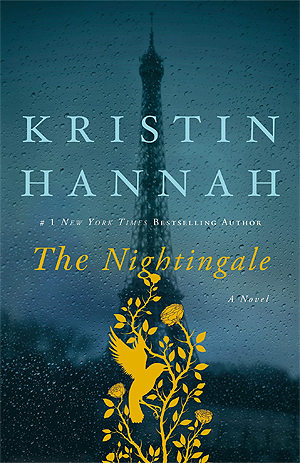 In the quiet village of Carriveau, Vianne Mauriac says goodbye to her husband, Antoine, as he heads for the Front. She doesn't believe that the Nazis will invade France…but invade they do, in droves of marching soldiers, in caravans of trucks and tanks, in planes that fill the skies and drop bombs upon the innocent. When France is overrun, Vianne is forced to take an enemy into her house, and suddenly her every move is watched; her life and her child's life is at constant risk. Without food or money or hope, as danger escalates around her, she must make one terrible choice after another.
Vianne's sister, Isabelle, is a rebellious eighteen-year-old girl, searching for purpose with all the reckless passion of youth. While thousands of Parisians march into the unknown terrors of war, she meets the compelling and mysterious Gäetan, a partisan who believes the French can fight the Nazis from within France, and she falls in love as only the young can…completely. When he betrays her, Isabelle races headlong into danger and joins the Resistance, never looking back or giving a thought to the real–and deadly–consequences.
Review:
In love we find out who we want to be; in war we find out who we are.
I am speechless.
I haven't felt so affected by a book since The Book Thief or Salt to the Sea. Perhaps it's because they're all about WW2, and all from the perspective of people I've never even thought about in terms of the war. In my country, we're taught about how our people were affected by Hitler and WW2, yet other country's sufferings are brushed over. Frankly, I never knew there was a Nazi occupied France – I don't study history – and was deeply upset to discover the becomings of such a thing.
This book is devastating because it recalls the truth – things that happened, things people said, and things people did to try and survive. This book is devastating because it is real.
Throughout this novel, I felt very connected to both Vianne and Isabelle. This book is told in dual perspective, which I'm not usually a fan of, but found very effective in this novel, considering the sisters were constantly being separated. I don't have a sister, and so to read about such a strong bond was both refreshing and disconcerting, disconcerting because it was clearly a stronger bond than just blood – these girls knew each other, really understood each other.
Likewise, the pace of this book was brilliant; I'd say it was a middle-pace – not too fast, not too slow. I never once needed it to speed up or slow down. Such a pace made it so that I could follow the story effortlessly, and by illustrating so many events, I was constantly eager to discover what happened next.
I didn't want this book to end, because – as is typical with a WW2 book – I know what the end holds.
I was certain there would be lots of heartbreak going into this book simply based on its setting – the rest of the heartbreak was unprecedented. The suffering depicted was so realistic, and it really hit me, much more than I thought it could. Many subjects are covered in this book, but I never once felt as though they were being brushed over, nor did I feel they were being rushed. Everything was presented admirably. Everything was described in perfect detail.
This lead to a beautiful, bitter-sweet ending that left me in floods of tears.
Overall, this book was a real journey for my emotions, and I loved uncovering the entire story of such a beautiful pair of sisters.
Honestly, I can't pick anything out of this book that I didn't like.
Thus, I awarded this book 5/5 stars. Frankly, I'd give it 5 more.
You can find the book here: Amazon | Goodreads
The Nightingale is set during the times of the Second World War, a major world event, and so I am entering this novel for the number 41 spot on the Around the Year in 52 Books challenge: A book about a major world event. Yay!
Highlights:
If I have learned anything in this long life of mine, it is this: In love we find out who we want to be; in war we find out who we are.
I always thought it was what I wanted: to be loved and admired. Now I think perhaps I'd like to be known.
He saw her beauty, even in the half-light, she could tell, but he looked past it. Either that, or he was smart enough to see that she wanted to offer more to the world than a pretty face.
And yet here she was, again, ready to beg him to – (love her) – let her stay.
But when he looked at her – and she looked at him – they both knew that there was something worse than kissing the wrong person. It was wanting to.
There we no parades for us when it was over, no medals or mentions in history books. We did what we had to during the war, and when it was over, we picked up the pieces and started our lives over
Wounds heal. Love lasts.

We remain.
---
If you enjoyed _____, you'll love The Nightingale!