Rating: 3.5/5 stars
Synopsis: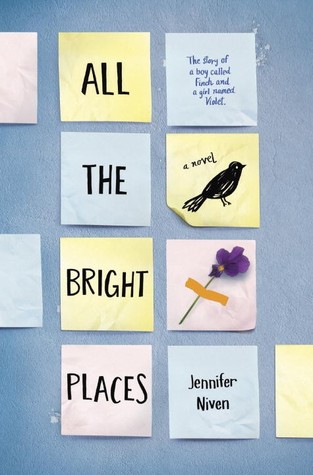 Theodore Finch is fascinated by death, and he constantly thinks of ways he might kill himself. But each time, something good, no matter how small, stops him.
 
Violet Markey lives for the future, counting the days until graduation, when she can escape her Indiana town and her aching grief in the wake of her sister's recent death.
 
When Finch and Violet meet on the ledge of the bell tower at school, it's unclear who saves whom. And when they pair up on a project to discover the "natural wonders" of their state, both Finch and Violet make more important discoveries: It's only with Violet that Finch can be himself—a weird, funny, live-out-loud guy who's not such a freak after all. And it's only with Finch that Violet can forget to count away the days and start living them. But as Violet's world grows, Finch's begins to shrink.
Review:
"The great thing about this life of ours is that you can be someone different to everybody."
Equal parts poetic and insightful, All the Bright Places is a novel I'm unlikely to forget anytime soon. It's the kind of novel that is so poignant, it feels as though you're carrying the weight of the character's journeys with you for days after finishing.
More than anything, this novel was informative. Never before have I had such a profound insight into mental health, both from the inside, and looking in. Never before have a truly understood the extent of people's suffering. Never before have I thought of conditions like depression or bipolar or schizophrenia as more than a label and never before have I understood the differences between them.
Mental health is a considerably taboo subject, one that – for some reason – people are fearful to speak of openly. Novels like this are what help us move forward, and progress from prejudiced perspectives, morphing into a society that wants to help those who are struggling.
Personally, I believe the future will be home to a world of people who are unafraid to acknowledge that mental health is just as important as physical health, and people who are in need of help should be given it.
I say all of this because mental health was handled astronomically well in this book, so much so that I learnt a lot more about what it actually is and means. This is not a subject we are taught in school – though it should be – but something we learn by ourselves, a fact Niven both touched on, and is solving through this book.
If I could recommend any book to people my age, it would be this one, simply because it is mandatory we start to learn more about – and address – mental health.
I definitely feel as though my perspective on certain issues – especially taboo issues – has been altered for the better.
Aside from this, All the Bright Places has a certain rhythmic aura – the writing is poetic both in its nature and in its relation to actual poetry; there are many passages of poetry that Finch and Violet quote to one another. I really enjoyed this side to their relationship – that when their words didn't feel like enough, they could turn to someone else's. I do this a lot, so I guess you could say I related to it.
Likewise, and possibly my favourite aspect of this book, Finch was a brilliant character. He was well developed, and both vivid and witty, and his struggles were undeniably realistic. I actually found myself mentally linking him to Lola from Stephanie Perkin's Lola and the Boy Next Door in his personality and tendency to dress as other people. (Albeit, to a less exuberant extent than Lola.)
At this point, you're probably wondering why this wasn't a 5 star – or even 4 star – book for me. Well, frankly, I felt there was a certain point it should have stopped, but instead it carried on to the extent that the story became less of a series of events, and more of an idea, a concept.
I didn't like that at all.
Let me explain, but please be aware of spoilers in this next section.
If you haven't read this book, I suggest you stop reading this review round about…now.
This book was very strong, and I really enjoyed it, but it should have stopped directly after Finch died. Frankly, if I had my way, he wouldn't have died at all – he would have gone to get help as Violet suggested, and the book would end with him on the road to recovery.
However, and granted, I understand that not every book has a happy ending.
It shouldn't have been, though, that Finch became less of a character – a thinking, breathing, living person with his own struggles – and more of a concept. At this point, I am going to link to Paper Towns by John Green – "What a treacherous thing to believe that a person is more than a person." Following his death, Finch became a mechanism for Violet's recovery – he was thus no longer a developed character, but an idea, a dream.
I really didn't like that, especially when considering how much love I had for him for the rest of the novel.
Overall, I really enjoyed this book, but definitely had problems with it, thus awarding it 3.5/5 stars.
You can find the book here: Amazon | Goodreads
All the Bright Places addresses bipolar disorder, and so I am entering this novel for the number 34 spot on the Around the Year in 52 Books challenge: A book about mental health. Yay!
---
If you enjoyed _____, you'll love All the Bright Places!