Rating: 5/5 stars
Read if You Enjoyed: The Raven Boys by Maggie Stiefvater (…obviously), Clockwork Angel by Cassandra Clare, The Ocean at the End of the Lane by Neil Gaiman
Synopsis: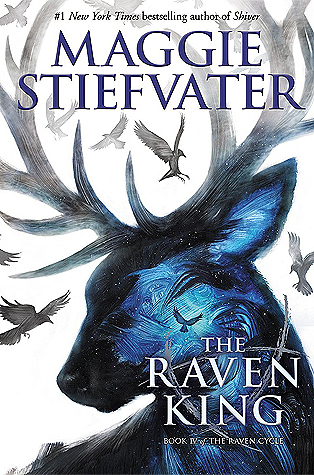 Nothing living is safe. Nothing dead is to be trusted.
For years, Gansey has been on a quest to find a lost king. One by one, he's drawn others into this quest: Ronan, who steals from dreams; Adam, whose life is no longer his own; Noah, whose life is no longer a lie; and Blue, who loves Gansey… and is certain she is destined to kill him.
Now the endgame has begun. Dreams and nightmares are converging. Love and loss are inseparable. And the quest refuses to be pinned to a path.
Goodreads Status Updates:
24%: "So. Freaking. Ready."
66%: "It makes me so happy"
Review:
"He was a book, and he was holding his final pages, and he wanted to get to the end to find out how it went, and he didn't want it to be over."
To sub-quote John Green, I fell in love with The Raven Cycle the way you fall asleep: slowly, and then all at once. I remember being thrown into Blue's world, sceptical at page one, doubting a book about psychics could be as thrilling as everyone made out.
4 books later, and I've never looked back.
I'm unsure as to how Maggie does it, put each page of each book in this series feels like a poem, or a letter left unsent. There's a strong aura of reminiscence and nostalgia that comes with growing up – the characters in this novel are growing up and out, and choosing their next path.
Honestly, the whole novel felt as though it was tying up loose ends; it all felt very aware of the end, and that this series would not be continuing.
But this didn't make me love it any less.
(In actual fact, it probably made me love it even more.)
Recently, I have been saying goodbye to a lot of people – I'm at a stage in my life where people are beginning to take different paths, and I am longer surrounded by the same people on a daily basis, and I never will be again. This novel reflected that, in a way – kind of like pathetic fallacy. Just as I was tying some loose ends in my life, Maggie Stiefvater began to tie the loose ends of the characters in The Raven Cycle. Thus, I found myself very connected with and invested in the story.
This was, as with all of the novels in this series, combined with a strong sense of morality; I can almost feel the deep rooted friendship of these characters beneath my feet. And so to be thrown back into the world of Blue and Gansey and Adam and Ronan and the magic that follows them was like returning to a place I've only ever dreamt about.
Likewise, the aura of magic in this book is very dominant. Frankly, it is with all of the books, but – for the first time in this series – I feel as though the magical themes have taken less of a backseat (in the Camaro, of course) and shifted straight to the forefront of this story. The revelations displayed in this book in conjunction with the magical-feel really aided me in believing that this was the conclusion to the book. And whilst that was upsetting, it was thoroughly and undoubtedly satisfying, contrary to popular belief…
Please note, from now on, there may be spoilers, so read at your own risk.
When reading other reviews online, I noticed that many people found the ending of this novel to be mediocre, offering insufficient answers to their wonderings and questions.
I cannot help but disagree.
Stiefvater, like all good authors, artfully left some things to the imagination. Yes, that's right, she didn't recount the entire life story of every character ever mentioned in The Raven Cycle. How dare she!
Frankly, this series was never about telling a life story, but about fate, and how some fates end up colliding. I wasn't drawn to this book because I wanted to know how long people lived or whether they got married or what degree they exited university with. I don't care for all of the insufficient stuff when compared to what I do know – I know what happened when the fates of 2 beloved characters collided. From the very beginning of book one, we are aware that Gansey is destined to die within a year, and from the very opening line of the series we know that Blue Sargent is destined to kill her true love.
That's what the story was about – how a kiss killed a boy. Not about their lives after the fact.
The connections we have built to the characters are just a happy becoming of a beautiful story that was only ever meant to be a snippet of a life.
(End of rant…)
Overall, as you may have gathered, I adored this novel, and thought it was a fitting conclusion to what I will now refer to as my favourite book series ever. Thus, I awarded it 5/5 stars, and cannot wait to reread it multiple times in the future.
You can find the book here: Amazon | Goodreads
Read my review of The Raven Boys here.
I thought the opening line of The Raven King – "Richard Gansey III had forgotten how many times he had been told he was destined for greatness." – was particularly intruiging, and so I am entering this novel for the number 49 spot on the Around the Year in 52 Books challenge: A book with a great opening line. Yay!
"Richard Gansey III had forgotten how many times he had been told he was destined for greatness."