Rating: 4/5 stars
Read if You Enjoyed: Cinder by Marissa Meyer, A Game of Thrones by George R. R. Martin, Clockwork Angel by Cassandra Clare
Synopsis: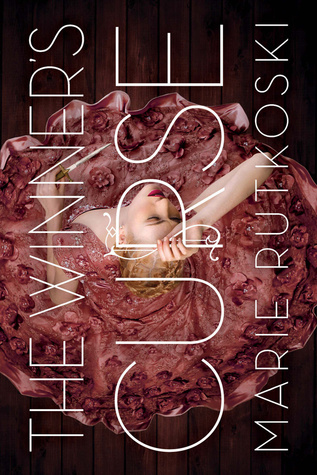 Winning what you want may cost you everything you love…
As a general's daughter in a vast empire that revels in war and enslaves those it conquers, seventeen-year-old Kestrel has two choices: she can join the military or get married. But Kestrel has other intentions.
One day, she is startled to find a kindred spirit in a young slave up for auction. Arin's eyes seem to defy everything and everyone. Following her instinct, Kestrel buys him—with unexpected consequences. It's not long before she has to hide her growing love for Arin.
But he, too, has a secret, and Kestrel quickly learns that the price she paid for a fellow human is much higher than she ever could have imagined.
Set in a richly imagined new world, The Winner's Curse by Marie Rutkoski is a story of deadly games where everything is at stake, and the gamble is whether you will keep your head or lose your heart.
Review:
"Isn't that what stories do, make real things fake, and fake things real?"
To read this novel, I first had to step out of my comfort zone. I'm not a big fantasy reader, and I wasn't sure how I'd find this book because  of that, especially with it being categorised as 'high fantasy.' However, I am trying to broaden my bookish horizons, and so I picked this book up without really thinking about it, and just went ahead and started reading.
And I loved it.
The first thing I'd like to address, though, is that this is not a fantasy book. Granted, it's set in a fictional world, but that's where the fantastical side of this novel ends. (So, don't enter this novel expecting mythical creatures to come swooping onto the scene halfway through. You will be disappointed.) Frankly, The Winner's Curse is much richer than just fantasy; it's reminiscent, and unique, and flowery. Thus, I was happy to discover that I wasn't thrown too far out of my comfort zone this time.
In many ways, The Winner's Curse is much like George R.R. Martin's A Game of Thrones in that it orbits politics and tactics and wars to come. I really enjoyed this side of the book, as it was effortlessly interesting, and contributed to the deep and undeniable complexities of this book. I loved the way this book was like historical fiction, but in a complete other world. Marie Rutkoski addresses so many of the conflicts of our world's history, but with an exclusive, behind the scenes insight via Kestral and Arin's perspectives, and without the confines of one period in time.
In terms of writing, this novel is the pinnacle example of beautiful writing. Rutkoski takes her time with descriptions, and the world building displayed felt both effortless and wholly satisfying. I left this book feeling revitalised, like I'd just learnt something new, like I'd just had a history lesson I enjoyed. (That would be a first!)
In terms of characters, however, I did feel as though I was a little disconnected from our protagonist, Kestral. Whilst I loved how she differed from many of the current heroines in YA literature – she thinks with her head, not her fists, or her heart – it sometimes felt as though she was particularly aloof and detached. In short, there definitely wasn't a reader-narrator relationship like many form, not like in The Catcher in the Rye or The Book Thief, for instance.
However, similarly to The Catcher in the Rye, I've come to realise that this book is very love-or-hate within the bookish community. In spite of that, though, I strongly believe that if you stick with this book, you'll be able to reap the rewards. Frankly, the second half of this book is vastly superior to the former half. This only made room for world building, however, which I was not unhappy about for the latter half of the story, and as the action started to pick up.
Overall, despite this book taking me a surprisingly long time to read, I came away feeling as though I'd had a good experience with the book, as if I'd learnt something new, and as if I'd found a new book setting I enjoyed – historical-seeming fictional worlds. Thus, I awarded this novel 4/5 stars, and look forward to reading the following instalments to the series.
You can find the book here: Amazon | Goodreads
The Winner's Curse is the first novel in a series – The Winner's Trilogy – and so I am entering this novel for the number 2 spot on the Around the Year in 52 Books challenge: The first book in a new-to-you series. Yay!