Rating: 3.5/5 stars
Read if You Enjoy: Nocte by Courtney Cole, Looking for Alaska by John Green, Young Adult Contemporary
Synopsis: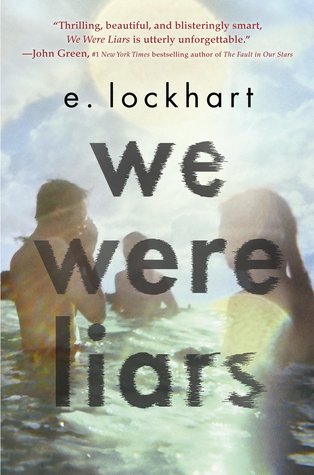 A beautiful and distinguished family.
A private island.
A brilliant, damaged girl; a passionate, political boy.
A group of four friends—the Liars—whose friendship turns destructive.
A revolution. An accident. A secret.
Lies upon lies.
True love.
The truth.
We Were Liars is a modern, sophisticated suspense novel from National Book Award finalist and Printz Award honoree E. Lockhart.
Read it.
And if anyone asks you how it ends, just LIE.
Goodreads Status Updates:
7%: "I've heard good things…"
21%: "There's a lot of characters but I like it overall"
62%: "I really like books with short chapters"
Review:
He was contemplation and enthusiasm. Ambition and strong coffee. I could have looked at him forever.
We Were Liars is a love story, a simple ode from girl to boy illustrating mistakes, regrets, and the things she loves most about him. That's how the book starts out, anyway.
We Were Liars is a contradiction, a mixture of ideas and memories, past and present.
It's difficult to know where to start with this review, because the book itself doesn't have a set beginning. We're thrown up and down a time-scale, unsure as to whether memories are the present or the present is a memory. If anything, it's easy to say that E. Lockhart portrayed this novel in an interesting way, and Cadence's story (the protagonist) was very unique.
Whilst I sometimes struggled to gauge when events were happening, I would definitely say such switches added to both the effect and the beauty of the story.
Likewise, the pace of this book was great – chapters came in differing lengths, short bursts of information, and longer bursts of memories or events. For me, short chapters are a God-send; I just love being able to race through a novel.
Also, E Lockhart's writing style is beautiful, and I resent not coming across her work before now. Sometimes I forgot I was reading prose due to such poetic and figurative moments. Cadence was attentive to her surroundings, and other people, an aspect of narrators I really enjoy.
On the other hand, I would say that there were too many characters, and if it weren't for the family tree in the front of the book – which I kept flicking back to – I would never have understood this book at all. Honestly, I hate it when there's too many characters, especially if all of them are in the foreground – it takes away from my interest in what's actually happening, and instead sends me into the depths of my poor memory, trying to recollect who the character speaking actually is. This really just takes away from the novel, and is probably one of my biggest bookish pet peeves.
Similarly, I don't think the characters were unique enough, so much so that it was even more difficult to discern one from the other. I would say only 1 character had any striking qualities, and that would be Gat, and that would only be because Cadence spoke of him so vigilantly. (I didn't really like Gat, so I wasn't really happy about this.)
Another unfortunate thing I have to say is that this book definitely did not live up to the hype. Everyone was in love with this book in 2015, and that made it so much worse when I didn't see it as amazing at all.
The legendary plot twist? It just fell flat.
Granted, I wasn't expecting it, but I wasn't at all overwhelmed by it.
Overall, whilst this book had some good factors, it just didn't live up to my expectations, explaining as to why I awarded it 3.5/5 stars. I do, however, think it would make a great movie.
You can find the book here: Amazon | Goodreads
We Were Liars is a novel involving crime, and so I am entering this novel for the number 46 spot on the Around the Year in 52 Books challenge: A crime story. Yay!