Rating: 4.5/5 stars
Read if You Enjoy: Connor Franta, memoirs, autobiography, LGBTQ books
Synopsis: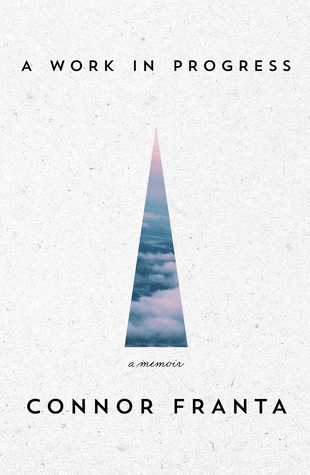 In this intimate memoir of life beyond the camera, Connor Franta shares the lessons he has learned on his journey from small-town boy to Internet sensation so far.
Here, Connor offers a look at his Midwestern upbringing as one of four children in the home and one of five in the classroom; his struggles with identity, body image, and sexuality in his teen years; and his decision to finally pursue his creative and artistic passions in his early twenties, setting up his thrilling career as a YouTube personality, philanthropist, entrepreneur, and tastemaker.
Exploring his past with insight and humor, his present with humility, and his future with hope, Connor reveals his private struggles while providing heartfelt words of wisdom for young adults. His words will resonate with anyone coming of age in the digital era, but at the core is a timeless message for people of all ages: don't be afraid to be yourself and to go after what you truly want.
This full-color collection includes photography and childhood clippings provided by Connor and is a must-have for anyone inspired by his journey.
Goodreads Status Updates:
Page 103: "I just had to reread this book"
Page 151: "Consider me motivated"
Review:
"Race, gender, religion, sexuality, we are all people and that's it. We're all people. We're all equal."
212 pages of undiluted, unadulterated honesty, A Work in Progress by Connor Franta teaches the who-what-when-where-why-and-hows of growing up in the digital age of the 21st century, as well as addressing the issues many young people face growing up in such a dynamic era.
The first time I read this book, I was painting at my kitchen table, listening to the soothing voice of Connor Franta as he discussed with me, between sips of coffee, his adolescent struggles from across the desk. Then, when he'd finished, he disappeared, and I was left with a million thoughts to ponder.
At least that's how it felt.
In actuality, I was listening to Connor narrate the Audiobook version of this memoir. It felt so intimate, like I could interrupt at any time, and he would let me, eager to hear my thoughts on this topic.
I learnt so much in those 3 hours, or however long it lasted, that I bought the physical version just so I could put it on my shelf, and flick back to specific chapters when I needed to.
I've revisited this book a few times, rereading select chapters when I felt I needed Connor's advice. There are so many important lessons squeezed into these 212 pages.
Recently, though, I've been feeling very demotivated. I've been swamped with school work, my GCSE exams looming threateningly just over the horizon. Thus, I decided to revisit this book in its entirety, perusing as opposed to listening this time.
Between revision sessions, I picked up this book, and instantly felt better.
Before bed, I picked up this book, and instantly forgot my worries for the day that had just expired.
Before getting up in the morning, I picked up this book, and instantly felt motivated for the day ahead.
This book is like medicine when my soul is waning.
Thus, I wanted to share with you my impressions of this book. Whilst I would agree that this book is unlikely to be enjoyable for those who have never heard of this mysterious man, Connor Franta, I would not even hesitate to suggest that anyone who has watched even 1 of his videos consider giving this book a try. This is because Connor's internet persona is one of positivity and energy and excitement, wit and intellect and ardour. He portrays a character you could never imagine is unhappy.
Yet he is. We all our, in our own little ways.
And that is one of the many lessons Connor Franta has taught me: do not judge someone on how they act around you. Do not assume anything about anyone. Consider that bigger things are happening behind closed doors than on the surface.
Now, you're probably wondering how a 22-year-old managed to write a memoir. Surely he hasn't lived enough to write a whole book about his life?!
That's another interesting aspect about this book.
Connor Franta is a work in progress.
As are you.
As am I.
We are all rough around the edges, confused and apprehensive and, at times, lost. This fact is undeniable, and it's so utterly interesting to read a memoir from a perspective with so much life left to live. Whilst Connor is reminiscent in this book, he is certain of one thing: he has a whole lifetime ahead of him.
So when I'm blue, or green, or red, I remember what he said:
"I refuse to live a life of regret. I refuse to hope things will get better in the future when I have complete control over making them the best possible right here and now. We have one life – and none of us knows how long our life will be or what will become of it. The possibilities are truly infinite."
Overall, I awarded this book 4.5/5 stars. My only criticism would be that I want more, and perhaps lengthier chapters.
You can find the book here: Amazon | Goodreads
A Work in Progress is a memoir, and so I am entering this novel for the number 28 spot on the Around the Year in 52 Books challenge: A biography, autobiography, or memoir. Yay!