Rating: 5/5 stars
Read if You Enjoy: Coming of age, The Perks of Being a Wallflower by Stephen Chbosky, Looking for Alaska by John Green
Synopsis: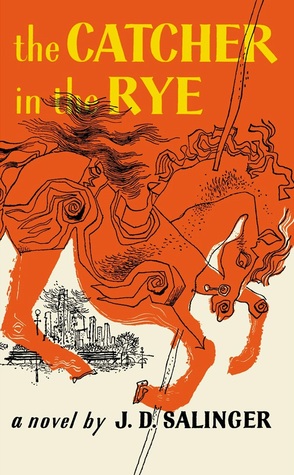 "…the first thing you'll probably want to know is where I was born and what my lousy childhood was like, and how my parents were occupied and all before they had me, and all that David Copperfield kind of crap, but I don't feel like going into it, if you want to know the truth. In the first place, that stuff bores me, and in the second place, my parents would have about two haemorrhages apiece if I told anything pretty personal about them."
Since his debut in 1951 as The Catcher in the Rye, Holden Caulfield has been synonymous with "cynical adolescent." Holden narrates the story of a couple of days in his sixteen-year-old life, just after he's been expelled from prep school, in a slang that sounds edgy even today and keeps this novel on banned book lists. His constant wry observations about what he encounters, from teachers to phonies (the two of course are not mutually exclusive) capture the essence of the eternal teenage experience of alienation.
Goodreads Status Updates:
13%: "Already, there's a really distinctive voice and tone"
53%: "I totally get why this is so many people's favourite book"
Review:
It's funny. Don't ever tell anybody anything. If you do, you start missing everybody.
The Catcher in the Rye is notoriously divisive. Our society, as a collective, fail to conclude whether this book is magnificently riveting, a work of art, or utter drivel.
Personally, I choose the former. Magnificently riveting throughout, a work of art is all I can describe this book as.
Now, The Catcher in the Rye is a global phenomenon, commonly being read by English students and adults alike. Thus, and because of the contentiousness surrounding this book, I decided to give it a go, and to form my own opinion of it before it was labelled as 'required reading'.
(I don't know if I'm ever going to have to read this novel as required reading, but I thought it better to be safe than sorry.)
And am I glad I did!
Captivating from the very opening line, I'm amazed at how engaging this novel was, and the levels at which it related to me. Obviously, I'm not a 16-year-old boy in 1949 NYC, but I still felt as though Holden Caulfield could seamlessly speak my mind. Within this novel are the inner thoughts of so many people, no matter the gender, age, era, or location. Frankly, during adolescence, we all feel a deep sense of alienation, and it is rare that an adult speak it in such a profound and accurate manner.
Frankly, I think it amazing that a novel written over 60 years ago about a teenager existing in that time is still relateable; I can empathize with Holden Caulfield so totally and whole-heartedly, despite our differences both relating to family, history, and beliefs, and despite our differences in age, gender, and era.
There are very few characters in this book, just as there is very little dialogue, and a slim time frame. We spend 3 days in the head of a teenage male, watching as a battle of emotions transpires. This snippet into Holden Caulfield's life is brief, yes, but all the more realistic because of this.
Obviously there's a multitude of layers to this book, and I could progress into discussing different themes and social attitudes with you, but I won't go into much detail, because this novel is not as I expected it to be, and I believe that is a good thing. To go into this novel blind, as it were, is to open yourself up to a world of possibility, which I think it very important. Just know, I awarded it 5/5 stars, and wouldn't hesitate to recommend it to everyone, man or woman, young or old, if they haven't yet had the opportunity.
To quote John Green, "Just read it!"
You can find the book here: Amazon | Goodreads
Amongst other things, The Catcher in the Rye is an identity book, and so I am entering this novel for the number 36 spot on the Around the Year in 52 Books challenge: A identity book. Yay!