Rating: 3.5/5 stars
Read if You Enjoy: The Danish Girl by David Ebershoff, historical fiction, literary fiction
Synopsis: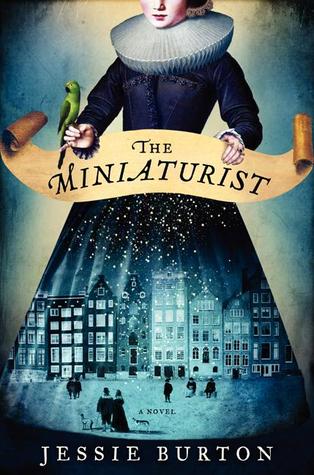 On a brisk autumn day in 1686, eighteen-year-old Nella Oortman arrives in Amsterdam to begin a new life as the wife of illustrious merchant trader Johannes Brandt. But her new home, while splendorous, is not welcoming. Johannes is kind yet distant, always locked in his study or at his warehouse office—leaving Nella alone with his sister, the sharp-tongued and forbidding Marin.
But Nella's world changes when Johannes presents her with an extraordinary wedding gift: a cabinet-sized replica of their home. To furnish her gift, Nella engages the services of a miniaturist—an elusive and enigmatic artist whose tiny creations mirror their real-life counterparts in eerie and unexpected ways . . .
Johannes' gift helps Nella to pierce the closed world of the Brandt household. But as she uncovers its unusual secrets, she begins to understand—and fear—the escalating dangers that await them all. In this repressively pious society where gold is worshipped second only to God, to be different is a threat to the moral fabric of society, and not even a man as rich as Johannes is safe. Only one person seems to see the fate that awaits them. Is the miniaturist the key to their salvation . . . or the architect of their destruction?
Goodreads Status Updates:
Page 63: "I like the pace so far, as well as the tone, which is quite descriptive"
Page 193: "I don't know how I feel about this book, because it's interesting but I'm not thinking about it all day like I do with most books…"
Page 275: "So many plot twists I love it"
Review:
Growing older, Nella realises, does not seem to make you more certain. It simply presents you with more reasons for doubt.
A unique – and, at times, baffling – insight into the history of Amsterdam, The Miniaturist is very original in its content, but not so much in the execution. The tone, and pace were much like those I've read of in other historical fiction books, and – whilst a great book overall – I wasn't taken aback as this novel concluded.
I have a problem with literary historical fiction.
Let me explain.
The writing is beautiful. Really, it's beautiful. I feel as though there's a certain exquisiteness to literary fiction, especially when it's historical, and especially when concerning the writing. It's a journey for your emotions, and – like a journey – it's tiring. It takes a lot of energy to read these books; for me, anyway.
Likewise, I feel as though the characters are rather one-dimensional, preventing me falling in love with them. For me, characters are a big part of a book, and characters that are lacking in, you know, character really drag a book out for me.
Because of this, it took me a while to read this book.
It was a great experience, don't get me wrong, but it just took a while to get into, and a while to finish. 
On the other hand, the content of this book was great – Burton addresses a multitude of social issues within the pages, and it was so interesting to see how times have changed, from gender equality to LGBTQ identity to racism. It was such an enlightening read.
Likewise, there was a clear theme of money meaning power in this book. I was repulsed at the attitudes toward crime in this novel – money can buy you out of anything. It was those with the most money that had the most power and influence in the community.
Although repulsive, I found these attitudes really interesting, because they differ so wholeheartedly from what I know, and what I'm used to.
Also, previously, I had never even considered the history of Amsterdam, The Dutch Golden Age an unprecedented body of time from my perspective; I was joyfully amazed at the depth Burton went into within this book, and was happy to explore the time period with her. I felt like I was discovering new things all the way through this novel.
Overall, this book covers a lot of important themes, and reads really nicely. It is a little slow at times, and is definitely lacking in the character department, but I still enjoyed it as a whole. I am also a little annoyed at how many of the loose ends were not tied together at the end of this book. Thus, I decided to award this book 3.5/5 stars, and would recommend it to fans of historical fiction.
You can find the book here: Amazon | Goodreads
Set in 1686, this novel is certainly set more than 100 years ago, and so I am entering this novel for the number 15 spot on the Around the Year in 52 Books challenge: A book set in the past (more than 100 years ago). Yay!