⋘March Wrap-Up⋙
March has been my best month for reading so far this year, with a total of 8 books! Hazar! This is mostly due to the Easter holidays gifting me freedom from school. When I go back on Monday, it's mock exams all around, so I imagine this is the best wrap up I'll have until summer…
Here are the books I managed to read in the month of March:
Behind the Beautiful Forevers by Katherine Boo
Annawadi is a makeshift settlement in the shadow of luxury hotels near the Mumbai airport, and as India starts to prosper, Annawadians are electric with hope. Abdul, a reflective and enterprising Muslim teenager, sees "a fortune beyond counting" in the recyclable garbage that richer people throw away. Asha, a woman of formidable wit and deep scars from a childhood in rural poverty, has identified an alternate route to the middle class: political corruption. With a little luck, her sensitive, beautiful daughter—Annawadi's "most-everything girl"—will soon become its first female college graduate. And even the poorest Annawadians, like Kalu, a fifteen-year-old scrap-metal thief, believe themselves inching closer to the good lives and good times they call "the full enjoy."
But then Abdul the garbage sorter is falsely accused in a shocking tragedy; terror and a global recession rock the city; and suppressed tensions over religion, caste, sex, power and economic envy turn brutal. As the tenderest individual hopes intersect with the greatest global truths, the true contours of a competitive age are revealed. And so, too, are the imaginations and courage of the people of Annawadi.
With intelligence, humor, and deep insight into what connects human beings to one another in an era of tumultuous change,Behind the Beautiful Forevers carries the reader headlong into one of the twenty-first century's hidden worlds, and into the lives of people impossible to forget.
This novel was impossibly eye-opening, and the best piece of investigating journalism I have ever read. I won't go into much detail, and instead urge you to simply read it. This novel addresses so many modern issues, and should be read – in my opinion – by all. 4/5 stars.
Read my review of Behind the Beautiful Forevers here.
Blue Lily, Lily Blue by Maggie Stiefvater
There is danger in dreaming. But there is even more danger in waking up.
Blue Sargent has found things. For the first time in her life, she has friends she can trust, a group to which she can belong. The Raven Boys have taken her in as one of their own. Their problems have become hers, and her problems have become theirs.
The trick with found things though, is how easily they can be lost.
Friends can betray.
Mothers can disappear.
Visions can mislead.
Certainties can unravel.
This is the penultimate novel in The Raven Cycle, and the novel that confirmed the status off this series as one of my favourites. Ever. I loved it, and I cannot wait for the final addition to the series – The Raven King – to be released in late April, and all the strings to finally intertwine. 5/5 stars.
Salt to the Sea by Ruta Sepetys
Winter, 1945. Four teenagers. Four secrets.
Each one born of a different homeland; each one hunted, and haunted, by tragedy, lies…and war.
As thousands of desperate refugees flock to the coast in the midst of a Soviet advance, four paths converge, vying for passage aboard the Wilhelm Gustloff, a ship that promises safety and freedom.
Yet not all promises can be kept.
Inspired by the single greatest tragedy in maritime history, bestselling and award-winning author Ruta Sepetys (Between Shades of Gray) lifts the veil on a shockingly little-known casualty of World War II. An illuminating and life-affirming tale of heart and hope.
I went into this novel blind, and I honestly think that is the best way to do it. Thus, I won't tell you any more about it, except that it is amazing, and you're missing out if you haven't read it yet, especially if you're a fan of historical fiction. 5/5 stars.
Read my review of Salt to the Sea here.
Kindred Spirits by Rainbow Rowell
Everybody likes everything these days. The whole world is a nerd.'
'Are you mad because other people like Star Wars? Are you mad because people like me like Star Wars?'
'Maybe.'
If you broke Elena's heart, Star Wars would spill out. So when she decides to queue outside her local cinema to see the new movie, she's expecting a celebration with crowds of people who love Han, Luke and Leia just as much as she does.
What she's not expecting is to be last in a line of only three people; to have to pee into a collectible Star Wars soda cup behind a dumpster or to meet that unlikely someone who just might truly understand the way she feels.
Although being a simple short story, Kindred Spirits packs a punch. I absolutely loved this novel, and would definitely read it again if I'm ever feeling blue. It's so sweet, and – despite its short nature – inspiring, containing many a reason to be yourself, and believe in what you love. 5/5 stars.
Read my review of Kindred Spirits here.
Carry On by Rainbow Rowell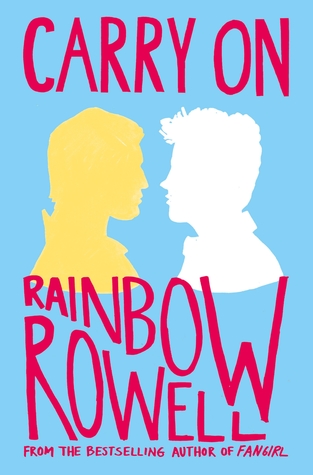 Simon Snow just wants to relax and savor his last year at the Watford School of Magicks, but no one will let him. His girlfriend broke up with him, his best friend is a pest, and his mentor keeps trying to hide him away in the mountains where maybe he'll be safe. Simon can't even enjoy the fact that his roommate and longtime nemesis is missing, because he can't stop worrying about the evil git. Plus there are ghosts. And vampires. And actual evil things trying to shut Simon down. When you're the most powerful magician the world has ever known, you never get to relax and savor anything.
Carry On is a ghost story, a love story, a mystery and a melodrama. It has just as much kissing and talking as you'd expect from a Rainbow Rowell story — but far, far more monsters.
2 weeks later, and this novel is still on my mind… And to think I considered never purchasing this novel! Carry On was immense, and will likely claim a top-three spot in my Best Books of 2016 post at the end of this year. Everything about this book appealed to me, and I can't wait to re-read it many times in the future. 5/5 stars.
Read my review of Carry On here.
Lady Midnight by Cassandra Clare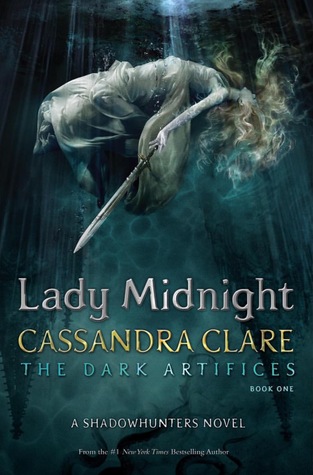 It's been five years since the events of City of Heavenly Fire that brought the Shadowhunters to the brink of oblivion. Emma Carstairs is no longer a child in mourning, but a young woman bent on discovering what killed her parents and avenging her losses.
Together with her parabatai Julian Blackthorn, Emma must learn to trust her head and her heart as she investigates a demonic plot that stretches across Los Angeles, from the Sunset Strip to the enchanted sea that pounds the beaches of Santa Monica. If only her heart didn't lead her in treacherous directions…
Making things even more complicated, Julian's brother Mark—who was captured by the faeries five years ago—has been returned as a bargaining chip. The faeries are desperate to find out who is murdering their kind—and they need the Shadowhunters' help to do it. But time works differently in faerie, so Mark has barely aged and doesn't recognize his family. Can he ever truly return to them? Will the faeries really allow it?
Glitz, glamours, and Shadowhunters abound in this heartrending opening to Cassandra Clare's Dark Artifices series.
The first novel in Clare's newest Shadowhunter series, The Dark Artifices, Lady Midnight is another novel that will undoubtedly be up there as one of my favourites at the end of this year. Also, I would not hesitate in proclaiming – yes, proclaiming – that this is my favourite opening to series Cassandra has ever written. (Let's just see if The Dark Artifices beats The Infernal Devices…) 5/5 stars.
Read my review of Lady Midnight here.
Me and Earl and the Dying Girl by Jesse Andrews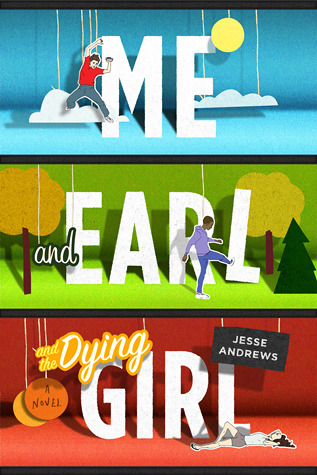 Greg Gaines is the last master of high school espionage, able to disappear at will into any social environment. He has only one friend, Earl, and together they spend their time making movies, their own incomprehensible versions of Coppola and Herzog cult classics.
Until Greg's mother forces him to rekindle his childhood friendship with Rachel.
Rachel has been diagnosed with leukemia—-cue extreme adolescent awkwardness—-but a parental mandate has been issued and must be obeyed. When Rachel stops treatment, Greg and Earl decide the thing to do is to make a film for her, which turns into the Worst Film Ever Made and becomes a turning point in each of their lives.
And all at once Greg must abandon invisibility and stand in the spotlight.
This book wasn't amazing (far from it), but it managed to keep me entertained for a couple of days. I would not, however, read it again. Or recommend it to anyone. 2.5/5 stars.
Read my review of Me and Earl and the Dying Girl here.
Read my thoughts on the movie adaptation here.
Harry Potter and the Half-Blood Prince by J.K. Rowling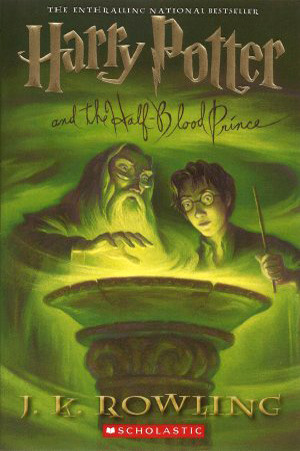 It is the middle of the summer, but there is an unseasonal mist pressing against the windowpanes. Harry Potter is waiting nervously in his bedroom at the Dursleys' house in Privet Drive for a visit from Professor Dumbledore himself. One of the last times he saw the Headmaster was in a fierce one-to-one duel with Lord Voldemort, and Harry can't quite believe that Professor Dumbledore will actually appear at the Dursleys' of all places. Why is the Professor coming to visit him now? What is it that cannot wait until Harry returns to Hogwarts in a few weeks' time? Harry's sixth year at Hogwarts has already got off to an unusual start, as the worlds of Muggle and magic start to intertwine…
J.K. Rowling charts Harry Potter's latest adventures in his sixth year at Hogwarts with consummate skill and in breathtaking fashion.
So, at the end of this month, I finally returned to J.K. Rowling's Harry Potter series. Whilst this book wasn't my favourite, I still found it interesting, and really enjoyed the flashbacks via the pensieve. I did not, however, appreciated the ending. Poor lil' Dumbledore…
---
⋘Currently Reading⋙
Harry Potter and the Deathly Hallows by J.K. Rowling
After finishing Half-Blood Prince, I just had to complete the series, and find out what was going to happen next. Thus, I moved straight onto Deathly Hallows. I am just over half-way through at the moment, and am really enjoying it. It is weird, however, to read a Harry Potter novel that isn't set in Hogwarts…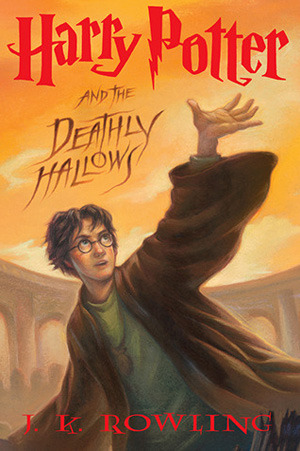 Harry is waiting in Privet Drive. The Order of the Phoenix is coming to escort him safely away without Voldemort and his supporters knowing – if they can. But what will Harry do then? How can he fulfil the momentous and seemingly impossible task that Professor Dumbledore has left him?
---
⋘April TBR⋙
I've gotten really bad at following my TBRs… I only read 1/3 of my March TBR! Let's pray I do better with this one!
Me Before You by Jojo Moyes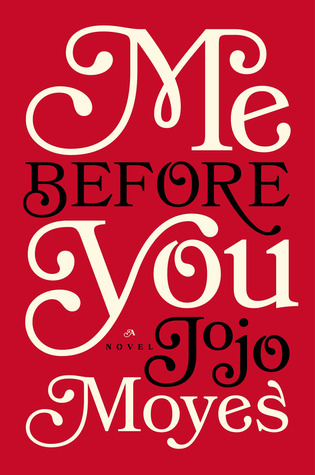 Lou Clark knows lots of things. She knows how many footsteps there are between the bus stop and home. She knows she likes working in The Buttered Bun tea shop and she knows she might not love her boyfriend Patrick.
What Lou doesn't know is she's about to lose her job or that knowing what's coming is what keeps her sane.
Will Traynor knows his motorcycle accident took away his desire to live. He knows everything feels very small and rather joyless now and he knows exactly how he's going to put a stop to that.
What Will doesn't know is that Lou is about to burst into his world in a riot of colour. And neither of them knows they're going to change the other for all time.
Everyone is talking about this book, and I want to join the club before the movie comes out! I also just purchased a physical copy, and it is very cute.
The Foxhole Court by Nora Sakavic
Neil Josten is the newest addition to the Palmetto State University Exy team. He's short, he's fast, he's got a ton of potential—and he's the runaway son of the murderous crime lord known as The Butcher.
Signing a contract with the PSU Foxes is the last thing a guy like Neil should do. The team is high profile and he doesn't need sports crews broadcasting pictures of his face around the nation. His lies will hold up only so long under this kind of scrutiny and the truth will get him killed.
But Neil's not the only one with secrets on the team. One of Neil's new teammates is a friend from his old life, and Neil can't walk away from him a second time. Neil has survived the last eight years by running. Maybe he's finally found someone and something worth fighting for.
I've been missing The Raven Boys, and everyone compares Maggie Stiefvater's work on The Raven Cycle with Nora Sakavic's All for the Game series. Also, this book is available for free on Amazon Kindle. Thus, here I am, ready and raring to read.
---
What was your favourite book you read in March? What are you currently reading? What do you want to read in April? Tell me in the comments!
Thank you ever so much for reading, and I really hope you enjoyed!
Until next time, and to keep up with my reading as it happens, find me on Goodreads, Twitter, Instagram, and Tumblr.
Love, Olivia x