Rating: 2.5/5 stars
Suitable for Fans of: The Fault in Our Stars by John Green, It's Kind of a Funny Story by Ned Vizzini, Butter by Erin Jade Lange
Synopsis: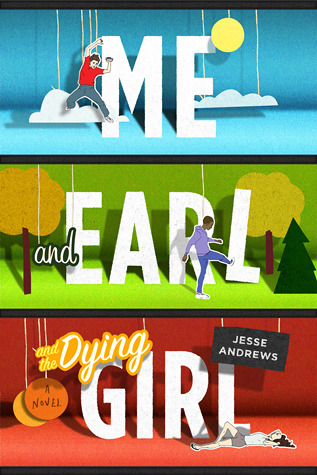 Greg Gaines is the last master of high school espionage, able to disappear at will into any social environment. He has only one friend, Earl, and together they spend their time making movies, their own incomprehensible versions of Coppola and Herzog cult classics.
Until Greg's mother forces him to rekindle his childhood friendship with Rachel.
Rachel has been diagnosed with leukemia—-cue extreme adolescent awkwardness—-but a parental mandate has been issued and must be obeyed. When Rachel stops treatment, Greg and Earl decide the thing to do is to make a film for her, which turns into the Worst Film Ever Made and becomes a turning point in each of their lives.
And all at once Greg must abandon invisibility and stand in the spotlight.
Goodreads Status Updates:
Page 68: "I've had this book for a while, so it's about time I read it…"
Page 199: "I'm kind of in the middle with this book"
Review:
"There was just something about her dying that I had understood but not really understood, if you know what I mean. I mean, you can know someone is dying on an intellectual level, but emotionally it hasn't really hit you, and then when it does, that's when you feel like shit."
Maybe if I was 12, and still stuck in my John Green phase, I would have loved this book. (I remember thinking The Fault in Our Stars was a literary phenomenon.)
Maybe my 12-year-old self would have the same impression of Me and Earl and the Dying Girl (although I doubt it…I would still rate TFIOS higher).
Maybe if I was 12, I would be able to score this book higher, but – frankly – I didn't enjoy it enough at age 15 to do so.
Me and Earl and the Dying Girl is narrated by Greg Gaines, an overweight teen who loves to make people laugh – despite his complete inability to do so – and make films with his best friend, Earl.
From the very beginning, I knew that this novel was not my type of humour. Personally, I don't find it funny when self-deprecating jokes reflect peer and self-hate more so than comedy.
Frankly, Greg Gaines is the kind of person you'd politely laugh along with – for his age, a high school senior, Greg's jokes are insufferably infantile – but only until you could escape.
Throughout the entirety of this novel, I wanted to escape Greg Gaines, just like the characters did.
And I would have put the book down if it was longer than 300 pages, but the short chapters made it so that I was able to race through this book in a matter of days. That is a becoming factor of the book – the pace is great. Fantastic, even. The pace is what brought this book up from peripheral to considerable. That, and Earl.
Earl – as a character – was undoubtedly the best. Despite his tendency to erupt with vulgar profanity (which I'm sure is meant to be amusing, but I don't – frankly – see it. What is it with some authors believing obscenity is the sole language of teens? It's not.), it was endlessly evident that he was the only character with any actual character and substantial outlook on the world.
I enjoyed hearing about Earl's life, and was interested in his future following the book, as well as his past that Greg offered infuriatingly few answers about.
Honestly, this book would have benefited if it was just Earl and the Dying Girl. Or, you know, just Earl.
This is because, as aforementioned, Greg was boring, and I failed to relate to him at all. He was a feeble character, naive in believing he could go through life with as few friends as possible. In his mindset, if people don't have an opinion of you, that's a good thing. He lived life on the sidelines – Greg Gaines made no attempt at making more friends, or even caring about people. His flippant attitude was not one I enjoyed reading about. He was also very prejudiced towards his peers, which baffled me – how can he have such negative opinions of people when he makes no effort to actually get to know them?
Also – and I am unsure as to whether this was another idea that was supposed to be funny – Greg had a common tendency to objectify women, consistently discussing how 'hot' or 'ugly' he thinks they are. Obviously, I didn't find this funny (was I supposed to?) or at all relevant to add to the novel. Here is a self-proclaimed troll of a teenage boy belittling his female peers, all of whom refuse to give him the time of day. I just don't understand what I'm supposed to take from this!
If Greg were real, we would definitely not be friends, and not just because he would refuse to try to be.
Likewise, the 'Dying Girl' was equally characterless, so much so that I can't actually remember her name, 12 hours after finishing the book. The relationship she and Greg shared was of no significance, and it was perpetually tedious to read of their interactions.
Moreover, and I cannot stress this enough, not much happened. Like, at all. The story never peaked, the pace never changed, and there was never even an ounce of character development. Ever.
So with all of these negatives, how could I award this book even 1 star, let alone 2.5?
It's because I know what Jesse Andrews was trying to do.
In writing a book about a 'Dying Girl', he was instantly entering The Fault in Our Stars territory, and the comparisons were inevitable. And so, to make a difference, he tried to make his story and characters as mundane as possible – the reader leaves with the impression that Greg, Earl, and the Dying Girl (Robyn? Rosie? I think it starts with an 'R') were ordinary people, and their story – or lack thereof – could happen to anyone.
I get what he was trying to do, but it didn't work for me.
That does not mean to say, though, that it wouldn't work for other people – I can see how people would enjoy this novel. Really, I can.
On a more positive note, I really quite enjoyed the structure of this novel: there were flashbacks, allusions to the future, and even some chapters formatted like a script. I really enjoy it when authors mix things up like that.
Thus, overall, I awarded this book 2.5/5 stars, and recommend it to people who enjoyed The Fault in Our Stars. The humour just wasn't to my taste, and I found the novel, as a whole, very boring.
Despite my disinterest in the novel, I am interested to see how the movie compares…
You can find the book here: Amazon | Goodreads
'Earl' (Me and Earl and the Dying Girl) is a first name, and so I am entering this novel for the number 20 spot on the Around the Year in 52 Books challenge: A book with a first name in the title.  Yay!