Rating: 5/5 stars
Suitable for Fans of: The Mortal Instruments, The Infernal Devices, urban fantasy
Synopsis: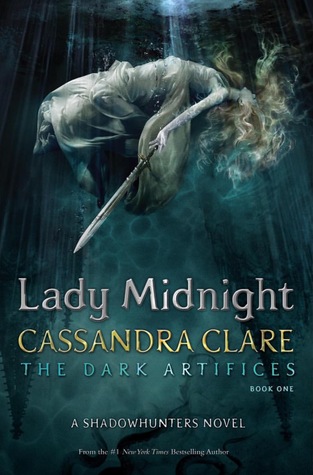 It's been five years since the events of City of Heavenly Fire that brought the Shadowhunters to the brink of oblivion. Emma Carstairs is no longer a child in mourning, but a young woman bent on discovering what killed her parents and avenging her losses.
Together with her parabatai Julian Blackthorn, Emma must learn to trust her head and her heart as she investigates a demonic plot that stretches across Los Angeles, from the Sunset Strip to the enchanted sea that pounds the beaches of Santa Monica. If only her heart didn't lead her in treacherous directions…
Making things even more complicated, Julian's brother Mark—who was captured by the faeries five years ago—has been returned as a bargaining chip. The faeries are desperate to find out who is murdering their kind—and they need the Shadowhunters' help to do it. But time works differently in faerie, so Mark has barely aged and doesn't recognize his family. Can he ever truly return to them? Will the faeries really allow it?
Glitz, glamours, and Shadowhunters abound in this heartrending opening to Cassandra Clare's Dark Artifices series.
Review:
"It hurt me being away from you. It feels like there's a hook dug in under my ribs, and there's something pulling at the other end. Like I'm tethered to you, no matter the distance."
I've been waiting for this book for years. Years.
I was so worried that I wouldn't like, that I'd be disappointed.
But how could I think that? Cassandra Clare has only ever impressed me, only ever made me fall in love with her world. How could I doubt that?
Honestly, I don't know what I was thinking, but I sure don't doubt Cassandra now…
Lady Midnight was stunning.
From the first chapter I was engrossed, and I knew that I had a wild ride ahead of me.
---
Firstly, I'd like to address the unique nature of this novel when compared to Cassandra Clare's previous writings. Both The Mortal Instruments and The Infernal Devices began with a protagonist who was unfamiliar with the Shadowhunter world. Thus, both City of Bones and Clockwork Angel had lengthy beginnings, and took a while to get into the flow and pace of the story.
Lady Midnight – due to the protagonist, Emma, being familiar with the Shadowhunter world – was able to skip past this length introduction, and delve straight into the action.
And the action – there was so much of it! This book never stopped, never even slowed; it was a constant stream of events transpiring, and I loved that! There was never a dull moment!
Likewise, the pacing of this novel was very well done. It was consistently fast – but not too fast – and the transitions between scenes were seamless. This, in hand with the heightened levels of action, made for an engaging novel that I never wanted to put down.
However, I would complain that the chapters were a little lengthy. This isn't the kind of book that you can read spots of here and there – if you feel like reading this book, you're in it for the long haul. The combination of long chapters and an engaging story is deadly; I was reading for hours at a time when meaning to do other things!
---
Throughout this novel, there are consistent switches in point-of-view. This – I believe – was very beneficial from a reader's perspective, as it allowed for a broader perception of the current events. Because this book was so complex with so many overlapping events, it was great to get a head start, and see little snippets from each perspective.
Without these switches in POV, it is definite that the book would have suffered. Such changes both enabled more of an in-depth insight to the characters, and an invaluable insight into the action.
It also made it so that the book had an even faster pace, because the chapters were split into sections for each POV.
Likewise, this book not only discusses current events from differing perspectives, but past events, too. The flashbacks that were incorporated were endlessly interesting, because many occurred during latter half of The Mortal Instruments series. Having read said series, it was interesting to get an insight into what was happening on the sidelines of Jace and Clary's story.
Also, it was nice to gradually discover the important events that occurred during the 5-year gap between City of Heavenly Fire and Lady Midnight without going into the more mundane aspects (pun intended).
Frankly, through this novel, I have learned much of the Shadowhunter world, especially what it was like for Emma and Julian to grow up in it, and not just be thrown into it like Tessa and Clary were.
---
Cassandra Clare is renowned for her incorporation of both LGBTQ and differing ethnicities into her novels. Lady Midnight was no different, nationalities and sexuality being approached with an accepting demeanour.
It was so great to read a book wherein such things were the norm – as they should be – and no one was singled out for the things they couldn't control.
It was like magical realism, but with nationality and sexual orientation.
(I loved it.)
Likewise, because the Blackthorn family motto being "lex malla, lex nulla" (or a "bad law, is no law") demonstrates what this book is really about – change. The acceptance of Downworlder-Shadowhunter marriages, and the abolishment of the Cold Peace, alongside scrapping how falling in love with your parabatai is forbidden. I believe that Emma – despite not being a Blackthorn – will be the voice of change, and the next generation of Shadowhunters.
In our modern society, these issues are really relevant, and I'm sure will aid multiple readers around the globe.
---
In terms of characters, I believe this is the strongest group Clare has created. I would first, however, like to discuss the incorporation of other Shadowhunter characters from previous series: Jem is commonly mentioned, which I really liked, as it allowed for an insight into his life after The Infernal Devices, and also after City of Heavenly Fire; both Clary and Jace were spoken of as if they were famous, which was really amusing, but comforting all the same – it was so great to see that they were continuing with their life together; Magnus was as he always is – flamboyant…surely it would be a crime to neglect to include Magnus in a Shadowhunter novel; Simon and Isabelle…I won't spoil it for you!
Now, in terms of the main characters in Lady Midnight, I would begin by stating how much I admire Emma Carstairs. She is definitely my favourite protagonist of all the Shadowhunter books in existence – she is strong and unwavering, and loves fiercely. She is a warrior, and not afraid of a battle or a head-on altercation. She is outrageously sarcastic and witty and always able to make jokes, even in difficult moments. But she's vulnerable. Despite these powerful aspects of her personality, it is evident that her deep love can cause her pain. She is the image of a strong female protagonist – she is not perfect, and she doesn't try to be.
I loved that about her.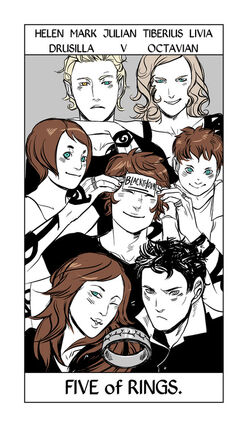 On the other hand, Julian was much more obviously sensitive, and I loved that he wasn't afraid to show his siblings and Emma how much he cares. The development between City of Heavenly Fire and Lady Midnight is astounding, because Julian has grown into a man. It was so great to read about him.
The remainder of the Blackthorn family were equally as great. All were unique, so much so that it was easy to tell them apart even after a few chapters. (I usually find it hard to tell large families apart in books.) Also, there were subtle hints at how things will develop with the children in the future. I understand that the sequel series to The Dark Artifices – The Wicked Powers – follows the younger Blackthorn children, and so it will be interesting to see how they develop in the coming novels in preparation for The Wicked Powers.
.
---
Overall, I would not hesitate to proclaim that this is the best introduction to a series Cassandra Clare has ever written. It was jam-packed with action from start to finish, and consisted of the best cast of characters I have ever read about. I loved everything about it, and could not stop thinking about it throughout my entire reading journey. Thus, I awarded it 5/5 stars, and would award it more if I could.
You can find the book here: Amazon | Goodreads
Lady Midnight was released at the beginning of March 2016, and so I am entering this novel for the number 52 spot on theAround the Year in 52 Books challenge: A book published in 2016. Yay!
Continue reading for my spoiler-laden discussion!
---
WARNING: SPOILERS
Read on at your own risk!
I wanted to take this opportunity to discuss with people who have read this novel some of the spoiler-y aspects of the novel.
Firstly, I want to start by saying how great of a villain Malcom was – did any of you guys guess it was him? Personally, I was convinced Diana and Cristina were an evil duo.
I don't know why – don't judge me!
But Cassandra is so great at creating plot twists. There is no way that I could have predicted such a turn in events!
On the other hand, how great was that final chapter? EPIC!
Frankly, though, I can't decide which team I'm on…Mark or Julian?
What do you guys think?
I just think Mark was so suave at the ending with the final line, "Why lie?"
I couldn't handle it!
I know I should be team Julian, because I'm 90% sure that's the ship that will go cannon in the end, but I can't shake the feeling that Emma and Mark would be good together…
ALSO, the epilogue – WTF? This is getting me so excited for book 2, because DAMN! I have no idea where Cassandra is going to go with this, but I'm so excited to see!
Finally, Kit is the lost Herondale…WHAT?!
I wasn't even prepared for such mind-blowing news!
As you can tell, I am very excited for book 2. Tell me in the comments your thoughts on anything I just mentioned, because I would love to discuss these things with you all!
Olivia x