We all have a TBR, and mine is ever-growing. Frankly, I feel as though many people relate to this problem (because come on, books are beautiful), and so I wanted to show you all the books I have purchased, but am yet to read.
Sometimes I feel like I'm a shopaholic…but just for books.
---
Note that this is not my entire TBR, but just the books I own that are TBR. Don't judge, I know there are a lot!
All the Bright Places by Jennifer Nivan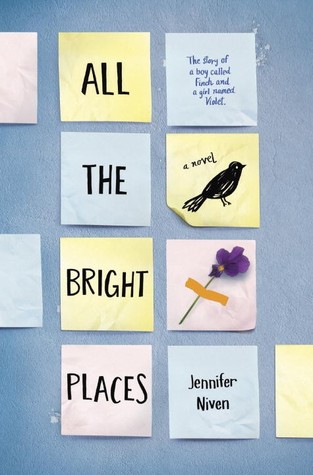 Theodore Finch is fascinated by death, and he constantly thinks of ways he might kill himself. But each time, something good, no matter how small, stops him.
Violet Markey lives for the future, counting the days until graduation, when she can escape her Indiana town and her aching grief in the wake of her sister's recent death.
When Finch and Violet meet on the ledge of the bell tower at school, it's unclear who saves whom. And when they pair up on a project to discover the "natural wonders" of their state, both Finch and Violet make more important discoveries: It's only with Violet that Finch can be himself—a weird, funny, live-out-loud guy who's not such a freak after all. And it's only with Finch that Violet can forget to count away the days and start living them. But as Violet's world grows, Finch's begins to shrink.
For a while, everyone was reading this book. It was the book that was on all the BookTuber's reading lists, and was being reviewed left, right, and centre. I wasn't overly fascinated by it, but was persuaded into purchasing it when I saw that it was recommended for people who enjoyed Eleanor and Park by Rainbow Rowell (me…obviously), and also that it was reduced to 99p for 1 day only. Obviously, I had to get it. Clearly, though, I am yet to actually read it.
Never Never by Colleen Hoover and Tarryn Fisher
Best friends since they could walk. In love since the age of fourteen.
Complete strangers since this morning.
He'll do anything to remember. She'll do anything to forget.
Never Never is a book split into three parts, so that each part exists as a short story. Obviously, then, I should be more inclined to read this book, due to its brief nature – I won't even be reading it for long!
I am, however, yet to sink my teeth into anything by Colleen Hoover, the author of this book, which I think is one of the reasons I have not embarked on this bookish journey.
I don't know…maybe one day.
Gone Girl by Gillian Flynn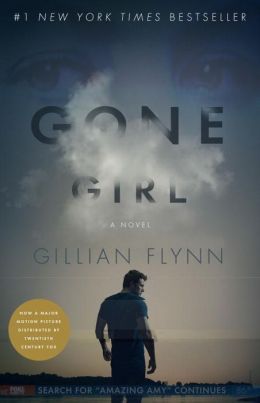 On a warm summer morning in North Carthage, Missouri, it is Nick and Amy Dunne's fifth wedding anniversary. Presents are being wrapped and reservations are being made when Nick's clever and beautiful wife disappears from their rented McMansion on the Mississippi River. Husband-of-the-Year Nick isn't doing himself any favors with cringe-worthy daydreams about the slope and shape of his wife's head, but passages from Amy's diary reveal the alpha-girl perfectionist could have put anyone dangerously on edge. Under mounting pressure from the police and the media–as well as Amy's fiercely doting parents–the town golden boy parades an endless series of lies, deceits, and inappropriate behavior. Nick is oddly evasive, and he's definitely bitter–but is he really a killer?
As the cops close in, every couple in town is soon wondering how well they know the one that they love. With his twin sister, Margo, at his side, Nick stands by his innocence. Trouble is, if Nick didn't do it, where is that beautiful wife? And what was in that silvery gift box hidden in the back of her bedroom closet?
I recently read an interview with Gillian Flynn, and I am so much more inclined to read this novel after that. I have, however, owned this book for a while. The premise really interests me, but I am apprehensive as to whether the dark nature of this novel would be suited to my tastes. Well, there's only one way to find out!
We Were Liars by E. Lockhart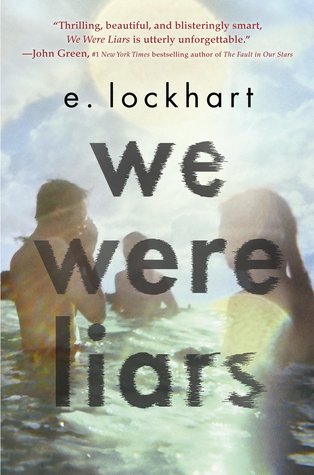 A beautiful and distinguished family.
A private island.
A brilliant, damaged girl; a passionate, political boy.
A group of four friends—the Liars—whose friendship turns destructive.
A revolution. An accident. A secret.
Lies upon lies.
True love.
The truth.
 
We Were Liars is a modern, sophisticated suspense novel from National Book Award finalist and Printz Award honoree E. Lockhart. 
Read it.
And if anyone asks you how it ends, just LIE.
This is another novel that was huge. I am, yet again, late to the party. Back when this book was popular, I wasn't interested. However, it now seems like something I would enjoy much more, and so when I saw it on sale at the start of this year, I went ahead and purchased it. I feel as though this is one of the books on this list that I will read soon.
My Sister's Keeper by Jodi Picoult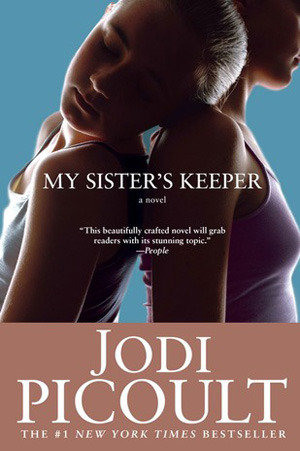 Anna is not sick, but she might as well be. By age thirteen, she has undergone countless surgeries, transfusions, and shots so that her older sister, Kate, can somehow fight the leukemia that has plagued her since childhood. The product of preimplantation genetic diagnosis, Anna was conceived as a bone marrow match for Kate — a life and a role that she has never challenged… until now. Like most teenagers, Anna is beginning to question who she truly is. But unlike most teenagers, she has always been defined in terms of her sister—and so Anna makes a decision that for most would be unthinkable, a decision that will tear her family apart and have perhaps fatal consequences for the sister she loves.
I saw the movie adaptation of this novel when it was released but was, at that point, too young to read the novel. However, when I was browsing the book selection in my local charity shop about 2 months ago, this novel caught my eye, and I thought I may as well pick it up, especially when it only costs 50p!
It is now sitting on my shelf, yet to be read…
All the Light We Cannot See by Anthony Doerr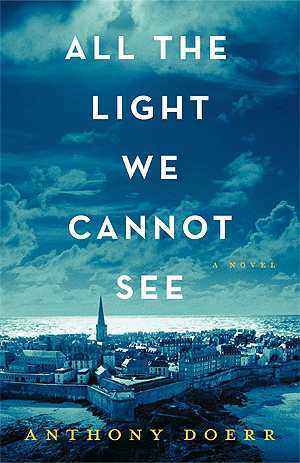 Marie-Laure lives with her father in Paris near the Museum of Natural History, where he works as the master of its thousands of locks. When she is six, Marie-Laure goes blind and her father builds a perfect miniature of their neighborhood so she can memorize it by touch and navigate her way home. When she is twelve, the Nazis occupy Paris and father and daughter flee to the walled citadel of Saint-Malo, where Marie-Laure's reclusive great-uncle lives in a tall house by the sea. With them they carry what might be the museum's most valuable and dangerous jewel.
In a mining town in Germany, the orphan Werner grows up with his younger sister, enchanted by a crude radio they find. Werner becomes an expert at building and fixing these crucial new instruments, a talent that wins him a place at a brutal academy for Hitler Youth, then a special assignment to track the resistance. More and more aware of the human cost of his intelligence, Werner travels through the heart of the war and, finally, into Saint-Malo, where his story and Marie-Laure's converge.
I am really interested in reading this book, especially after recently reading Salt to the Sea by Ruta Sepetys. I really want to read more historical fiction, and I can't wait to read this book. Frankly, I don't know why I haven't yet!
The Chaos Walking Trilogy by Patrick Ness
I purchased The Rest of Us Just Live Here at the same time as this series, and read that straight away. However, I have not yet began this series. It's funny, because I was really ready to read this story, but after The Rest of Us Just Live Here just forgot to…Oops!
Amy and Roger's Epic Detour by Morgan Matson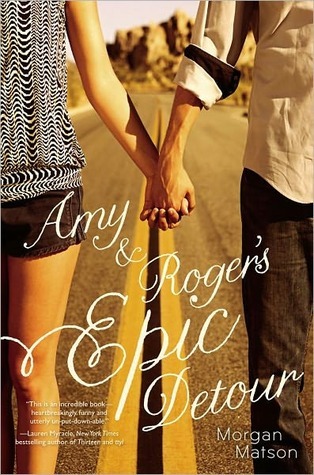 Amy Curry is not looking forward to her summer. Her mother decided to move across the country and now it's Amy's responsibility to get their car from California to Connecticut. The only problem is, since her father died in a car accident, she isn't ready to get behind the wheel. Enter Roger. An old family friend, he also has to make the cross-country trip – and has plenty of baggage of his own. The road home may be unfamiliar – especially with their friendship venturing into uncharted territory – but together, Amy and Roger will figure out how to map their way.
I read Since You've Been Gone by Morgan Matson last year, and really enjoyed it, but I am waiting for summer 2016 to read this one, due to the fact that Matson's content always feels good when the sun is shining. This is the kind of book I'd want to read outside, and – as sunny as March has been so far – I don't quite think I'm ready to be sat in my garden in shorts…
The Outcast by Sadie Jones
A decade earlier, his father's homecoming casts a different shape. The war is over and Gilbert has recently been demobbed. He reverts easily to suburban life – cocktails at six thirty, church on Sundays – but his wife and young son resist the stuffy routine. Lewis and his mother escape to the woods for picnics, just as they did in wartime days. Nobody is surprised that Gilbert's wife counters convention, but they are all shocked when, after one of their jaunts, Lewis comes back without her.
Not far away, Kit Carmichael keeps watch. She has always understood more than most, not least from what she has been dealt by her own father's hand. Lewis's grief and burgeoning rage are all too plain, and Kit makes a private vow to help. But in her attempts to set them both free, she fails to predict the painful and horrifying secrets that must first be forced into the open.
This novel was a gift from my mother who loved the TV adaptation of this novel. It sounds really interesting…I just never picked it up. I will soon!
Before I Go to Sleep by S.J. Watson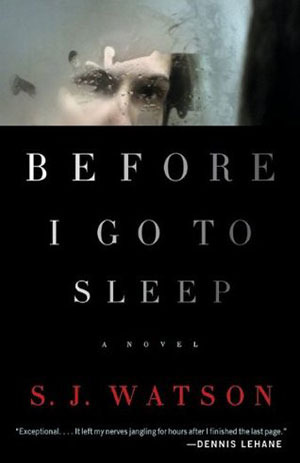 As I sleep, my mind will erase everything I did today. I will wake up tomorrow as I did this morning. Thinking I'm still a child, thinking I have a whole lifetime of choice ahead of me…
Memories define us. So what if you lost yours every time you went to sleep? Your name, your identity, your past, even the people you love–all forgotten overnight. And the one person you trust may only be telling you half the story.
Welcome to Christine's life.
This book sounds so thrilling, and I've heard a lot of good stuff about it. Frankly, I don't know why I haven't read it yet!
.
Station Eleven by Emily St. John Mandel
One snowy night Arthur Leander, a famous actor, has a heart attack onstage during a production of King Lear. Jeevan Chaudhary, a paparazzo-turned-EMT, is in the audience and leaps to his aid. A child actress named Kirsten Raymonde watches in horror as Jeevan performs CPR, pumping Arthur's chest as the curtain drops, but Arthur is dead. That same night, as Jeevan walks home from the theater, a terrible flu begins to spread. Hospitals are flooded and Jeevan and his brother barricade themselves inside an apartment, watching out the window as cars clog the highways, gunshots ring out, and life disintegrates around them.
Fifteen years later, Kirsten is an actress with the Traveling Symphony. Together, this small troupe moves between the settlements of an altered world, performing Shakespeare and music for scattered communities of survivors. Written on their caravan, and tattooed on Kirsten's arm is a line from Star Trek: "Because survival is insufficient." But when they arrive in St. Deborah by the Water, they encounter a violent prophet who digs graves for anyone who dares to leave.
Spanning decades, moving back and forth in time, and vividly depicting life before and after the pandemic, this suspenseful, elegiac novel is rife with beauty. As Arthur falls in and out of love, as Jeevan watches the newscasters say their final good-byes, and as Kirsten finds herself caught in the crosshairs of the prophet, we see the strange twists of fate that connect them all. A novel of art, memory, and ambition, Station Eleven tells a story about the relationships that sustain us, the ephemeral nature of fame, and the beauty of the world as we know it.
The premise for this novel sounds very interesting, and this novel as a whole is very highly acclaimed by critics. Unfortunately, I picked this book up in a group with many others, just as I had many books on my TBR before I got it, too. Thus, I keep forgetting to actually read it! Damn!
The Miniaturist by Jessie Burton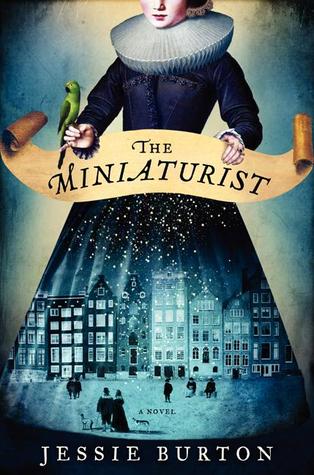 On a brisk autumn day in 1686, eighteen-year-old Nella Oortman arrives in Amsterdam to begin a new life as the wife of illustrious merchant trader Johannes Brandt. But her new home, while splendorous, is not welcoming. Johannes is kind yet distant, always locked in his study or at his warehouse office-leaving Nella alone with his sister, the sharp-tongued and forbidding Marin.
But Nella's world changes when Johannes presents her with an extraordinary wedding gift: a cabinet-sized replica of their home. To furnish her gift, Nella engages the services of a miniaturist-an elusive and enigmatic artist whose tiny creations mirror their real-life counterparts in eerie and unexpected ways . . .
Johannes' gift helps Nella to pierce the closed world of the Brandt household. But as she uncovers its unusual secrets, she begins to understand-and fear-the escalating dangers that await them all. In this repressively pious society where gold is worshipped second only to God, to be different is a threat to the moral fabric of society, and not even a man as rich as Johannes is safe. Only one person seems to see the fate that awaits them. Is the miniaturist the key to their salvation . . . or the architect of their destruction?
As aforementioned, I am very excited to sink my bookish teeth into more historical fiction, The Miniaturist being a perfect example. I am very excited to get around to reading this one.
The Dirty Parts of the Bible by Sam Torode
It's 1936, and Tobias Henry is stuck in the frozen hinterlands of Michigan. Tobias is obsessed with two things: God and girls.
Mostly girls, of course.
But being a Baptist preacher's son, he can't escape God.
When his father is blinded in a bizarre accident (involving hard cider and bird droppings), Tobias must ride the rails to Texas to recover a long-hidden stash of money. Along the way, he's initiated into the hobo brotherhood by Craw, a ribald vagabond-philosopher. Obstacles arise in the form of a saucy prostitute, a flaming boxcar, and a man-eating catfish. But when he meets Sarah, a tough farm girl under a dark curse, he finds out that the greatest challenge of all is love.
This novel was a spur of the moment purchase. Both the title and cover are a little odd, but the synopsis makes it so that this sounds like a really funny novel, and one that will tickle my funny bone. Hopefully.
The Girl with the Dragon Tattoo by Stieg Larsson
Mikael Blomkvist, a once-respected financial journalist, watches his professional life rapidly crumble around him. Prospects appear bleak until an unexpected (and unsettling) offer to resurrect his name is extended by an old-school titan of Swedish industry. The catch—and there's always a catch—is that Blomkvist must first spend a year researching a mysterious disappearance that has remained unsolved for nearly four decades. With few other options, he accepts and enlists the help of investigator Lisbeth Salander, a misunderstood genius with a cache of authority issues. Little is as it seems in Larsson's novel, but there is at least one constant: you really don't want to mess with the girl with the dragon tattoo.
This is another novel that was everywhere for a while, but I was too young to read it at the time of its release, and also when everyone else was reading it. I'm excited to get around to it eventually.
Me and Earl and the Dying Girl by Jesse Andrews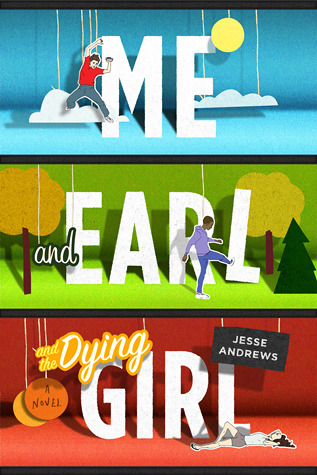 Greg Gaines is the last master of high school espionage, able to disappear at will into any social environment. He has only one friend, Earl, and together they spend their time making movies, their own incomprehensible versions of Coppola and Herzog cult classics.
Until Greg's mother forces him to rekindle his childhood friendship with Rachel.
Rachel has been diagnosed with leukemia—-cue extreme adolescent awkwardness—-but a parental mandate has been issued and must be obeyed. When Rachel stops treatment, Greg and Earl decide the thing to do is to make a film for her, which turns into the Worst Film Ever Made and becomes a turning point in each of their lives.
And all at once Greg must abandon invisibility and stand in the spotlight.
This book has since become a movie, and I am still yet to read it! Frankly, the fear that this book is very John Green-esque is holding me back. The synopsis seems interesting though, and I will definitely read it eventually!
Landline by Rainbow Rowell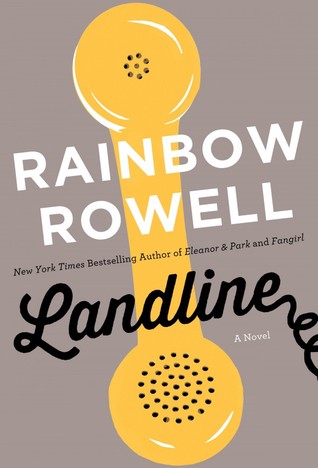 Georgie McCool knows her marriage is in trouble; it has been in trouble for a long time. She still loves her husband, Neal, and Neal still loves her, deeply — but that almost seems beside the point now.
Maybe that was always beside the point.
Two days before they're supposed to visit Neal's family in Omaha for Christmas, Georgie tells Neal that she can't go. She's a TV writer, and something's come up on her show; she has to stay in Los Angeles. She knows that Neal will be upset with her — Neal is always a little upset with Georgie — but she doesn't expect him to pack up the kids and go home without her.
When her husband and the kids leave for the airport, Georgie wonders if she's finally done it. If she's ruined everything.
That night, Georgie discovers a way to communicate with Neal in the past. It's not time travel, not exactly, but she feels like she's been given an opportunity to fix her marriage before it starts…
Is that what she's supposed to do?
Or would Georgie and Neal be better off if their marriage never happened?
There are 2 books by Rainbow Rowell that I haven't read yet: Landline, and Attachments. I really want to though, because Rainbow Rowell is my favourite author – I feel bad saying that knowing I haven't read all of her novels…
The Great Gatsby by F. Scott Fitzgerald
THE GREAT GATSBY, F. Scott Fitzgerald's third book, stands as the supreme achievement of his career. This exemplary novel of the Jazz Age has been acclaimed by generations of readers. The story of the fabulously wealthy Jay Gatsby and his love for the beautiful Daisy Buchanan, of lavish parties on Long Island at a time when The New York Times noted "gin was the national drink and sex the national obsession," it is an exquisitely crafted tale of America in the 1920s.
The Great Gatsby is one of the great classics of twentieth-century literature.
I want to be able to join the conversations, to understand the references, and to delve into 1920s America. I need to read this book!
The Catcher in the Rye by J.D. Salinger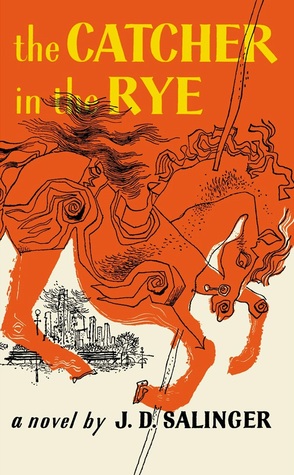 "…the first thing you'll probably want to know is where I was born and what my lousy childhood was like, and how my parents were occupied and all before they had me, and all that David Copperfield kind of crap, but I don't feel like going into it, if you want to know the truth. In the first place, that stuff bores me, and in the second place, my parents would have about two hemorrhages apiece if I told anything pretty personal about them."
Since his debut in 1951 as The Catcher in the Rye, Holden Caulfield has been synonymous with "cynical adolescent." Holden narrates the story of a couple of days in his sixteen-year-old life, just after he's been expelled from prep school, in a slang that sounds edgy even today and keeps this novel on banned book lists. His constant wry observations about what he encounters, from teachers to phonies (the two of course are not mutually exclusive) capture the essence of the eternal teenage experience of alienation.
So many people mark The Catcher in the Rye as their favourite novel, and I am very interested by the synopsis. I am also a teenager, and so feel I should read this novel whilst I am in such a state.
---
And that's everything!
I really hope you enjoyed this post, and if you did, make sure to leave me a like and a comment – it means the world to me!
Have you read any of these books? What did you think of them? Tell me in the comments!
What books do you own that you just haven't read yet? Let me know!
Until next time, and to keep up with my reading as it happens, find me on Goodreads, Twitter, Instagram, and Tumblr.
Olivia x