Rating: 4/5 stars
Suitable for Fans of: The Kite Runner, Slumdog Millionaire, Non-Fiction
Synopsis: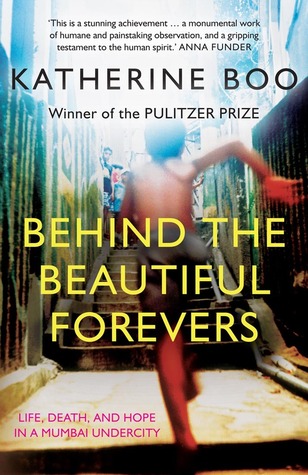 Annawadi is a makeshift settlement in the shadow of luxury hotels near the Mumbai airport, and as India starts to prosper, Annawadians are electric with hope. Abdul, a reflective and enterprising Muslim teenager, sees "a fortune beyond counting" in the recyclable garbage that richer people throw away. Asha, a woman of formidable wit and deep scars from a childhood in rural poverty, has identified an alternate route to the middle class: political corruption. With a little luck, her sensitive, beautiful daughter—Annawadi's "most-everything girl"—will soon become its first female college graduate. And even the poorest Annawadians, like Kalu, a fifteen-year-old scrap-metal thief, believe themselves inching closer to the good lives and good times they call "the full enjoy."
But then Abdul the garbage sorter is falsely accused in a shocking tragedy; terror and a global recession rock the city; and suppressed tensions over religion, caste, sex, power and economic envy turn brutal. As the tenderest individual hopes intersect with the greatest global truths, the true contours of a competitive age are revealed. And so, too, are the imaginations and courage of the people of Annawadi.
With intelligence, humor, and deep insight into what connects human beings to one another in an era of tumultuous change,Behind the Beautiful Forevers carries the reader headlong into one of the twenty-first century's hidden worlds, and into the lives of people impossible to forget.
Goodreads Status Updates:
Page 50: "Really interesting so far"
Page 71: "It's simultaneously interesting and disheartening to compare the standard of and attitudes towards education in Annawadi to here. We take so much for granted."
Page 152: "So the beginning was pretty slow with a lot of information thrown at you with each page. However, now the information inundation is over, the actual story is picking up, and I like it."
Page 213: "One could not fabricate such corruption…"
Review:
It was a fine time to be a Mumbai garbage trader, not that that was the term passersby used for  Abdul. Some called him garbage, and left it at that.
I borrowed this book from a friend, hearing it was of a journalistic nature, such a field being one I'm interested in for my future. Frankly, the generation of concern with southern Asia – Pakistan, Afghanistan, India – is one that goes, regrettably, straight over my head. I am not a child of the period wherein fears orbit these distant, exotic countries, but am encouraged instead donate my efforts to feminism and Malaria. (Obviously, these are still worthy causes.)
Times change, and interest from the media comes in phases. The people who donate money to worthy causes are persuaded by what is current, and what is advertised to donate to. It's disheartening, but it's true, and I am saddened to read about such economic gaps in one country – one city – and dismayed to understand that such issues no longer make the newspapers, and are no longer at the forefront of society's communal mind. We, as a collective, should target these issues, and aid the suffering in countries like India, aiming to help build their economy up, eradicate corruption, and make such a place better for all inhabitants.
In terms of Behind the Beautiful Forevers, it goes without saying that this book is a roller-coaster of equally interesting and daunting issues. Such issues could not be fabricated, such corruption could not be invented by an author's mind – it's sickening to know how people live in my country, that even the poorest receive support. We take so much for granted, and I really wish I wasn't included in that statement.
We all do it: complain about getting up early to go to school; complain about only having tap water to drink; complain about – my readers especially – having nothing to read. We are all guilty of taking things for granted, and so I urge you to read this book. Katherine Boo has a subtle way of making you feel guilty, a subtle way of gradually making you realise how much luck you possess.
The only downside to this novel would be that there is a lot of information that is – at first – difficult to comprehend. However, the second half of the book is very enjoyable due t0 all of the aforementioned information being used to develop the story.
Thus, overall, and taking all the previous notes into consideration, I decided to award this book 4/5 stars.
You can find the book here: Amazon | Goodreads
This book is a work of non-fiction, and so I decided to place it in the number 19 spot for the Around the Year in 52 Books challenge. Yay!