Rating: 5/5 stars
Suitable for Fans of: The Infernal Devices by Cassandra Clare
Synopsis: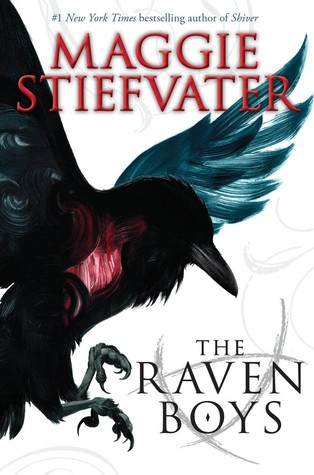 "There are only two reasons a non-seer would see a spirit on St. Mark's Eve," Neeve said. "Either you're his true love . . . or you killed him."
It is freezing in the churchyard, even before the dead arrive.
Every year, Blue Sargent stands next to her clairvoyant mother as the soon-to-be dead walk past. Blue herself never sees them—not until this year, when a boy emerges from the dark and speaks directly to her.
His name is Gansey, and Blue soon discovers that he is a rich student at Aglionby, the local private school. Blue has a policy of staying away from Aglionby boys. Known as Raven Boys, they can only mean trouble.
But Blue is drawn to Gansey, in a way she can't entirely explain. He has it all—family money, good looks, devoted friends—but he's looking for much more than that. He is on a quest that has encompassed three other Raven Boys: Adam, the scholarship student who resents all the privilege around him; Ronan, the fierce soul who ranges from anger to despair; and Noah, the taciturn watcher of the four, who notices many things but says very little.
For as long as she can remember, Blue has been warned that she will cause her true love to die. She never thought this would be a problem. But now, as her life becomes caught up in the strange and sinister world of the Raven Boys, she's not so sure anymore.
Goodreads Status Updates:
Page 5: "OK so I just read the prologue quickly before getting up for the day and OMG it's amazing!"
Page 86: "I love everything so far. I'm so engrossed in this story!"
Page 127: "I've never read a book like this, and I'm really really liking it!"
Review:
"She wasn't interested in telling other people's futures. She was interested in going out and finding her own."
The truth is a weighty concept, a treasure held dear to many, and a theme explored beautifully and thoroughly in The Raven Boys; the importance of it, the depth of it, the meaning of it when challenged with friendship.
Which is the honourable method?: To save a friend from a terrible truth, or to offer them total honesty?
Personally, I don't know, and neither does Blue, really. This book is, obviously, laden with such an issue, and explores it in a beautiful manner.
I won't tell you what Blue decides to do, but I will tell you this: The Raven Boys is an amazing, captivating novel that is perfect for any book lover willing to try something new. Honestly, I struggle to find a novel to compare this one to, because it's so unique. Like I said in my Goodreads update: "I've never read a book like this."
So what is it about? Well, as the synopsis informs you, it's a book of clairvoyance. Frankly, I've never really been interested by such a notion, but reading about Blue's seer family really captured my interest; a lot of the book discusses unfamiliar terminology related to this theme, which I didn't really understand at first, however the book managed to settle into the swing of things eventually, and I could easily understand what a ley line is by the end of it.
Most of all, though, this is a book about friendship. Generally, Blue didn't have many friends as this book commenced, yet by the end she has acquired 4, all of whom she had previously labelled enemies to her morals. The Raven Boys are the alumni of Aglionby School, a local private school populated by the rich males of Virginia, and the very people Blue personally vowed to avoid due to their predatory nature. However, Gansey, Adam, Ronan and Noah are unlike any of the Raven Boys Blue has met previously, and so she decides to give them a shot.
I'll tell you no more lest I finish recalling the entire story!
I will, however, tell you that I'm itching to read the next addition to this series. Patience is a virtue, they say!
In terms of writing, The Raven Boys is, again, a beauty. The writing has an aura of historical opulence, so much so that I commonly felt I was reading a novel from an alternate era. This would perhaps be an issue for a few people, yet for me it made the magic of phophetics that little bit more enchanting, and truly brought such an uncharted territory – on my part – to life.
I don't have much more to say due to my incapability of discussing perfect novels without delving into the semantics of the actual plot (a plot that was, in this case, consistently riveting, might I add). Thus I will leave you only with a few words: The Raven Boys is an original masterpiece, a breed of novel I have previously neglected to encounter, and I highly recommend any one who even felt a sliver of interest towards The Raven Boys via this review to give it a read – you won't regret it!
Obviously, from this review, I awarded The Raven Boys 5/5 stars.
You can find the book here: Amazon | Goodreads
The Raven Boys was the 16th book on my TBR, and so I am entering this novel for the number 33 spot on the Around the Year in 52 Books challenge: The 16th book on your TBR. Yay!