⋘January Wrap-Up⋙
During January I managed to read 6 books. This isn't a tremendous amount compared to some of my previous feats, however I am rather proud of myself due to the fact that I have done this alongside a lot of homework! Unfortunately, if I proceed at this pace, I won't reach my goal of 80 for the year. However, I am confident that summer reading will boost my total, so stay tuned for lots of summer reading!
I'm getting a little of track.
What I mean to say, really, is here are the books I read this year!
Harry Potter and the Order of the Phoenix by J.K. Rowling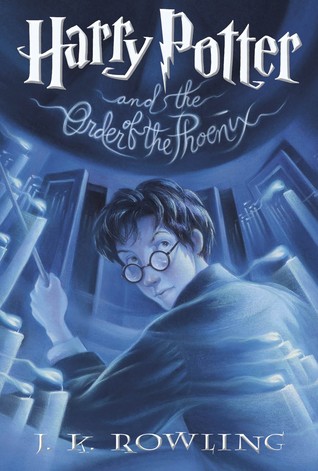 Harry Potter is due to start his fifth year at Hogwarts School of Witchcraft and Wizardry. His best friends Ron and Hermione have been very secretive all summer and he is desperate to get back to school and find out what has been going on. However, what Harry discovers is far more devastating than he could ever have expected…
I really enjoyed reading this novel, but I can't shake the feeling that it was a little too long. Obviously, Rowling wanted to fit every detail into it, but the fact that it was so long made it feel – personally – like a chore, which I hate to say about books. However, this is likely just me – I had the same problem with Game of Thrones.
It was good to get a deeper insight into the lives of Harry's parents, despite how brief said insight actually was looking back. I hope to learn more of them in the following books.
4/5 stars.
The Rest of Us Just Live Here by Patrick Ness
Award-winning writer Patrick Ness's bold and irreverent novel powerfully asks what if you weren't the Chosen One? The one who's supposed to fight the zombies, or the soul-eating ghosts, or whatever this new thing is, with the blue lights and the death? What if you were like Mikey? Who just wants to graduate and go to prom and maybe finally work up the courage to ask Henna out before someone goes and blows up the high school. Again.
Because sometimes there are problems bigger than this week's end of the world and sometimes you just have to find the extraordinary in your ordinary life. Even if your best friend might just be the God of mountain lions.
I really enjoyed this book, and have since lent it to a friend, who loved it equally so. My favourite part of this novel was the beginning of every chapter, because it has such a unique format – sorry for being cryptic, but it's really nice to experience this feature without pre-warning.
4/5 stars. Read my full review here.
Lost in the Labyrinth of my Mind by K. Morris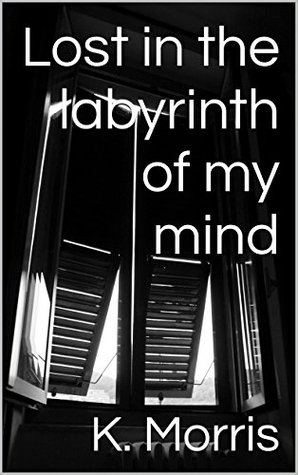 A collection of poems about nature, love, and life in general.
I have always loved K. Morris' poetry, ever since I first lay my eyes on it. Thus, I was pleased – and frankly honoured – to be ask to review yet another of his poetry collections. Obviously, I enjoyed it, and I highly suggest you pick up a copy.
This is the 3rd collection of poems I've read by K. Morris, and with that comes a little weight. Obviously, I must like this writer's work to continue reading it, but surely there must be an expiry date for such great writing; one day I am sure to find a book by K. Morris that I do not enjoy.
Well, frankly, that day is not today.
Honestly, I think K. Morris may be a fountain of constant inspiration and depth – his writing is beautiful, and never fails to touch my heart whether crafted for humour or profound meaning. I cannot imagine the day that I don't enjoy his work.
4/5 stars. Read my full review here.
Saving Raphael Santiago by Cassandra Clare (Bane Chronicles #6)
A Manhattan teen—Raphael Santiago—is missing, and Magnus Bane must track him down before it's too late.
In 1950s New York City, a distraught mother hires Magnus Bane to find her missing son, Raphael. But even if he can be found, is Raphael beyond saving?
I was always intrigued by Raphael Santiago when reading the Mortal Instruments, so when I came across a short story surrounded entirely by him (and Magnus Bane)? Well, happy day! I couldn't wait to get started!
This book is short and sweet, and really helped me understand Clare's vampire world a little more. I grew to really like Raphael having been impartial in the main series.
5/5 stars.
The Girl With All The Gifts by M.R. Carey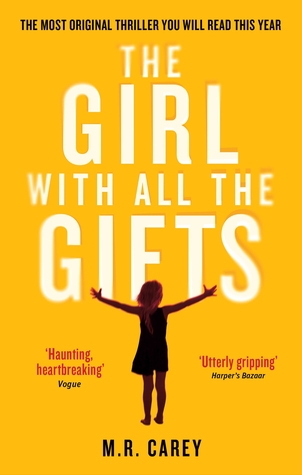 Melanie is a very special girl. Dr. Caldwell calls her "our little genius."
Every morning, Melanie waits in her cell to be collected for class. When they come for her, Sergeant Parks keeps his gun pointing at her while two of his people strap her into the wheelchair. She thinks they don't like her. She jokes that she won't bite, but they don't laugh.
Melanie loves school. She loves learning about spelling and sums and the world outside the classroom and the children's cells. She tells her favorite teacher all the things she'll do when she grows up. Melanie doesn't know why this makes Miss Justineau look sad.
This book hit me hard. No, honestly, it was like a wakeup call. This book is stunningly amazing, and I can't help but recommend it to everyone! Honestly, if you've ever even had an inkling of a minuscule feeling of a fleeting thought that you should even read the blurb of this novel, I recommend you do so. It changed my life.
4.5/5 stars. Read my full review here.
The Raven Boys by Maggie Stiefvater (The Raven Cycle #1)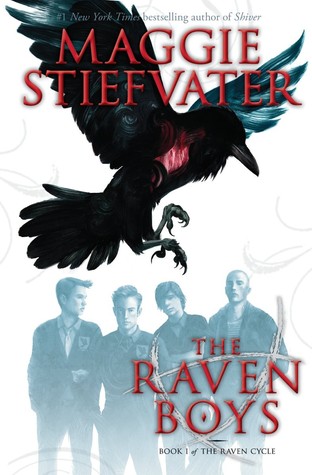 It is freezing in the churchyard, even before the dead arrive.
Every year, Blue Sargent stands next to her clairvoyant mother as the soon-to-be dead walk past. Blue herself never sees them — not until this year, when a boy emerges from the dark and speaks directly to her.
His name is Gansey, and Blue soon discovers that he is a rich student at Aglionby, the local private school. Blue has a policy of staying away from Aglionby boys. Known as Raven Boys, they can only mean trouble.
But Blue is drawn to Gansey, in a way she can't entirely explain. He has it all — family money, good looks, devoted friends — but he's looking for much more than that. He is on a quest that has encompassed three other Raven Boys: Adam, the scholarship student who resents all the privilege around him; Ronan, the fierce soul who ranges from anger to despair; and Noah, the taciturn watcher of the four, who notices many things but says very little.
For as long as she can remember, Blue has been warned that she will cause her true love to die. She never thought this would be a problem. But now, as her life becomes caught up in the strange and sinister world of the Raven Boys, she's not so sure anymore.
I just finished this book this morning, and I have a hunch that this is the start of a beautiful series. I absolutely loved this novel, and everything about it – I was hooked from the first page, the first line, even! I'm really excited to reading the second instalment to this series. What a great end to January!
5/5 stars. Review to come soon.
---
⋘Currently Reading⋙
The Danish Girl by David Ebershoff
I picked this book up this morning, so I have only read chapter 1 as of yet. However, I found it very intriguing. The language Ebershoff uses really paints a rather opulent picture. For some reason, it read as though it's been translated, despite that not being the case. I don't know why I feel this way, and I'm not complaining, but it's a curious thing. Perhaps my opinion will change over the course of the book.
Loosely inspired by a true story, this tender portrait of marriage asks: What do you do when the person you love has to change?
It starts with a question, a simple favour asked by a wife of her husband while both are painting in their studio, setting off a transformation neither can anticipate. Uniting fact and fiction into an original romantic vision, The Danish Girl eloquently portrays the unique intimacy that defines every marriage and the remarkable story of Lili Elbe, a pioneer in transgender history, and the woman torn between loyalty to her marriage and her own ambitions and desires.
The Danish Girl is an evocative and deeply moving novel about one of the most passionate and unusual love stories of the 20th century.
---
⋘February TBR⋙
Here are a few books I plan to read during the month of February.
The Dream Thieves by Maggie Stiefvater (The Raven Cycle #2)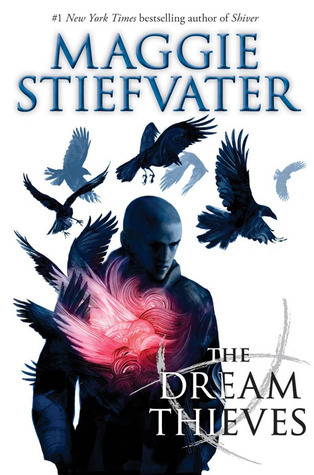 If you could steal things from dreams, what would you take?
Ronan Lynch has secrets. Some he keeps from others. Some he keeps from himself.
One secret: Ronan can bring things out of his dreams.
And sometimes he's not the only one who wants those things.
Ronan is one of the raven boys—a group of friends, practically brothers, searching for a dead king named Glendower, who they think is hidden somewhere in the hills by their elite private school, Aglionby Academy. The path to Glendower has long lived as an undercurrent beneath town. But now, like Ronan's secrets, it is beginning to rise to the surface—changing everything in its wake.
I'm not really a fan of the cover, nor would I ordinarily be intrigued by the synopsis, but the previous book in this series was amazing, and I have no doubts that this will be, too. (I also want to know how to steal things from dreams!)
The Catcher in the Rye by J.D. Salinger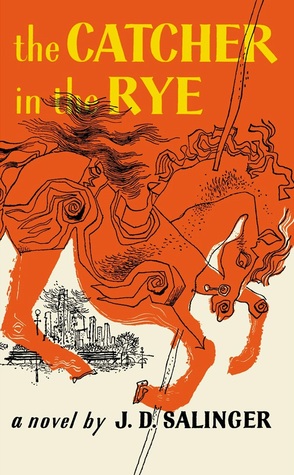 Since his debut in 1951 as The Catcher in the Rye, Holden Caulfield has been synonymous with "cynical adolescent." Holden narrates the story of a couple of days in his sixteen-year-old life, just after he's been expelled from prep school, in a slang that sounds edgy even today and keeps this novel on banned book lists. His constant wry observations about what he encounters, from teachers to phonies (the two of course are not mutually exclusive) capture the essence of the eternal teenage experience of alienation.
This book is impossibly famous, and referred to as a classic, so I want to jump on that train. It's also about a stressed teenager, which I can relate to right now, for obvious reasons. (I cannot, however, relate to being kicked out of school. But we'll see.)
The Knife of Never Letting Go by Patrick Ness (Chaos Walking #1)
Todd Hewitt is the only boy in a town of men. Ever since the settlers were infected with the Noise germ, Todd can hear everything the men think, and they hear everything he thinks. Todd is just a month away from becoming a man, but in the midst of the cacophony, he knows that the town is hiding something from him — something so awful Todd is forced to flee with only his dog, whose simple, loyal voice he hears too. With hostile men from the town in pursuit, the two stumble upon a strange and eerily silent creature: a girl. Who is she? Why wasn't she killed by the germ like all the females on New World? Propelled by Todd's gritty narration, readers are in for a white-knuckle journey in which a boy on the cusp of manhood must unlearn everything he knows in order to figure out who he truly is.
VERY intriguing synopsis, and I already own the book, so I really should get around to reading this one. My friend Hafsa loves this series, so she is definitely on side with this decision! It'll also be nice to read something else by Patrick Ness after loving The Rest of Us Just Live Here.
---
What was your favourite book you read in January? What are you currently reading? What do you want to read in February? Tell me in the comments!
Thank you ever so much for reading, and I really hope you enjoyed!
Until next time, you can add me on Goodreads by clicking here to see what I'm reading whenever you wish!
Love, Olivia x