Rating: 4.5/5 stars
Suitable for Fans of: Shatter Me, The Hunger Games, Post-Apocalypse
Synopsis: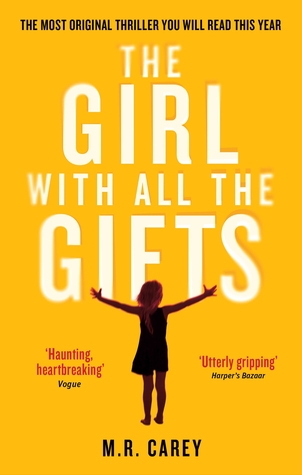 Melanie is a very special girl. Dr. Caldwell calls her "our little genius."
Every morning, Melanie waits in her cell to be collected for class. When they come for her, Sergeant Parks keeps his gun pointing at her while two of his people strap her into the wheelchair. She thinks they don't like her. She jokes that she won't bite, but they don't laugh.
Melanie loves school. She loves learning about spelling and sums and the world outside the classroom and the children's cells. She tells her favorite teacher all the things she'll do when she grows up. Melanie doesn't know why this makes Miss Justineau look sad.
Goodreads Status Updates:
Page 41: "This is so interesting so far"
Page 88: "Literally so interested by the whole plot. It's not often a plot this detailed interests me to the extent it is, so I'm really happy :)"
Page 144: "Action!"
Page 188: "I don't know, I was really into this for like the first 120 pages, but I feel like it's slowed down a little and it's not as interesting. I'm still enjoying it though!"
Page 276: "OK so I'm getting back into it now"
Page 324: "I actually like that each chapter doesn't end like its the end of the world. It's making me optimistic for a happy ending…(please don't rip my heart out M.R. Carey!!)" 
Page 409: "I have no clue how this books going to end, but I know it's going to be good"
Review:
"Melanie thinks: when your dreams come true, your true has moved. You've already stopped being the person who had the dreams, so it feels more like a weird echo of something that already happened to you a long time ago."
Life is full of curiosities and dangers and questions and food and water and humans and animals and books like this.
Books like this are a rarity for they make you question each and every ounce of your humanity, each and every conscience, each and every response to each and every crime. The Girl With All The Gifts explores innocence deemed guilty and segregation for the both the right and wrong reasons. The Girl With All The Gifts changed my life.
Picture the scene: You're young, maybe 8 or 9, and you've never been inside. You're rarely free to walk around – constantly tethered to a chair – and when you are, it's in solitary confinement.
Picture the scene: You love to learn. You wake up each morning only because you know there's a brand new bundle of information to be absorbed. You go to sleep each night craving the information of a dying world.
Picture the scene: You're rarely touched, whether that's a graze of the arm or a slap to the cheek. Frankly, you're never touched. And then, your favourite teacher lowers her hand – purposely – to pat your head…
You're probably wondering if you're dangerous, or animalistic. Maybe you're neither, or maybe you're both, but we're told very little about this. What we are told, from the outset, is that Melanie loves school, lives in a cell, and awaits her days with teacher Miss Justineau. The rest is to be pieced together as we go.
It's difficult to picture a world where our world's collective fear comes to light. In this case, an international fungus epidemic that turns the entire world into flesh eating zombies. Peachy.
Carey, via this novel, has crafted an entire situation that could one day be true, and manipulated the world we live in to suit his vision. It's magnificent what he has managed to do in only 460 pages, so much so that I'm convinced Carey is an evil mastermind, and The Girl With All The Gifts is his plan to destroy the world.
Let's hope I'm exaggerating!
In short, this book is amazing. That's all you really need to know. And that you should read it, but that's a given.
Personally, I've never been drawn to post-apocalyptic novels, and I was apprehensive to get started on this book, but – seen as it was given to me as a Christmas gift – I saw no reason to put it off any further. This book is awesome, and I really enjoyed, definitely more so than I'd predicted.
One of my only criticisms for this book would be the mass of medical terms thrown about. I'm not a doctor – unlike one of the main characters, and often narrators – so I didn't always completely understand what was transpiring. I could, however, muddle my way through.
The only other negative would be that sometimes the inner monologue dragged out a little. Most of this book is moulded to the main character's thoughts and feelings, so it felt like a lot of the time I was inside someone's thoughts, and not experiencing the action outside of their body. But, aside from that, all perfect.
Overall, I thought this book was amazing, and thoroughly enjoyed it throughout, thus awarding it 4.5/5 stars.
You can find the book here: Amazon | Goodreads
The Girl with All the Gifts was picked for me by a friend, and so I am entering this novel for the number 39 spot on the Around the Year in 52 Books challenge: A previous suggestion that did not make it onto the list: A book picked for you by someone else. Yay!