Rating: 4/5 stars
Suitable for Fans of: YA fiction, The Perks of Being a Wallflower, superheroes
Synopsis: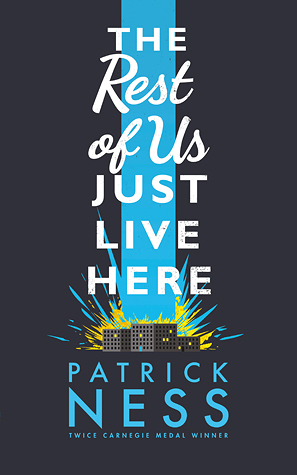 What if you aren't the Chosen One?
The one who's supposed to fight the zombies, or the soul-eating ghosts, or whatever the heck this new thing is, with the blue lights and the death?
What if you're like Mikey? Who just wants to graduate and go to prom and maybe finally work up the courage to ask Henna out before someone goes and blows up the high school. Again.
Because sometimes there are problems bigger than this week's end of the world, and sometimes you just have to find the extraordinary in your ordinary life.
Even if your best friend is worshipped by mountain lions.
Award-winning writer Patrick Ness's bold and irreverent novel powerfully reminds us that there are many different types of remarkable.
Review:
"Because sometimes there are problems bigger than this week's end of the world and sometimes you just have to find the extraordinary in your ordinary life."
I would say my first experience with Patrick Ness has been a good one. I really enjoyed The Rest of Us Just Live Here, and I'm sure I'll pick up another of his books in the future, especially when considering how versatile his writing appears to be. Concerning this book, though, I think it was great, and I disagree with many of the reviewers who think this is Ness' worst novel to date. I mean, perhaps it is – I have no other experience with his writing. However, if that is so, his other novels must be phenomenal, because I thought this novel was awesome.
From the moment I saw this book on Goodreads, and read the synopsis, I was hooked. Said synopsis is so charming and unique that I just wanted to pick up the book straight away!
In terms of writing, I found Ness' to be really light and funny, whilst still being rather deep and interesting. However, I believe it's the characters that made this book. Each and every single one was unique with his/her own problems, characteristics, and loveable attributes. What's more, 2 of the characters in this novel – Henna and Jared – are namesakes for 2 real people who won the right in an auction for charity. Not only is that a great (and risky) thing to do (considering how awful it could have been if the names didn't suit the characters), but it also is amazing as the names suited the characters so flawlessly, and I was so surprised to discover this when reading the author's note. Knowing this now, it's completely understandable that Henna and Jared were 2 of my favourite characters, because I can now relate their names to a true human rawness and realism both of the characters somehow possessed.
But maybe that's just a coincidence.
The main character, Mikey, was great. I think his personality was beautifully written, as was his struggle with anxiety and OCD. However, I would perhaps say that Mikey sometimes came across as a little needy, and sometimes even like the jealous boyfriend despite his lack of boyfriend-hood with them. (Did that even make sense?) This theme is, though, brought up at times in the book, making it a little more OK, understandable and explained for me.
Mikey's elder sister, Melanie, was another great character, who also struggled with her mental health. Her situation was so perfectly written, that it added to the book in a way I didn't think it would. Personally, I would say that her relationship with Steve was both my favourite, and actual goals.
Likewise, Mikey's younger sister, Meredith, was a great addition to the book, and great for comic relief at times. She also reminded me a little of myself, actually…
I'm going to group Henna and Jared together, here, because I think they both fall effortlessly under the umbrella of boy/girl next door. They are both so lovely, selfless, and reliable, and made great characters in Mikey's life as well as to read about.
My main interest for this novel, though, does not fall with the characters, but with the world Patrick Ness has hence managed to create. It is so fascinating to see the ways in which Ness has managed to parody all the great hero/heroine books, and squeezed it all into 300-odd pages. Now, I could state that a negative included the fact that very little of this book is explained, however I really enjoyed the lack of explanation due to the fact that it allowed for a little more leeway for imagination, and it is likely that you've heard of all the stories, before, anyway.
One thing I would bare in mind if you're planning on reading this is that it's very different to what I expected and what the synopsis suggests. Now, I actually preferred Ness' real version that the version I had assumed it would be, but not everyone will. What I will say, though, is that the fantastical nature of this book is very much side-lined, and never the main event. Now this worked for me, because I'm not the biggest fan of the 'chosen one' genre, and this book is pretty much the exact opposite.
Overall, I really enjoyed this book, only docking it a star due to its (at-some-times) slow pace. 4/5 stars.
You can find the book here: Amazon | Goodreads
I feel as though I should have read something by Patrick Ness before now, and so I am entering this novel for the number 10 spot on the Around the Year in 52 Books challenge: A book by an author you feel you should have read by now. Yay!