Hello, Everyone! I hope you all had a very merry Christmas!
2015 is coming to a close, and you know what that means? A whole new year of reading is before us, including a whole bunch of brand new book releases!
Today I'm going to count down the top 10 books I'm most anticipating for 2016. Let's get into it!
---
⋘10⋙
Wanderlost by Jen Malone
Release date: 31st May 2016
I've never read a book by Jen Malone before, but this particular book was suggested to me by Goodreads following my finishing of My Life Next Door by Huntley Fitzpatrick (read my review here). From the synopsis, I can tell this book will be a light read which will be perfect for Summer or Spring break.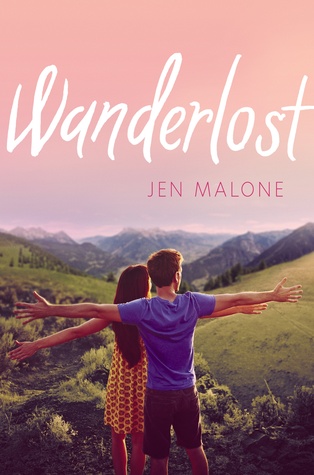 Seventeen-year-old Aubree has always idolized her adventurous older sister, even while utterly content to track Elizabeth's antics from the cozy comforts of home, in the tender care of doting parents. So when Elizabeth gets herself in "a touch of trouble" and, for the first time ever, actually needs Aubree's help, Bree is flattered but insistent.
There's no way she can do what Elizabeth is asking. Impersonate her recent-college-grad sis all summer, just so Elizabeth can score the recommendation she needs to land her dream position? Nope, nope, not gonna happen.
ESPECIALLY when Elizabeth's summer job is leading a bus tour.
A bus tour across Europe.
A senior citizens' bus tour across Europe.
And that's even before Bree finds out that the tour owner's super-cute son (who is decidedly NOT elderly) will be a last-minute addition.
Bree would have to be crazy. Or would she?
⋘9⋙
Heartless by Marissa Meyer
Release date: 8th November 2016
I've previously read Cinder by Marissa Meyer (see my review here), but I'm yet to proceed to the following books in the Lunar Chronicals. I love the idea of the retelling, but it's the sci-fi aspect that's holding me back, as I'm not particularly fond of it. From the synopsis, this book doesn't appear to follow the sci-fi route, but instead offers an alternate perspective on the ever retold Alice in Wonderland; it will be interesting to read her take on this.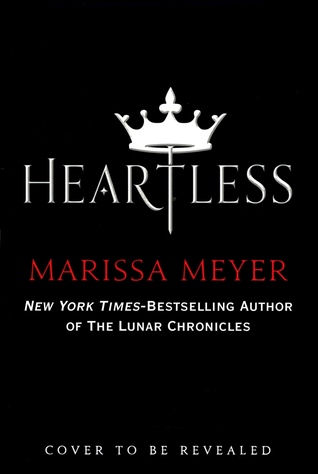 Long before she was the terror of Wonderland — the infamous Queen of Hearts — she was just a girl who wanted to fall in love.
Catherine may be one of the most desired girls in Wonderland, and a favorite of the yet-unmarried King of Hearts, but her interests lie elsewhere. A talented baker, all she wants is to open a shop with her best friend and supply the Kingdom of Hearts with delectable pastries and confections. But according to her mother, such a goal is unthinkable for the young woman who could be the next Queen.
At a royal ball where Cath is expected to receive the king's marriage proposal, she meets Jest, the handsome and mysterious court joker. For the first time, she feels the pull of true attraction. At the risk of offending the King and infuriating her parents, she and Jest enter into an intense, secret courtship.
Cath is determined to define her own destiny and fall in love on her terms. But in a land thriving with magic, madness, and monsters, fate has other plans.
⋘8⋙
This is Where it Ends by Marieke Nijkamp
Release date: 5th January 2016
I think I saw it on Goodreads first, but I want to read this book purely based on the synopsis. Let's hope it's good!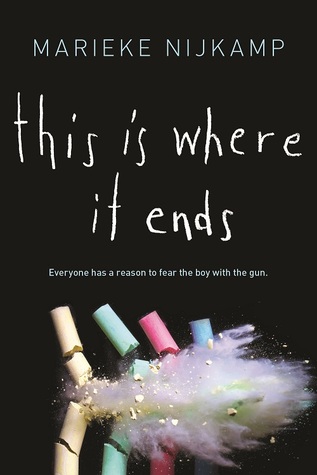 10:00 a.m.
The principal of Opportunity, Alabama's high school finishes her speech, welcoming the entire student body to a new semester and encouraging them to excel and achieve.
10:02 a.m.
The students get up to leave the auditorium for their next class.
10:03
The auditorium doors won't open.
10:05
Someone starts shooting.
Told over the span of 54 harrowing minutes from four different perspectives, terror reigns as one student's calculated revenge turns into the ultimate game of survival.
⋘7⋙
P.S. I Like You by Kasie West
Release date: 16th July 2016
I've previously read On The Fence by Kasie West which I loved, but I've never actually got around to reading another of her books. I'm hoping this release will encourage me to. The synopsis makes this book sound so sweet, and like the perfect beach read, which I commonly like to read.
What if the person you were falling for was a total mystery?
While Lily is spacing out in Chemistry one day, she picks up her pencil and scribbles a line from one of her favorite songs on the desk. The next day, someone else has written back to her on the desk! Soon enough Lily and the mystery student are exchanging notes, and lyrics, and even sharing secrets. When Lily finds out that her anonymous pen pal is a guy, she's flustered — and kind of feels like she's falling for him. She and her best friend set out to unravel the identity of the letter writer — but when the truth is revealed, the guy is the LAST person Lily could have ever imagined it to be. Now that Lily knows the truth, can she untangle her feelings and gather the courage to listen to her heart?
⋘6⋙
The Unexpected Everything by Morgan Matson
Release date: 3rd May 2016
After reading Since You've Been Gone, I've been itching to read another book by Morgan Matson. I'm about to start Amy and Rodger's Epic Detour, and I hope to read this in 2016. The synopsis is so intriguing and exciting!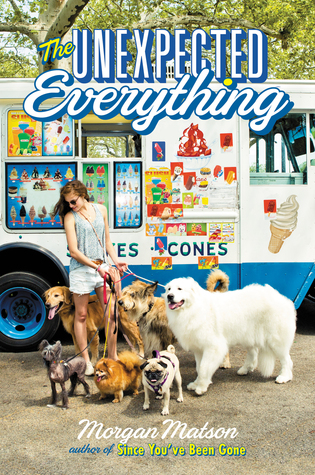 Andie had it all planned out.
When you are a politician's daughter who's pretty much raised yourself, you learn everything can be planned or spun, or both. Especially your future.
Important internship? Check.
Amazing friends? Check.
Guys? Check (as long as we're talking no more than three weeks)
But that was before the scandal. Before having to be in the same house with her dad. Before walking an insane number of dogs. That was before Clark and those few months that might change her whole life.
Because here's the thing – if everything's planned out, you can never find the unexpected.
And where's the fun in that?
⋘5⋙
Summer Days and Summer Nights by Stephanie Perkins & MORE
Release date: 14th June 2016
I love short stories in general, and this – the follow up to My True Love Gave To Me – consists of 12, all written by famous authors. I'm super excited for the release, and think it will be the perfect read for summer.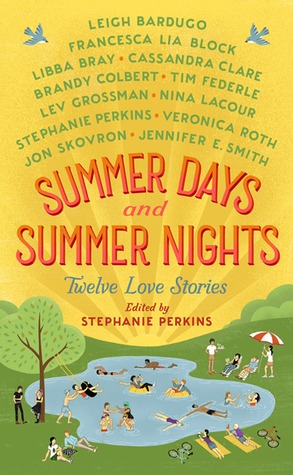 Maybe it's the long, lazy days, or maybe it's the heat making everyone a little bit crazy. Whatever the reason, summer is the perfect time for love to bloom. Summer Days & Summer Nights: Twelve Love Stories, written by twelve bestselling young adult writers and edited by the international bestselling author Stephanie Perkins, will have you dreaming of sunset strolls by the lake. So set out your beach chair and grab your sunglasses. You have twelve reasons this summer to soak up the sun and fall in love.
⋘4⋙
On the Other Side by Carrie Hope Fletcher
Release date: 14th July 2016
I am still yet to read Carrie's debut novel All I Know Now, but I can't help myself from being excited to read Carrie's debut fiction novel. I am an avid watcher of Carrie Hope Fletcher's YouTube videos, and believe thoroughly in everything she stands for. It's great to see a fellow book lover branching into writing, and I wish her all the best.
Evie Snow is eighty-two when she quietly passes away in her sleep, surrounded by her children and grandchildren. It's the way most people wish to leave the world but when Evie reaches the door of her own private heaven, she finds that she's become her twenty-seven-year-old self and the door won't open.
Evie's soul must be light enough to pass through so she needs to get rid of whatever is making her soul heavy. For Evie, this means unburdening herself of the three secrets that have weighed her down for over fifty years, so she must find a way to reveal them before it's too late. As Evie begins the journey of a lifetime, she learns more about life and love than she ever thought possible, and somehow , some way, she may also find her way back to her long lost love . . .
⋘3⋙
Furthermore by Tahereh Mafi
Release date: 30th August 2016
The thing that hooked me with the Shatter Me trilogy was Tahereh Mafi's beautiful writing style – I wasn't really there for the storyline. This plot, however, is much more intriguing to me, and I am excited for its release to see how it plays out.
There are only three things that matter to twelve-year-old Alice Alexis Queensmeadow: Mother, who wouldn't miss her; magic and color, which seem to elude her; and Father, who always loved her. The day Father disappears from Ferenwood he takes nothing but a ruler with him. But it's been almost three years since then, and Alice is determined to find him. She loves her father even more than she loves adventure, and she's about to embark on one to find the other.
But bringing Father home is no small matter. In order to find him she'll have to travel through the mythical, dangerous land of Furthermore, where down can be up, paper is alive, and left can be both right and very, very wrong. Her only companion is a boy named Oliver whose own magical ability is based in lies and deceit—and with a liar by her side in land where nothing is as it seems, it will take all of Alice's wits (and every limb she's got) to find Father and return home to Ferenwood in one piece. On her quest to find Father Alice must first find herself—and hold fast to the magic of love in the face of loss.
⋘2⋙
Untitled by Stephanie Perkins
Release date: 2016
Stephanie Perkins mentioned in 2012 that she had 2 books in the works here, scheduled for 2013 and 2014 releases. Since then, there has been little word of what is it to become of these novels. Book 4, however, has been given the year of 2016 on its Goodreads page. Whilst I doubt much officialness is attached to this, a very big part of me is excited for this release. Here's what we know about it:
Yes, it's a contemporary. The killer is not a supernatural creature. I'm talking about ye old traditional knife-wielding maniac.

Yes, it will be bloody.

Yes, it will be sexy.

Yes, it will be scary.

At least . . . I hope it'll be scary!
Exciting! I can't wait to see what Stephanie Perkins – a sweet, contemporary romance writer – will do with the horror genre.
⋘1⋙
Lady Midnight by Cassandra Clare
Release date: 8th March 2016
Can you hear me screaming?! I'm so insanely excited for new Shadowhunter material that it aches. And here, Cassandra Clare is giving us 720 pages of goodness! I won't say much more…here's the synopsis.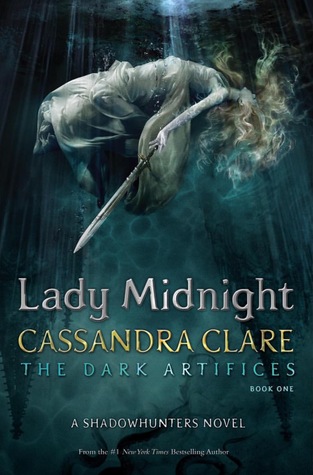 Los Angeles. It's been five years since the events of the Mortal Instruments when Nephilim stood poised on the brink of oblivion and Shadowhunter Emma Carstairs lost her parents. After the blood and violence she witnessed as a child, Emma has dedicated her life to to discovering exactly what it was that killed her parents and getting her revenge.
Raised in the Los Angeles Institute with the Blackthorn family, Emma is paired as a parabatai with her best friend, Julian Blackthorn. A series of murders in the city catch her attention — they seem to have the same characteristics as the deaths of her parents. Could the murderer be the same person? And her attention isn't the only one caught: someone has been murdering Downworlders as well. The Fair Folk make a deal with the Institute: if the Blackthorns and Emma will investigate the killings, they'll return Mark Blackthorn to his home. The catch: they have only two weeks to find the killers. Otherwise it's open war between faeries and Nephilim.
The Shadowhunters of the Institute must race against time to catch the killers, even as they begin to suspect the involvement of those closest to them. At the same time, Emma is falling in love with the one person in the world she's absolutely forbidden by Shadowhunter Law to love. Set against the glittering backdrop of present-day Los Angeles, Emma must learn to trust her head and her heart as she investigates a demonic plot that stretches from the warlock-run nightclubs of the Sunset Strip to the enchanted sea that pounds the beaches of Santa Monica.
---
And there we have it, the top 10 books I am most anticipating for 2016! What unreleased books are you looking forward to for 2016? Tell me in the comments!
Until next time, and to keep up with my reading as it happens, find me on Goodreads, Twitter, and Tumblr.
Olivia x