Rating: 4.5/5 stars
Suitable for Fans of: Anna and the French Kiss, Eleanor & Park
Synopsis: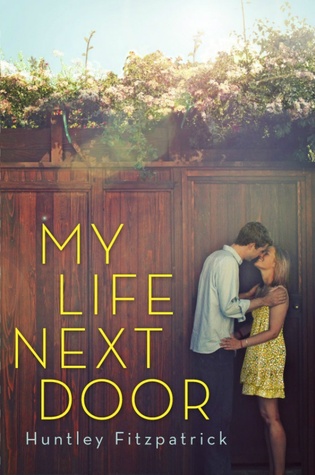 The Garretts are everything the Reeds are not. Loud, messy, affectionate. And every day from her rooftop perch, Samantha Reed wishes she was one of them . . . until one summer evening, Jase Garrett climbs up next to her and changes everything.
As the two fall fiercely for each other, stumbling through the awkwardness and awesomeness of first love, Jase's family embraces Samantha – even as she keeps him a secret from her own. Then something unthinkable happens, and the bottom drops out of Samantha's world. She's suddenly faced with an impossible decision. Which perfect family will save her? Or is it time she saved herself?
A transporting début about family, friendship, first romance, and how to be true to one person you love without betraying another.
Review:
One thing my mother never knew, and would disapprove of most of all, was that I watched the Garretts. All the time.
A contemporary novel, My Life Next Door by Huntley Fitzpatrick chronicles the birth and henceforth struggles of a teenage love between privileged protagonist, Samantha, and the boy next door, Jase.
I've wanted to read this book for so long, and as soon as I spotted that it was still open for reviews via NetGalley, it was settled; I was finally going to read this book. At this point you're probably thinking I had high expectations. Well, if you are, let me tell you this: my expectations were as high as the Empire State. I was so ready to read a contemporary novel like this, that I was immersed in My Life Next Door as of page 1. Granted, it was a little different to what I expected, but not in a bad way. Au contraire. Forget the Empire State Building, this book is Mount Everest: natural, staggering, and a name that should be household.
So here we are. I'm laying it out for you. If you like contemporary romance novels, fluffy romance novels, teenage romance novels, or just romance novels as a whole, read this. You will not be disappointed.
Huntley Fitzpatrick – the author of this novel – is an amazing writer. Her way with words had just a dazzling affect on my mind, my heart, that I couldn't help but love her characters where I was supposed to, and despise them as she instructed. I am a zombie, a willing follower of Fitzpatrick's ruling, falling at her ellipses, and drowning in her metaphors.
It's safe to say I like her writing style.
Furthermore, whilst the original premise didn't seem too exciting, I would have to argue that it is, in fact, more of a journey than is proposed. Unexpected events occur, and I found myself unable to predict the coming events of this book, and couldn't even dream of predicting the ending.
Speaking of the ending, I would label that as this books only downfall. It was a little too abrupt for me, and I feel as though there are many loose ends that should have been tied off. Despite that, I still felt satisfied when I reached the end, so I really am just clutching at straws to find something negative about this pretty-much flawless novel.
In terms of characters, every single one was developed, and likeable where appropriate. The Garrett family are my image of a perfect family, despite there being so many of them, and George is probably the best younger sibling I've read about. I couldn't stop laughing through the majority of this book, and really enjoyed reading about each and every one of them.
Samantha was a great protagonist. She was reasonable and grounded, and made the decisions I felt I personally would. It was very easy to empathise with her issues, and made you ponder whether you live like Samantha, or like Jase.
Jase was a swoon-worthy male, as should all male protagonists be in romance novels. He was so lovely, and practically a dream boyfriend. He's kind, caring, and puts his family first – a very important message in this book.
Tim was the character that grounded this whirlwind romance. Despite his alternative problems, it is he that made this novel realistic, and pointed out the flaws between Samantha and Jase. I feel as though he was a really important character, both for his humour and for his friendship with both Samantha and Jase.
Overall, I really enjoyed this book, breezing through it in a couple of days, and loving every second of it. Thus, I awarded it 4.5/5 stars.
You can find the book here: Amazon | Goodreads
(Disclaimer: I received a copy of this book via NetGalley in exchange for an honest review. I would like to send a big thank you to Huntley Fitzpatrick for this book, as well as a big congratulations for such a great novel.)