Rating: 3/5 stars
Number of Pages: 780 (!!!)
Synopsis: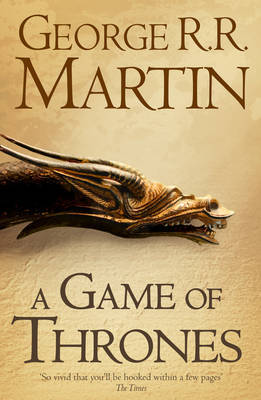 Summers span decades. Winter can last a lifetime. And the struggle for the Iron Throne has begun.
As Warden of the north, Lord Eddard Stark counts it a curse when King Robert bestows on him the office of the Hand. His honour weighs him down at court where a true man does what he will, not what he must …and a dead enemy is a thing of beauty.
The old gods have no power in the south, Stark's family is split and there is treachery at court. Worse, the vengeance-mad heir of the deposed Dragon King has grown to maturity in exile in the Free Cities. He claims the Iron Throne.
Review:
"When you play a game of thrones you win or you die."
Having started this book back in early September, you will be surprised to know – following my usual speedy-reading – that I have only just finished it. Granted, I have been reading other books alongside it, yet it's funny to think that it's taken me 3 months (84 days!) to get through almost 800 pages. That's about 9-10 pages a day, or – in this case – a chapter a day, which kind of makes sense. Still baffling, though.
Nevertheless, A Game of Thrones is the first in George R.R. Martin's epic series, A Song of Ice and Fire. It focusses on the beginnings of a war, and competition for the ruling position over Martin's fantasy-driven world.
If you have not yet heard of this book, where have you been? It's everywhere, mostly due to the TV phenomenon it inspired, yet rightly due to the brilliance of the book.
Many things in this book interested me, namely the world it's set in. At first glance, it reminded me much of middle-age England (or what I've seen of it on TV), yet the seemingly simplistic and traditionally historical setting is quickly washed away when dragons are mentioned. The book also has a strong sense of myths and legends, which I thoroughly enjoyed, because many of them weren't myths at all, but facts of the past. The introduction of fantasy themes definitely enlivened the story, and added a unique twist to an otherwise conventional story.
Also, the lack of a time setting made it that little bit more interesting. This book could be set in the past,
yet it could also be a dystopian future. Personally, I like to think of Westeros as either a land on an alternate universe planet, or land on Earth before or following drastic tectonic movement. (I imagine this question has been answered by Martin at some point, but I like to create my own theories.) Regardless, it's a really interesting idea, portrayed extremely well, and it's the first of its kind I've truly been able to understand and get into. Frankly, I'm not usually one for alternate universes or worlds, but Westeros – due to its traditional nature – actually interested me a lot more than I'd anticipated.
On the other hand, I felt 780 pages was far too many. Yes, I understand this is an 'epic' series, and so long books are the norm, but it didn't interest me enough to just read this book; as I said earlier, I read many other books alongside A Game of Thrones. The chapters felt too lengthy, and the book went too long without moving anywhere. Frankly, I would say this book was extremely slow moving – too slow for my taste – which is why I doubt I'll continue with this series in the future. (I will, however, be watching the TV show.) As much as I'm interested as to where all of the characters will go in the future, I'm not invested enough in the series to dedicate another 3 months per book, not including how they're getting longer!
Likewise, as much as I liked the switched in POV – and felt it allowed the reader to access the world on another level – there were a few POVs I didn't enjoy, namely Catlyn and Eddard. I don't know whether it was because they were the eldest, or only ever spoke of each other (and then their tumults of children), but I found their chapters extremely boring. Similarly, Sansa wasn't my particular favourite, because she simply came across as very conceited, to me. I did, however, thoroughly enjoy the POVs of Arya, Jon, and Tyrion. Again, Bran was a little boring. My favourite, though, would have to be Daenerys; I loved her perspective, as it gave a little respite from the action in the 7 kingdoms, and gave the reader more insight into the world beyond the 7 kingdoms.
However, I would perhaps say there were too many POVs, so much so that there was an abundance of characters introduced that I couldn't even begin to tell you about now, because I instantly forgot about them.
Similarly, there were so many storylines! I am yet, of course, to see how they all tie together, this being the first book out of 8 (?), and so I don't expect to know everything, yet I definitely feel as though there are too many for just book one. Martin, though, is clearly a very ambitious man, and so I applaud him for this, despite my disliking it.
Overall, I would say I enjoyed this book, but definitely felt it moved too slowly, and there were too many characters thrown here, there and everywhere, preventing many from developing at all. Thus, I awarded this novel 3/5 stars, and definitely recommend it to those who are even a little intrigued by this review.
---
For more from me, and to keep up with my reading as it happens, find me on Goodreads, Twitter, and Tumblr.
Thanks for reading!