Rating: 4/5 stars
Number of Pages: 398
Suitable for Fans of: The Hunger Games, Divergent, Shatter Me, action-packed books, the movie Hanna
Synopsis:
Meadow Woodson, a fifteen-year-old girl who has been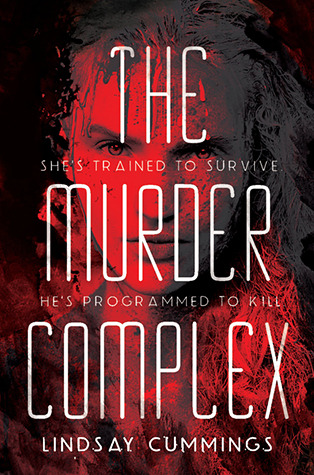 trained by her father to fight, to kill, and to survive in any situation, lives with her family on a houseboat in Florida. The state is controlled by The Murder Complex, an organization that tracks the population with precision.
The plot starts to thicken when Meadow meets Zephyr James, who is—although he doesn't know it—one of the MC's programmed assassins. Is their meeting a coincidence? Destiny? Or part of a terrifying strategy? And will Zephyr keep Meadow from discovering the haunting truth about her family?
Review:
So now, when three Landers, members of a street gang, approach me in the back alley behind the Library, knives drawn, the silver barrel of a gun pointed at my heart, I know I am ready.
Deliciously dark and deadly, The Murder Complex is told from the perspective of Meadow and Zephyr, and set in dystopian society The Shallows, being action-packed from cover to cover.
Extremely fast-paced, this book keeps you on the edge of your bookish seat throughout. Cummings has a style that enables her to keep the audience gripped and utterly interested throughout, action creeping around every corner. The chapters are relatively short – some being dramatically so – meaning this book is a quick read, and seizes your attention from the first page. Also, because it's written in 2 different perspectives, you're swiftly given all the answers – no more guessing what the other character is thinking!
Personally, I really like how fast this book is, because it makes it feels more real, for me, due to how fast-paced life is in reality. This book really matched up to that, and I really liked it. Also, with short chapters, you can read more a lot quicker, and it feels like you've accomplished something more, so this book tended to make me feel good in that respect, too.
On the other hand, I should note that Cumming's writing isn't anything special. If you are looking for a poetically written book with swooping sentences and bundles of metaphors, this isn't the book for you. However, in not having these aspects, it becomes a lot more basic and easier to relate to. You're not told everything in odd similes, but instead are left to fill the gaps with your imagination, which I really like doing.
On another note, the plot for this book is really original – I've never seen anything like it. There were so many twists and turns, nothing being handed to you straight. Frankly, you're given information, only to have it ripped away and told to be false. I really enjoyed this aspect, because it meant the book was rather unreliable when giving you information, causing you to piece it together yourself.
Some aspects of this book were also really clever. For example, in this book, humanity have Nanobots in their blood, something that is under development now. Everything that transpires in this book is courtesy of that step in medicine, and I think it's really interesting to see what humanity could resort to if this method progresses in reality.
In terms of characters, Meadow is really badass. It's so empowering to read from the perspective of a strong woman, and it was so great to see her kill with no repercussions. It was great to not have pages dedicated to a girl panicking over the death of someone unknown. Granted, Meadow strongly feels for those she cares about, but she doesn't fret over those she doesn't know, which was perfect in the setting.
Zephyr is extremely complex. I really like his narration, because he's funny, but also painfully honest. There's a lot of raw emotions from Zephyr, and it added another great layer to this book.
Talan is hilarious. It was great to have some humour injected into the book, and her relationship with Zephyr is such a nice thing to read about, for their connection runs very deep, but doesn't go any further than friendship. Strong friendship power couples are great – not everything is about love and fluffy stuff, it's about having one another's backs.
One criticism I would have for this book is how many characters there actually are, some being irrelevant. However, having so many people dotting around managed to add to the action-aspect.
Overall, it was great to finally read an action-dystopia novel that didn't focus too much on a romantic plot line. Yes, there were a few moments between Meadow and Zephyr, but it was subtle, and definitely not overdone, only a few paragraphs being dedicated to it here and there. Thrilling, gripping, deadly, and intoxicating, The Murder Complex is a fast-paced read that will keep you on the edge of your seat throughout, explaining as to why I awarded it 4/5 stars.
---
For more from me, and to keep up with my reading as it happens, find me on Goodreads, Twitter, and Tumblr.
Thanks for reading!