Rating: 4.5/5 stars
Number of Pages: 390
Suitable for Fans of: Shatter Me, The Hunger Games, Divergent
Synopsis:
Humans and androids crowd the raucous streets of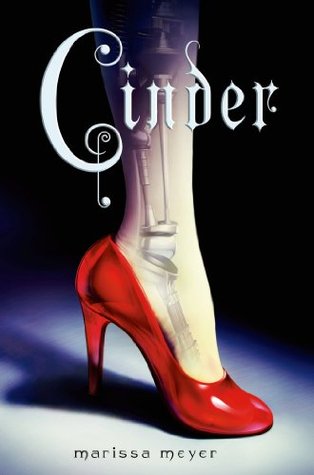 New Beijing. A deadly plague ravages the population. From space, a ruthless lunar people watch, waiting to make their move. No one knows that Earth's fate hinges on one girl.
Cinder, a gifted mechanic, is a cyborg. She's a second-class citizen with a mysterious past, reviled by her stepmother and blamed for her stepsister's illness. But when her life becomes intertwined with the handsome Prince Kai's, she suddenly finds herself at the center of an intergalactic struggle, and a forbidden attraction. Caught between duty and freedom, loyalty and betrayal, she must uncover secrets about her past in order to protect her world's future.
Review:
"I'm sure I'll feel much more grateful when I find a guy who thinks complex wiring in a girl is a turn-on."
Cinder is a sci-fi spin on the classic fairytale Cinderella, and has been on my radar for quite sometime. The online community of readers loves to hype this book, however, they also love to over-hype books. Luckily, though, this book is not once of them – Cinder is a fabulously inventive retelling of Cinderella that will make you smile, excite you, and – most of all – keep you guessing.
Marissa Meyer maintains a comfortable narrative to read about – it isn't shockingly good, but it's not like it's bad, either; it's simply OK. It's not the writing, though, that usually draws me into a book – it's the plot, the characters, the suspense, and – ultimately – the entertainment factor. Meyer creates and maintains all of this and more. Despite her writing not being special, her plot line surely is, and is unlike any retelling I've ever read! Meyer is sly with her inclusion of traditional Cinderella features, some you'll only notice if you know the original story well, and I really loved how she did this.
Furthermore, as previously mentioned, the route Meyer took for this retelling is very unique. Never before have I heard of a cyborg Cinderella, nor have I even fantasised about an Asian kingdom for Cinderella to reside in. Fortunately, it all works perfectly, and the creativity with which Meyer has approached the traditional tale is astounding.
What I liked, primarily, was how the story got straight into the action – there were no dull build-ups into the story. We were dunked head first into the action, and pieced together the characters, the world, and the story as we went, which is my favourite method of storytelling.
Moreover, the changes in point-of-view really helped develop characters a lot more. As always, it was also interesting to see what other characters were doing whilst the protagonist was doing something else. Likewise, it kept the book interesting – had the novel been simply written in one POV, I would've surely gotten at least a little bored.
However, I am unsure about the ending; it was extremely sudden! I'm unsure because I usually do like cliff-hanger endings, yet this felt as though the story had been cut short – am I missing half of my book?! Of course, there are books following this in the series, but I believe they are focussed on other stories, and so I am eager to discover whether or not Meyer answers all my questions!
In terms of characters, there were a few ups and downs for me:
Cinder was rather inconsistent with her personality, but I still liked her. Her character didn't develop massively considering all that she discovered, yet it was nice to read about a headstrong female protagonist who didn't long for a male's attention. In fact, refused it.
Kai lacks character. He is charming, yes, and he is moral, but there's little more to him, for said personality is squeezed into very few scenes. Personally, I would have liked to see more depth to him.
Levana – the Evil Queen – is who I had the most problems with. In my opinion, it felt as though she was 'evil' just to be so. What are her motives? She wants to be pretty, she wants to be queen; yawn. Levana was probably the most unoriginal character in the most original story.
Despite my dislikes, though, I thoroughly enjoyed this book. It's simply the ending that is frustrating – I have so many questions! Thus, I couldn't give this book 5/5 stars, and so opted for 4.5/5, instead.