August Wrap-Up
Goodbye August, Hello September! Doesn't it feel like August has flown by? Well, in the quick month that was August, I managed to chomp my way through 18 books, my own personal record! Here is the low-down on what I read this month:
---
You're the One That I Want (GG#6), Nobody Does it Better (GG#7), and Nothing Can Keep Us Together (GG#8) by Cecily von Ziegesar
.

.
Just like last month, I read these books sparingly. I began the month by continuing
with my 'read them every other book' regime, however I soon got bored and moved on to other things. At the end of the month, I picked up where I left off again, but I got bored pretty quickly and put it down after the first chapter. I'll definitely finish this series eventually, I just think it'll be a while from now.
If You're Lucky by Yvonne Prinz

I really enjoyed this book, and actually almost gave it 5/5 stars, but it simply didn't feel like a 5-star novel, which led me to lower it to 4.75/5 stars. This book is a thriller, and actually the first thriller I've ever read, and so I was pleasantly surprised by this novel. (Well, as pleasantly surprised by a thriller as you can be.) This book is really clever and seriously got me thinking and I highly recommend it! You can read my full review by clicking here.
Fire Colour One by Jenny Valentine
I gave this book 3.5/5 stars. I'd say I enjoyed it, and the
storyline was good, but it bored me quite easily, and I found myself wanting to rush through it as quick as possible. There's a big plot-twist at the end, though, that really enticed me! Because I'm a Kindle user, I never got to hold this book, but I spotted it in Waterstones the other day, and – I must admit – the cover it very pretty in person; it has shiny bits! You can read my full review by clicking here.
The Foxglove Killings by Tara Kelly
Another thriller-style novel, The Foxglove Killings focusses more on more definite matters than If You're Lucky, and so it's not as psychological, but it's still very good, causing me to award it 4/5 stars. This book isn't actually out yet, but I highly recommend you add it to your TBR pile, for it is truly really good, really scary, and an unexpectedly amazing book. Read my full review by clicking here.
The Visitor by J.L. Pattison
I recieved an email from the author of this short story asking if I would consider reviewing. The synopsis sounded great so, of course, I said yes, and am I glad I did! This short story is truly fantastic, and written by a fellow blogger – check out PattisonBlog by clicking here. This story is so good, I gave it one of my very rare 5/5 stars! Read my full review here.
The Ocean at the End of the Lane by Neil Gaiman
I bought this book a while back because it was up for really cheap on the Kindle store, but I never read it until this month, and I really, really regret it! Although only short, this book managed to whisk me off into another world at the words "Chapter 1", and dump me back on the ground when I reached the end. I gave this novel 4/5 stars, I would highly recommend this to anyone craving a flashback to childhood. For more on it, read my full review by clicking here.
To Hear the Ocean Sigh by Bryant A. Loney
I didn't enjoy this book as much as I'd hoped to. This is because, despite the amazing plot, each and every character was very unoriginal, boring, and hollow. Because of this, I awarded this novel 3/5 stars. Frankly, I didn't enjoy reading this novel at all, finding it very tedious throughout, and awarded it so highly only because of the great plot line, and a few certain other aspects. You can read my full review by clicking here.
Dalliance: A Collection of Poetry and Prose by K. Morris
Next, I immersed myself in my first ever poetry book. (I'm unsure as to whether it qualifies as a chapbook, or not, I was never really told.) I received this collection from the author himself, and got completely lost in his poetic voice, awarding it 5/5 stars. I really enjoyed it, and would highly recommend, for it is both a quick and inspiring read. You can read my full review by clicking here.
Harry Potter and the Philosopher's Stone by J.K. Rowling
Inspired by Sasha Alsberg's BookTube-a-Thon attempt, I finally decided to pick up this series! I know, I know, I'm very late to the game, but let's just be thankful that I finally got there! I actually read this book through Amazon's Kindle Lending Library regime, preventing me from marathon-ing the series, which I surely would have done, and so I'll be reading an instalment to this series each month for a long time. Of course, I loved it, giving it 5/5 stars. Click here to read my full review.
The One Thing by Marci Lynn Curtis
I absolutely loved this book, being whisked off into the same reading frenzy I experienced when reading The Fault in Our Stars. This book is Curtis' debut, and a fantastic one at that – I really enjoyed it, and would recommend to every YA lover out there! It comes out on the 8th of September, so make sure y'all pick it up! You can read my full review here.
Cody Simpson: Welcome to Paradise: My Journey by Cody Simpson
There's a lot of colons in that title! I know very few of my readers will understand why I read this, so here's the low-down: I love autobiographical novels; I love Cody Simpson's music – his old stuff is really addictive, and his new stuff is really relaxing (and still really addictive); I bought this book and never read it. It was late at night, I just finished The One Thing, and my mind was racing. I couldn't sleep, so I scoured my Kindle for something quick to read. A stand-alone. No strings attached midnight reading. And then I saw it – Cody Simpson's glowing eyes in a field of blue. Frankly, this book was really interesting, and I really enjoyed reading it, so much so, I awarded it 4/5 stars.
The Secret Life of Walter Mitty by James Thurber (Narrated by Ben Stiller)
Next up, I travel over to the land of audiobooks (which I still personally count as reading a book), to The Secret Life of Walter Mitty, a short story. I really enjoyed this, for the story is great, as is Ben Stiller's narration. I actually downloaded this book for free from Audible, and so highly recommend you check it out by clicking here. It's only 15 minutes long, and it's totally worth it.
Fans of the Impossible Life by Kate Scelsa
I didn't enjoy this book as much as I wanted to, awarding it only 3 stars, mainly due to the switches in narrative/tense, which I really wasn't fond of. However, this book does have a fast paced plot that reels you in from the beginning, yet I would say the end is lacking. I found myself getting bored quite easily as the story progressed. You can read my full review by clicking here.
The Jungle Book by Rudyard Kipling (Narrated by Bill Bailey & More)
Again, shooting back to the world of audiobooks, this month I listened to Rudyard Kipling's The Jungle Book. I really enjoyed this, for it was a dramatised narration, which really helped bring it to life, just as many sound effects did, too. It's only 2 hours long, and was perfect for me to listen to whilst painting. This audiobook is also available for free from Audible (do you sense a pattern?), but only until 8th September, so be quick about it! You can click here to find it.
Pale Kings and Princes (Shadowhunter Academy #6),  and Bitter of Tongue (Shadowhunter Academy #7) by Cassandra Clare
The last books I read this month
were the 6th and 7th installments to Cassandra Clare's 10 book series Tales from the Shadowhunter Academy. I always enjoy these books, and it was really nice to read something from my favourite world to conclude the month.
---
Did Not Finish
This is a new segment to my monthly wrap ups that I will be adding if necessary. This month it is necessary, for I DNF'd 2 books:
Losing Charley by Casey Peeler
There's a lot of love for this book on Goodreads, but I really had a problem with this book. It's written in a style that's only understood by a number of people – it incorporates a lot of southern American twang, which – frankly – I know nothing about. Also, within the first few pages there's a rape scene (sorry for the spoiler but this is necessary), which really got to me because, a) it was very soon in the book, and b) the importance of it was very de-emphasized, and there was no where near enough emotion. This is what I can remember of it, anyway. Because I received this book via Netgalley, I felt no obligation to finish it, and put it down as soon as I could take no more. Now, I'm not saying avoid this book – many people loved it. I simply am not one of them.
Concentr8 by William Sutcliffe
Prior to this book's release, it was dubbed as fantastic, and Netgalley was encouraging requests for it. Thus, I jumped on the bandwagon, put in a request, received the book, and started reading. I hated it. I really wanted to read this. In fact, I was excited to. The synopsis enticed me, and I'd not read dystopian in a while, and so I figured this book would be perfect. I was wrong. I tried to read this book, I really did, but I hated the way in which it was written. I'm not a big believer in first person writing when it means the language is compromised. Yes, I understand that the book is written from the perspective of teenage Londoners, and so yes, it's very clever the way that Sutcliffe has written the book in their voice. Yet it's horrible to read, for there's a lack of grammar, and sometimes, simple full-stops. Also, the slang used made it so that I couldn't decipher what was actually happening. Again, I understand that this was with reason, but it simply wasn't for me. Likewise, this book is written in far too many POVs for its own good. Frankly, when I reached one character's first POV chapter, quite a way in, I couldn't take any more – a whole chapter with no full-stops? No thank you.
---
Currently Reading
This is another new segment that I felt would be nice to introduce. I never know whether to include my current reads in the wrap up or the TBR, so instead, I'll put my current reads here. I'll provide a brief opening sentence of what I think of it, followed by the synopsis. At this moment, I am currently reading 2 books:
Cinder by Merissa Meyer
That's right, people, I'm finally reading Cinder! And, so far, I'm really loving it!
Humans and androids crowd the raucous streets of New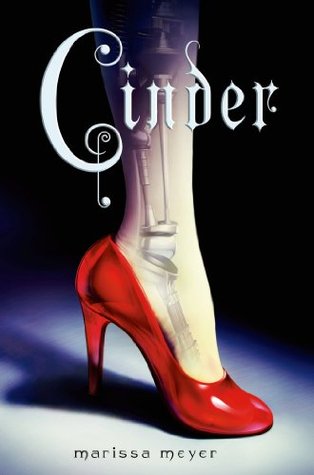 Beijing. A deadly plague ravages the population. From space, a ruthless lunar people watch, waiting to make their move. No one knows that Earth's fate hinges on one girl.
Cinder, a gifted mechanic, is a cyborg. She's a second-class citizen with a mysterious past, reviled by her stepmother and blamed for her stepsister's illness. But when her life becomes intertwined with the handsome Prince Kai's, she suddenly finds herself at the centre of an intergalactic struggle, and a forbidden attraction. Caught between duty and freedom, loyalty and betrayal, she must uncover secrets about her past in order to protect her world's future.
Pride and Prejudice by Jane Austen
I am currently listening to this book via LibriVox, and really loving it. I find it quite challenging to read classic novels, and so I thought this was a good compromise, for I still want to read them.
Pride and Prejudice, Jane Austen's witty comedy of manners–one of the most popular novels of all time–that features splendidly civilized sparring between the proud Mr. Darcy and the prejudiced Elizabeth Bennet as they play out their spirited courtship in a series of eighteenth-century drawing-room intrigues.
---
September To-Be-Read
Here are a few books I want to read in September:
Harry Potter and the Chamber of Secrets
If you're a frequent reader of mine, you'll know I'm reading the Harry Potter series through Amazon's Kindle Lending Library. This means I can only access one book per month, and, this month, it will be the second book in the Harry Potter series – Harry Potter and the Chamber of Secrets.
All Harry Potter wants is to get away from the Dursleys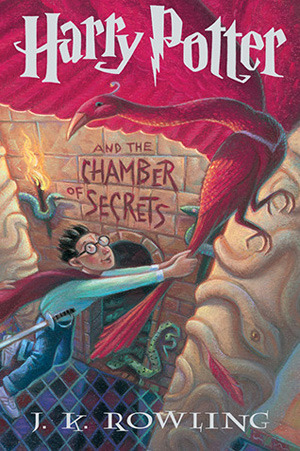 and go back to Hogwarts School for Witchcraft and Wizardry. But just as he's packing his bags, Harry receives a warning from a strange, impish creature named Dobby – who says that if Harry Potter returns to Hogwarts, disaster will strike.
And strike it does. For in Harry's second year at Hogwarts, fresh torments and horrors arise, including an outrageously stuck-up new professor, Gilderoy Lockheart, a spirit named Moaning Myrtle who haunts the girls' bathroom, and the unwanted attentions of Ron Weasley's younger sister, Ginny.
But each of these seem minor annoyances when the real trouble begins, and someone–or something–starts turning Hogwarts students to stone. Could it be Draco Malfoy, a more poisonous rival than ever? Could it possibly be Hagrid, whose mysterious past is finally told? Or could it be the one everyone at Hogwarts most suspects… Harry Potter himself.
Jane Eyre by Charlotte Brontë
Once I've finished listening to Pride and Prejudice, I aim to listen to Jane Eyre by Charlotte Brontë. This will probably take me a long while, since the recording is 201 hours long! Oh well, it'll be nice to listen to on my walk to school.
Orphaned into the household of her Aunt Reed at Gateshead, subject to the cruel regime at Lowood charity school, Jane Eyre nonetheless emerges unbroken in spirit and integrity. She takes up the post of governess at Thornfield, falls in love with Mr. Rochester, and discovers the impediment to their lawful marriage in a story that transcends melodrama to portray a woman's passionate search for a wider and richer life than Victorian society traditionally allowed.
With a heroine full of yearning, the dangerous secrets she encounters, and the choices she finally makes, Charlotte Bronte's innovative and enduring romantic novel continues to engage and provoke readers.
Shattered Blue by Lauren Bird Horowitz
I actually plan on reading this once I've finished Cinder, and before I start Scarlett (the sequel to Cinder). I don't read many fae books, however this one sounds quite interesting, so I'm going to give it a go.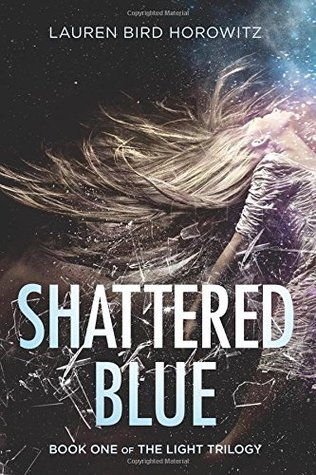 For Noa and Callum, being together is dangerous, even deadly. From the start, sixteen-year-old Noa senses that the mysterious transfer student to her Monterey boarding school is different. Callum unnerves and intrigues her, and even as she struggles through family tragedy, she's irresistibly drawn to him. Soon they are bound by his deepest secret: Callum is Fae, banished from another world after a loss hauntingly similar to her own.
But in Noa's world, Callum needs a special human energy, Light, to survive; his body steals it through touch—or a kiss. And Callum's not the only Fae on the hunt. When Callum is taken, Noa must decide: Will she sacrifice everything to save him? Even if it means learning their love may not be what she thought?
---
What was your favourite book you read in August? What are you currently reading? What do you want to read in September? Tell me in the comments!
Thank you for reading, and I apologise for how insanely long this post is!
Until next time, you can add me on Goodreads by clicking here. (Please do, I don't have many friends!)