Rating: 3/5 stars
Release Date: 10th September
Number of Pages: 368
Suitable For Fans Of: The Impossible Life (hehe, I had to), The Perks of Being a Wallflower, It's Kind of a Funny Story
Synopsis:
Mira is starting over at Saint Francis Prep.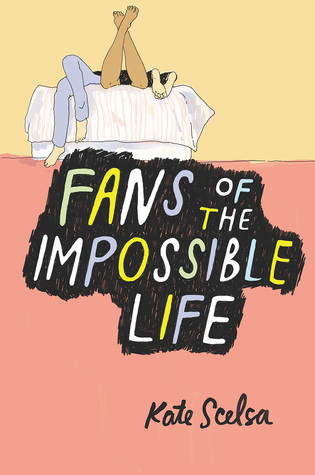 She promised her parents she would at least try to pretend that she could act like a functioning human this time, not a girl who can't get out of bed for days on end, who only feels awake when she's with Sebby.
Jeremy is the painfully shy art nerd at Saint Francis who's been in self-imposed isolation after an incident that ruined his last year of school. When he sees Sebby for the first time across the school lawn, it's as if he's been expecting this blond, lanky boy with mischief glinting in his eye.
Sebby, Mira's gay best friend, is a boy who seems to carry sunlight around with him. Even as life in his foster home starts to take its toll, Sebby and Mira together craft a world of magic rituals and impromptu road trips, designed to fix the broken parts of their lives.
As Jeremy finds himself drawn into Sebby and Mira's world, he begins to understand the secrets that they hide in order to protect themselves, to keep each other safe from those who don't understand their quest to live for the impossible.
Review:
"May we live impossibly," Sebby said when he opened his eyes. "Against all odds. May people look at us and wonder how such jewels can sparkle in the sad desert of the world. May we live the impossible life."
A young adult novel dealing with difficult topics throughout, Fans of the Impossible Life is Kate Scelsa's electric début into the literary world. This book is experimental in the way its written, a risk Scelsa took to portray this story of love, personal issues, and – ultimately – friendship. Primarily, what should be noted, is that this book is mis-sold as a typical YA book with a love triangle. It's not. This book is less about love and more about friendship, the importance of it, and the deep connections it can build.
Firstly, as previously mentioned, Scelsa wrote Fans of the Impossible Life in an interesting way: this book is written in three points-of-view – Mira, Jeremy, Sebby – and with each POV comes a new tense and narrative. Mira is represented through a past-tense third-person narrative, Jeremy speaking in a past-tense first-person narrative, and Sebby existing in a present-tense second-person narrative. At the beginning, this came as a shock to me, and it was very difficult to adapt to each chapter until a certain point; when I reached this certain point, something clicked in my mind, and I was able to proceed with the novel. This wasn't for any particular reason, other than my brain getting used to the quick switches in narrative. Personally, I think it takes a lot to get a second-person narrative right, for it takes a lot to get your reader to relate to and understand the character in question. In my opinion, Scelsa didn't do this brilliantly – Sebby was increasingly difficult to comprehend, as well as being growingly unlikable as the book progressed. Essentially, I dreaded Sebby's POV's because of how uncomfortable the narrative made me; it simply wasn't for me.
On the other hand, the plot for this novel is good. It keeps a fast past throughout the most of the novel, however sometimes it is a little confusing. Also, there are a quite a few similarities to The Perks of Being a Wallflower, to the extent that it gets more and more obvious and annoying with time (SPOILERS): 3 main characters, 2 boys and 1 girl; 1 boy is decisively gay whilst the other hasn't been in school for a while; the decisively gay boy gets mixed up in drugs and alcohol whilst the other boy tries to save him; the girl and the decisively gay boy were friends before, and the second boy joins them, and they all dance together at Homecoming; a relationship forms between 2 of the 3; the second boy is friends with a teacher. To me this was really obvious, but I won't go as far to say Scelsa copied Stephen Chbosky, because it's not like it's illegal to use these things in ones book.
Nevertheless, I still enjoyed many things about this book. Firstly, this novel deals with a lot of difficult subject matters, including depression, being LGBTQ, alcohol/drug abuse, and being unhappy at home. In my opinion, it is very important to incorporate sensitive themes like this into YA books, for it is necessary that we one day all understand them.
Also, I really liked reading from the different character perspectives, despite not loving the switches in narrative person and tense. I always enjoy seeing what other characters are doing when certain things happen, and also other character's opinions on events that have transpired. Scelsa did this really well.
Despite this, though, as aforementioned, I didn't like the way this book was written as a whole; I think Scelsa would have benefited phenomenally from sticking to one style of narrative. I had hoped that, by the end of the novel, I would be able to see a specific reason as to why Scelsa wrote this way, yet all I can come up with is that she was trying to be a little different and original, and – unfortunately – it didn't really work in her favour.
Furthermore, this novel wasn't always interesting, nor did it always manage to hold my attention. At the beginning, this book is fast paced and engages you instantly, however, as it progresses, it gets slower and slower, and less and less interesting. On multiple occasions, I found my mind wandering, especially during one of the character's multiple inner monologues.
In terms of characters, I really did like Jeremy. I feel as though he was the most relatable characters, and he was definitely my favourite. Whilst his development throughout the book was rather minimal, we did see him come out of his comfort zone, and make friends, which was really nice to see. However, his character definitely wasn't original; he is like many protagonist in many YA novels, only working to keep his new and few friends happy.
Sebby, on the other hand, was annoying at the beginning, and downright awful at the end. I really didn't like Sebby at all, and always felt like he was quite selfish; he isn't exactly kind or loving towards anyone except when he himself is troubled. He also plays on Jeremy's naivety and calls it love. He is insensitive and callous with those he loves, and – in my opinion – a heartless demeanour is evident from the very beginning if you look closely, and really scrutinise his actions.
Finally, Mira. Not much happens to Mira at all, and she's definitely less of a main character than the two boys. I feel as though she was used only as a device to introduce other characters, who happens to have depression. This is unfortunate, because it feels as though Scelsa introduced this theme of mental health just because, and – if she did mean for it to be a big part of the story – it wasn't played up enough. Frankly, Mira very rarely furthered the story in any way, nor did her character develop much, either.
Overall, I feel as though this book could have been a lot better, despite it being rather enjoyable as a whole. Perhaps it simply wasn't for me, but I doubt I will recommend this to many people.
You can find the book here: Goodreads | Amazon
(Disclaimer: I received an ARC of this book from NetGalley in exchange for an honest review. I would like to send a big thank you to NetGalley for this book, and also to everyone at Pan Macmillan, as well as Kate Scelsa herself.)