Rating:  4.5/5 stars
Release Date: 8th September 2015
Number of Pages: 336
Suitable For Fans Of: The Fault in Our Stars, Fangirl
Synopsis: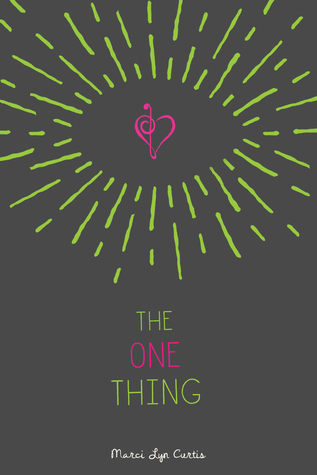 Maggie Sanders might be blind, but she won't invite anyone to her pity party. Ever since losing her sight six months ago, Maggie's rebellious streak has taken on a life of its own, culminating with an elaborate school prank. Maggie called it genius. The judge called it illegal.
Now Maggie has a probation officer. But she isn't interested in rehabilitation, not when she's still mourning the loss of her professional-soccer dreams, and furious at her so-called friends, who lost interest in her as soon as she could no longer lead the team to victory.
Then Maggie's whole world is turned upside down. Somehow, incredibly, she can see again. But only one person: Ben, a precocious ten-year-old unlike anyone she's ever met.Ben's life isn't easy, but he doesn't see limits, only possibilities. After awhile, Maggie starts to realize that losing her sight doesn't have to mean losing everything she dreamed of. Even if what she's currently dreaming of is Mason Milton, the infuriatingly attractive lead singer of Maggie's new favorite band, who just happens to be Ben's brother.
But when she learns the real reason she can see Ben, Maggie must find the courage to face a once-unimaginable future… before she loses everything she has grown to love.
Review:
"Do you ever think about what you would like to do if you could walk without crutches?"

His answer was instantaneous. "Nope. When I see something I want to do, I just do it."
A story of love, loss, and acceptance, I never expected The One Thing could possibly be as funny as it is. I found myself laughing out loud at Maggie's narration, and relating to her wholly despite our difference in circumstances. Dubbed as a YA contemporary novel, The One Thing is Curtis' stunning début – a début to end all débuts, if you ask me! – and is set to be released on 8th September 2015, so mark it on your to-read list to remind yourself!
Primarily, when reading this book, there are a few uncertainties. For example, the title – what the hell is that all about? But as the story progresses, a lot of things with little significance come into a profound light, including the title. I very much enjoyed Curtis' dropping of hints throughout this book, especially because of their vague nature, as well as some of them being rather uncommon knowledge. By the end of this book, you'll realise the purpose of these hints, and remember them at certain moments.
Furthermore, Curtis has managed to develop a very original plot. Of course, the dying/sick/tragic-circumstances teenager genre is very popular since The Fault in Our Stars, but this book is less about that, and more about the story. It's not rare to come across a child teaching an adult a lesson or two, whether directly or not, but I've never seen it where a child is teaching an older child, and I really liked it. I also liked how this book didn't focus on the romance. Of course, this is a YA book, and a little romance is inevitable, however Curtis didn't focus on it, nor did she make her book a soppy love story. Instead, the book teaches of friendship and its importance in even the strangest circumstances.
Despite this book being longer than your average book, it remained engaging and fast paced throughout. I was never bored when reading this book, nor did I ever check how far along I was; I simply enjoyed the book in its entirety, feeling no pressure to speed through it at all, as I would do with boring books.
Generally, this book is really sweet and really addictive. When originally reading the synopsis, I thought it would be very hard to portray, however Curtis succeeds brilliantly. I assumed – because Maggie is blind – that the book would at times be unbelievable, and at others simply boring because she'd be talking about losing/gaining/losing/gaining her eye sight, and the brilliance of the light, and the lethargic darkness, and so on. Lucking for me, though, Curtis didn't do this. I was so happy to discover that this book didn't focus or talk all too much about Maggie's blindness, because – and I don't mean to be offensive – I find it truly boring having to read through a bunch of medical terms, and the overused gratefulness when life is handed back to you.
As far as characters are concerned, Maggie is brilliant. My main favouring for Maggie is the fact that, although a blind character, she is not just blind. Had this plot been handed to many other authors, Maggie would be the blind girl, and only that; her characterisation would be compromised and ignored, because her blindness is all that matters. Curtis didn't do this:  blindness isn't Maggie's only attribute, nor is it her main attribute, which I really like because – as previously mentioned – I don't know if I could handle her only talking about how amazing the light is. Also, I found it very easy to relate to Maggie: she is extremely funny, and witty at her own expense, and I really enjoyed reading from her perspective.
On the other side of the scale, there's Ben. Of course, when you think about it, there's the striking factor that Ben is unlike any 10-year-old in the sense that 10-year-olds don't read encyclopaedias, nor do they speak with such confidence, clarity, or profoundness. Personally, I believe he should have been either aged up or dumbed down in order to make him more credible. Despite this, though, it's really nice to see a main character child who isn't annoying or childish or likely to get upset over trivial things. Ben is an old soul, which is also really nice to read about.
Finally, I'll talk about Mason, Ben's brother. As far as I'm concerned, Mason is very cliché – more cliché than is necessary. I feel as though the original representation of him isn't accurate when compared to the remainder of the novel, and his personality varies so much that he may as well be two different people. Likewise, when considering how he has previously been presented, he is way too accepting of Maggie so quickly. I also believe his character could have been played up a lot more – he should have been more obviously protective of his brother, more obviously in a band, more obviously a guy and not a ghost (he's always creeping around!), and more obviously besotted with Maggie. Had a few of these things been tweaked, I feel the book would have triumphed greatly.
Overall, I awarded this book 4.5 out of 5 stars, and I highly recommend you pick it up, especially if you enjoyed The Fault in Our Stars and other YA novels of the sort.
You can find the book here: Goodreads | Amazon
(Disclaimer: I received an ARC of this book from NetGalley in exchange for an honest review. I would like to send a big thank you to NetGalley for this book, and also to everyone at Disney Book Group, as well as Marci Lyn Curtis herself.)
---
Side note: I would just like to say a great big thank you for 100 followers! It really means a lot to me! 🙂